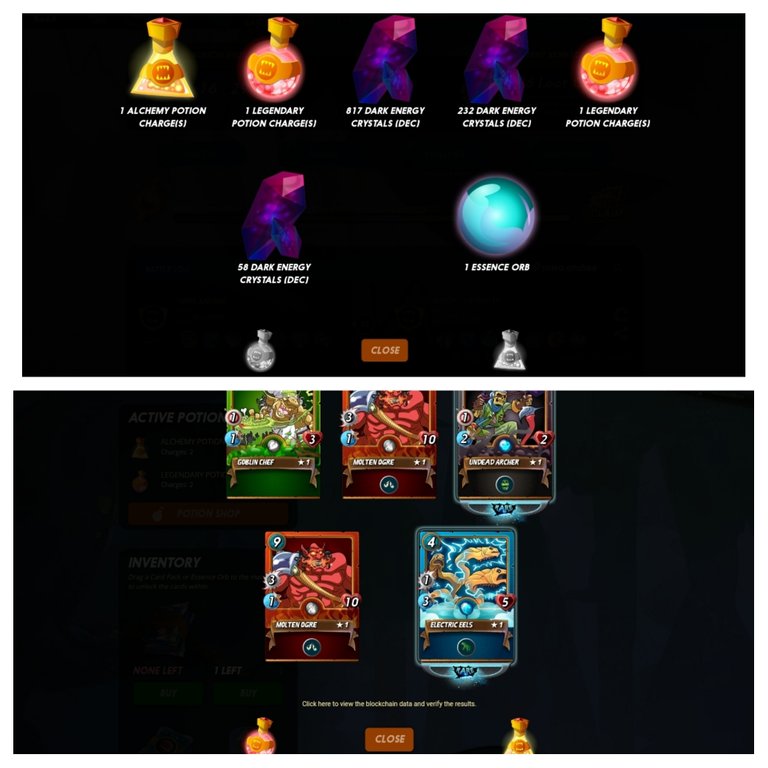 Guten Abend Steemians, HivePeople und Actifitter,
Einen schönen Start in die Woche wünsche ich euch.
Den ganzen Tag habe ich ereignislos im Büro verbracht. Am frühen Abend haben wir dann den Pool für die Tochter fertig aufgebaut (Wasser marsch). Wir hoffen dann wieder auf besseres Wetter und dann hinein in's blaue Nass. Auch wenn die rund 9,0 Kubikmeter bestimmt lange Zeit brauchen, bis das Wasser eine angenehme Temperatur erreicht.
Gerade habe ich dann meine heutige @Splinterlands Quest erfüllt (5 Siege mit dem Wasser Splinter) und meine heutige Belohnung abgeholt.
Immerhin war ein Essence-Orb dabei der mir hilft meine Karten zu bereichern oder ein höheres Level zu erreichen.
Corona-Update
Die Zahl der bestätigten Corona-infizierten in unserem Ort liegt weiterhin bei 41. Im Kreis ist die Zahl von 655 auf 659 angestiegen.
Bis morgen, bleibt zuhause und gesund!
---
---
Good evening Steemians, HivePeople and Actifitter,
I wish you a nice start into the week.
I spent the whole day uneventfully in the office. In the early evening we finished buildinv the pool for our daughter. We hope for better weather again and then wevwill jump into the blue water. Even if the around 9.0 cubic meters definitely take a long time for the water to reach a comfortable temperature.
I just completed my @Splinterlands Quest today (5 wins with the Water Splinter) and picked up my reward today.
At least there was an essence orb that helps me to enrich my cards or to reach a higher level.
Corona update
The number of confirmed corona infected in our town is still 41. In the district the number has increased from 655 to 659. Let's wait and see what the opening of gastronomy and others brings us.
See you tomorrow and stay healthy!


0

Art der Aktivität,Daily Activity