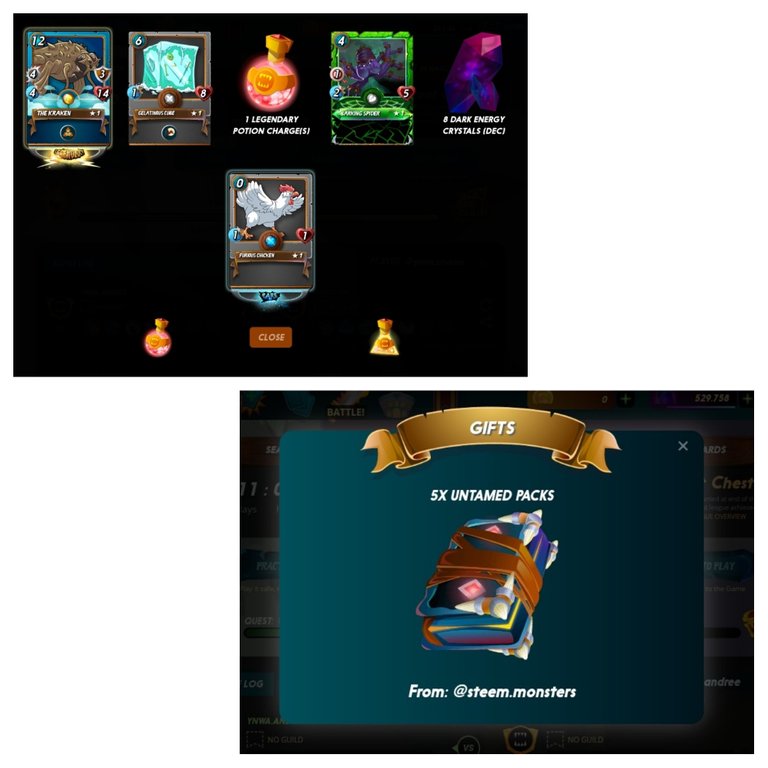 Guten Abend Steemians, HivePeople und Actifitter,
Okay, schon wieder nur die 5000 Schritte geschafft. Zuviel Arbeit im Büro, da diese Woche ein Arbeitstag fehlt.
Dafür hatte ich den Rest des Tages ein bischen Glück.
Nach dem ersten Blick heute Morgen auf die Twitter-Benachrichtigungen habe ich festgestellt, dass ich 5 untamed Packs gewonnen habe. Danke @Splinterlands. Die werde ich wohl gleich noch öffnen, muss mir aber erst noch ein paar Potions besorgen.
Meine Daily-Quest bei Splinterlands war heute: 5 Siege mit dem Water-Splinter. Und in meiner Belohnung war meine erste Legendary-Karte (Water - The Kraken).
Corona-Update
Die Zahl der bestätigten Corona-infizierten in unserem Ort liegt aktuell bei 42. Im Kreis ist die Zahl von 717 auf 731 angestiegen. Sämtliche Neuinfizierte der letzten Tage waren ausschließlich Zeitarbeiterinnen bzw. Zeitarbeiter
Bis morgen, bleibt zuhause und gesund!
---
---
Good evening Steemians, HivePeople and Actifitter,
Okay, just done the 5000 steps again. Too much work in the office because one working day is missing this week.
I was a bit lucky for the rest of the day.
After first looking at the Twitter notifications this morning, I found that I had won 5 untamed packs. Thanks @Splinterlands. I'll probably open that right away, but I still have to get a few potions.
My daily quest at Splinterlands was today: 5 wins with the Water Splinter. And my reward was my first Legendary card (Water - The Kraken).
Corona update
The number of confirmed corona infected in our town is currently 42. In the district the number has increased from 717 to 731. All newly infected people in the last few days were only temporary workers
See you tomorrow and stay healthy!

5127

Art der Aktivität,Daily Activity