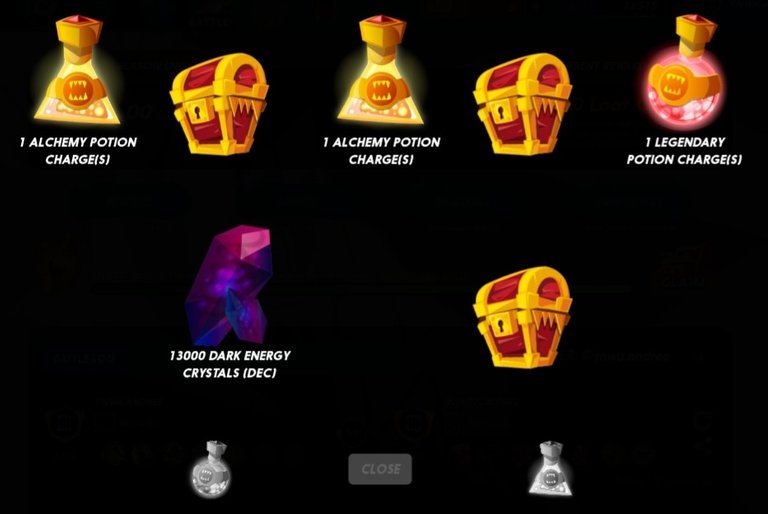 Guten Abend Steemians, HivePeople und Actifitter,
Schon wieder Montag und alles ist wie immer. Wie immer? NEIN! Die Zwerge dürfen endlich wieder täglich in die Schule. HURRA! Naja, es sind ja nur noch zwei Wochen bis die Sommerferien beginnen....
Gegen Abend wollte ich noch einmal versuchen die letzte Stunde der Splinterland-Season zu nutzen und doch noch die Diamond-League zu erreichen. Nach 7 (sieben) verlorenen Battles habe ich das Vorhaben jedoch begraben und dann wenigstens noch meine tägliche Aufgabe erfüllt.
Bei den täglichen Rewards gab es zwar keine Karte, dafür aber eine Truhe mit unvorstellbaren 13.000 DEC. Ich habe auch bei anderen noch keinen grösseren Betrag gesehen.
Ich habe mir dann mal gleich für die nächste Season meine Summoner auf Level 2 gebracht und den Rest in ein paar andere Karten investiert.
Also dann, auf in die nächste Season.
Bis morgen, bleibt zuhause und gesund!
Und vielleicht spielt ihr auch mal das Risingstargame
---
---
Good evening Steemians, HivePeople and Actifitter,
Monday again and everything is as usual. As always? NO! My little girl can finally go back to school every day. HOORAY! Well, there are only two weeks left until the summer vacation begins ...
Towards evening I wanted to try again to use the last hour of the Splinterland season and still reach the Diamond League. After 7 (seven) lost battles, I buried this project and then i try to fullfill my daily quest.
There was no card for the daily rewards, but a chest with an unbelievable 13,000 DEC. I have never seen a larger amount.
I then took my summoners to level 2 for the next season and invested the rest in a few other cards.
So then on to the next season.
See you tomorrow and stay healthy!
And maybe you play the Risingstargame



5289

Art der Aktivität,Daily Activity