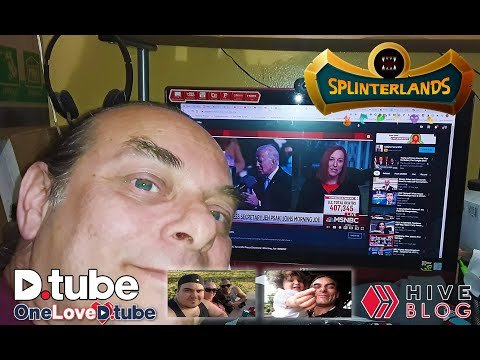 ---
Good Evening Everyone... Today was a pretty Good Day playing some @splinterlands... I had to switch around from one Splinter to another but I was able to complete My Fire Splinter Quest today...
As President Biden and Vice President Harris enter into their first full day at work... They bring back Respect and Honor into the White House... But as Trump leaves the White House yesterday morning, he leaves with dishonor and shows no respect to the incoming administration by not even mentioning their names in any of his speeches or even giving the expected courtesy of inviting Biden to the White House For a tour and a chat or even be gracious and respectful enough to attend Biden's Inauguration... In My Opinion, Highly Disrespectful in every way...
Check out My latest video on @dtube and YouTube as I play some @splinterlands and talk about these subjects... Back to My Movie, Goodnight all, and May You Always Be Happy and Blessed...
Keeping My 10k a day going with @actifit and Loving it...
![splinterlands, love, hope, happiness, respect, possibilities, trump leaves, national guard, Joe Biden, Kamala Harris diginity, dtube, steem, streemie, gaming video, jeronimorubio, jeronimo rubio (27.jpg](https://images.hive.blog/DQmfFKCgPTm6sQFo7cHTLNtfemwGYKrssrBef5Ldoj3wL5q/splinterlands,%20love,%20hope,%20happiness,%20respect,%20possibilities,%20trump%20leaves,%20national%20guard,%20Joe%20Biden,%20Kamala%20Harris%20diginity,%20dtube,%20steem,%20streemie,%20gaming%20video,%20jeronimorubio,%20jeronimo%20rubio%20(27.jpg)
#hive
Come Battle Me on @splinterlands ...
https://bit.ly/Come-Battle-Me-in-Splinterlands
Streemie Video Sharing Site:
https://streemie.com/register?........................
https://support.streemie.com/h........................
@dsound is One Place to Get Music for your Videos but, Ask Permission First:
https://dsound.audio/#!/feed
Free Stock Music is Another Great Website for this as Well"
https://www.free-stock-music.com/
Music in this Video:
Journey Of Hope by Alexander Nakarada | https://www.serpentsoundstudios.com
Music promoted by https://www.free-stock-music.com
Attribution 4.0 International (CC BY 4.0)
https://creativecommons.org/licenses/by/4.0/
@dtube - Video Site - Youtube - No Censorship - https://d.tube/
@vimmtv - Live Streaming Platform - Twitch - No Censorship - https://www.vimm.tv/
@dsound - Podcast & Music Site - Soundcloud - No Censorship - https://dsound.audio/#!/feed
@steemhunt - Product Search & Review - No Censorship - https://steemhunt.com/
@dlike - Web Content Sharing - Pinterest - No Censorship - https://dlike.io/
@actifit - Fitness Tracker - https://actifit.io/
@splinterlands - Digital Card Game - https://steemmonsters.com/
@appics / @steepshot - Instagram - No Censorship - https://appics.com/ - https://steepshot.io/
Every Day is a Day to Be Thankful for all the Amazing and Beautiful with the People in My Life, Like My Beautiful Fiance Vanja, Our Two Children Angeles and David, and All of My Family in Mexico, Norway, Thailand (My Brother @stewsak), and here in the USA. They Are a True Blessing in My Life and I Love Them With All of My Heart.
May You always live in the Abundance of Beauty, Love and Be at Peace in Your Heart, My Amazing Family All Over the World... Go Out and Spread that Joy, Happiness, Peace, and Love Always Every Day. @jeronimorubio
---
▶️ DTube