A 500 HP Power Up for October HPUD...!
So another first of the month and another Hive Power Up Day - I do so love this event and this time, inspired by HiveFest I've gone in with a fairly large one of 500 additional HP....
This means I've gained 2000 HIVE POWER over September - HiveStats doesn't show the latest Power Up in the graphic below!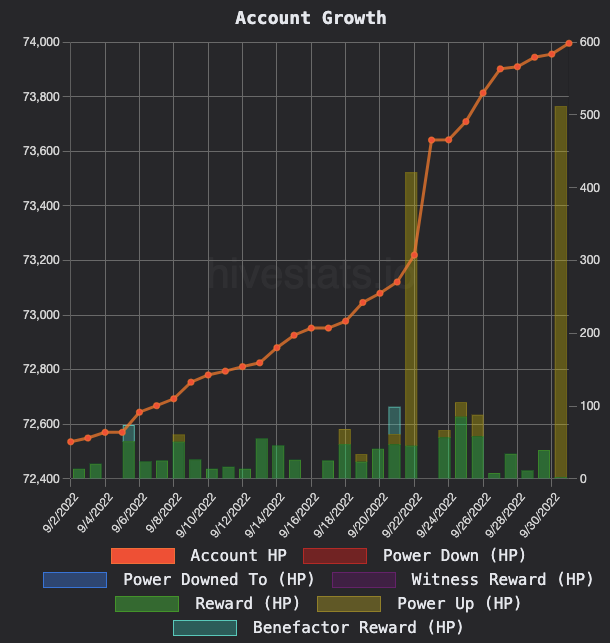 September on Hive...
Well in terms of writing I've been in full-on life-blogging mode given that I've been in a bit of a state of flux recently and so had a lot of life-shizzle to write about....
Helped out enormously by Hive Fest giving me almost a week's worth of writing material and some nice votes too, which did my reputation especially well!
My reputation is now 78.78, up from 78.70 this time last month - trust me, 0.8 points in one month when you're above 78 rep is pretty rapid advancement!
And it's only going to get slower so I'm probably looking at January next year to break 79! And then into 2024 for the big 80!
By then of course reputation may well have had an overhaul, it needs it IMO.
Oh, in terms of rewards on Hive in September - a cool $700 across posting and curation, I'll take that!
The SPK NODE
This has been running smoothly enough for the most part - one just had to keep an eye on it and update it very occasionally, and the server too, but a couple of times a month is sufficient I've been finding.
I've now got 465K LARYNX delegated to me which is nice, and just under 100K staked myself, around 98K...

https://hiveuprss.github.io/spkccmonitor/
Splinterlands - Riftwatchers out but they're losing the plot...
I bought around 400 RW Gems with various SL assets I had sitting around in the pools - this was mainly a hedge in case the packs sold out rapido, but a few weeks on and no, they were bad value just like all previous pack purchases - better off buying individual cards off the market in the weeks and months after the pack sales start - that's what the data says.
I'm also getting a bit sick of these stupid micro games like TD - I don't give a shit and now they're getting SPS too what the actual fuck?
Get on with land faster.
I am liking the pools in SL - I think October is going to be the month of pools, then I'll look to buy more RW cards off the market once they get to 60% of their run....

But for now SL is a skim off the surface for me, only 10-20% but I'm too impatient to wait and stack. My rewards are high enough to warrant this anyways and it's a nice way of stacking more Hive gradually.
Leo and the Cubs...
I haven't been focussing too much on posting to LEO recently, busy life, but the alt is still rewarding $20 a month in curation which is OK.
And Cub seems to have stabilised around the $0.20 - just above that right now, but I've moved all of my LEO out of BNB-LEO pool - the BNB-SPS pool is better and the LEO better of Powered Up I think - I just need to be able to get it back up to the Hive Ecosystem which is proving a challenge as the bleo bridge doesn't work for me.
TBH I'm not interested in holding massive amounts of Cub or PCUB and I certainly won't be risking either of them with anything else in a pool - I just used these to stash other coins and skim off the surface, some of the DEFI tokens I put in single asset offers - but mainly skimming, like nearly EVERYONE ELSE ON LEO DOES but just doesn't tell you - the market, however, does tell you that's what's going on!
But the prices are stable and the system secure enough, so it's all good.
September on Hive - final thoughts...
Overall another good month - slow and steady I'd say.... bring on October!
---
---