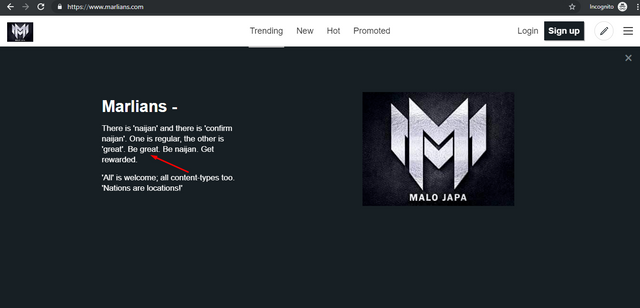 Things have been slow in terms of 'the growth and development of marlians.com' but there has been motion.
I have not been well but there has still managed to be motion. So far, marlians.com has more than '700 staked users' and we have given out a good amount of stake to as many as '100 users' to enable them 'grow' and 'grow communities related to their dreams or interest'.
So far, our drops have been strategic, gradual and mostly manual. We are inviting 'certified' users and 'users of steem' who have dreams and are particularly interested in 'real human growth' to discuss with us on '#marliansdotcom-general', let's see how we can use the 'marlians.com ecosystem' to help.
The development of our automation-tools has been a bit delayed. In the meantime, i have been doing curation manually and so far i have not been so effective. This is also because i have tried to be as far-reaching as possible, which has involved supporting content from '14 other steem-tribes', found on 'marlians.com'. 
Now, this is hectic but that is what the entire marlians.com ecosystem is about. We look to reward users of marlians.com with as many steem-tribes' tokens as possible, so that we can 'move together' and ultimately 'grow together'.
Marlians.com aims to become a home and one core paradigm is "uniting every steem-community'.
We measure our success in terms of 'real human growth' (not bulls or bears) and this is the route we take, regardless of how hectic. 
We want to create a 'close-knit family that moves together' and this means 'sharing even our limited resources'. 
To be more effective with 'curation efforts related to other tribes' thus, i have been able to delegate most of 'my other tribes' stake' to a 'list of accounts' and i have been curating with these accounts, to reach as many as i can. 
I have also continued to grow these stake(s) via curation and purchase. 
When the development of automation-tools are completed, this process will become easier and more effective.
Below is a list of tribes' stake(s) that we currently have, which we share with authors from other tribes (whose posts we find on marlians.com), mostly to encourage them:
Note: currently have stake in some other tribes but we have only enlisted tribes whereupon we have staked more than 1000 tokens.
You have one more reason to add in '#marlians' among your tags whenever you post. Recall that, marlians.com welcomes 'all content-types'. 
Besides, we are saying this to say that, where we have appeared slow with regards to 'reaching your posts with some MARLIANS tokens', don't get discouraged because 'we have actually been working slowly to reach you', for if you check again, you may have noticed that one of the aforementioned 'marlians-based accounts' may have managed reached you 'with some other steem-based tokens'.
However small the amount is that you have received, may it spark some 'growth' still. 
We will continue to improve in our 'curation efforts' over the course of time and we invite you to help too. So, do well to stake some of the tokens that you earn in a bid to help us curate. You can also discuss with us here. Tell us of your dreams or interest and we will look to help!
Note: we apply 'the art of curation' to use primarily as tool to 'mine the human'; as a means to 'distribute rewards' being secondary. Our 'curation efforts' is an entire movement and is bound to happen collectively and gradually. 
To conclude, we invite you once again to join us on 'https://marlians.com'. You can start that journey by 'simply adding in #marlians to your next post'. 
This enables to earn some MARLIANS in conjunction with STEEM and where you have used appropriately any of the other tribe-tags aforementioned in the earlier part of this post, you can earn some of those tokens too.
We will continue to purchase and grow our stake-portfolio in each of the aforementioned tribes and accrue stake in 'upcoming tribes' that offer value. No worries, our curation efforts will continue to improve and soon we will reach you.
You can vote for my witness. It is called 'steemgigs'. 

Visit 'https://steemitwallet.com/~witnesses' and vote up 'steemgigs'. It is currently ranked 56.
Also...
If i can go to STEEMFEST4, i will be speaking about marlians.com, steemgigs.org, ulogs.org, teardrops.network etc and you can support my efforts to go there. Read this post!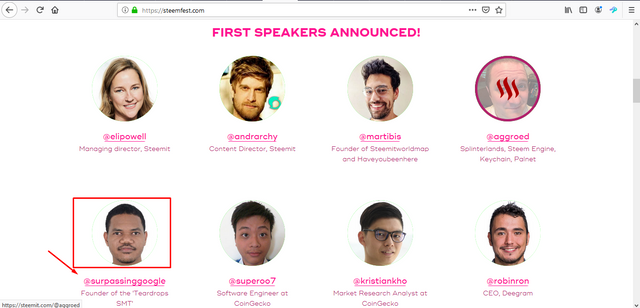 Your Boy Terry
When Should I Use The #marlians tag?
We welcome and support 'all content-type' and 'all locations'. We value each human.
Get Certified (This is optional)
First 1000 certified uloggers will get 50 MARLIANS. This aside other ongoing drops.
Steps 1: Send '5 STEEM' to '@marlians' with this memo; '1 month certification'. 
Step 2: Do a 'ulog' via 'marlians.com' discussing the process of 'how you became a certified ulogger'. Make sure to use '#ulog'. 
Step 3: Subscribe to 'UloggersTV YouTube'. 
Step 4: Fill up this google form. 
If you desire, you can DM '@surpassinggoogle#1660' on discord when you are done with the steps, to hasten the process.
Note: Where you get certified now, your payment ("one month certification") hasn't started counting yet but you will already be 'certified'. This is a bonus. We will notify you when "the one month" starts counting (after we have setup our automation-tools). 
See our list of 'certified uloggers' on 'https://ulogs.org/discover' 
To Get Some 'MARLIANS'
Here are the steps: 
Visit 'https://steem-engine.com/?p=market&t=MARLIANS' and login using the keychain extension or directly using your private posting key.
Click on the 'DEPOSIT' button to deposit STEEM. Note that you can also deposit BTC, ETH, LTC, EOS etc with steem-engine.
Go on to buy some MARLIANS.
Kindly subscribe to UloggersTV on YouTube
If you can translate this post into other languages, feel free to do so. You can also show me on discord, so that i can resteem it.