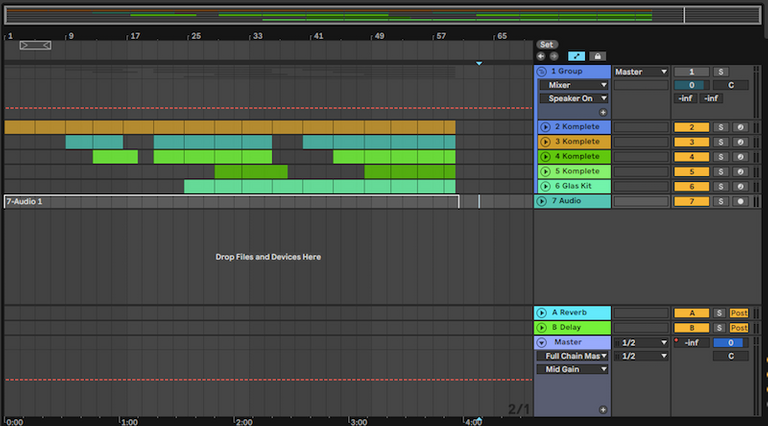 This song came together
last night, initially starting with just Track 2, and adding some layers on top. The drums were added at the last minute, but I think it worked to add that thumpy low-end. The kick rhythm had to be offset slightly by like, 1/32nd note at most, because of the attack on Track 2, which I tried to edit, but didn't seem to do much, so the original sample must have a little swell at the beginning. Overall, I like the idea here, but I think I need to go in and match up the rhythms between tracks a little more, and maybe drop some low-end on the synths so the harmonies will be a little more audible.
Track 3 provides a similar
instrument to Track 2, adding a little melody line in a higher register. Track 3 provides the distorted, heavily delayed synth, and Track 5, the distorted, rhythmic synth, which adds a little harmony line and some variation in texture. Finally, we have Track 6, the drums, which just use the kick from the 'glas kit', which I've been using a lot lately (maybe too much, lol). I think this has some good ideas, I love the floaty vibe before the drums come in, but the harmonies need to be a little more clear, so as I edit this, I'll continue to update.
Track 2, rumbling low-end.

Track 5, rhythmic distorted synth.
I wanted this to have
a really rumbly sort of low-end, which would give it a deep sea vibe, which I think was accomplished with Tracks 2 and 3. The others were supposed to be more focused on harmony and the mid/high range textures. These need to be timed a bit better I think, and maybe blended with the lower tracks a little more, so they'll sort of float in and out, again, giving it a nautical sort of thing.
I hope you like the sounds, I'll update as the song comes together. Thanks for listening!
---
---
---