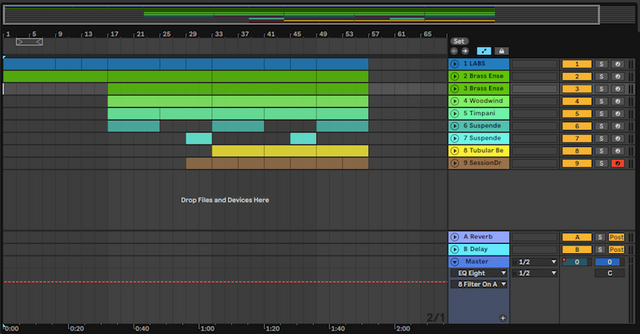 This is definitely going to be
another multi-part series, as I work on this song for the next Music/Lore contest. There are quite a few parts with some mistakes in various rhythms, and harmonies, in addition to general mixing that needs to happen, but I figured it would be good to start here with a super rough draft, so I can have some more to write about in future updates, and really show the whole process on this tune. Once again, I used Spitfire Audio's LABS for the string ensembles, which sound pretty great, but i had to use Ableton's orchestral ensembles for the brass and woodwinds. I tried to stick with the most realistic of those various instruments within ensembles, which I think worked decently.
Track 1 is our strings,
with the entire progression in one track. I'll probably wind up splitting it up, so I can mix each "instrument" (bass, cello, violin, viola) separately. Track 2 is the low end of the horn ensemble, with Track 3 providing the more mid/hi-mid stuff. Both of the brass are pretty simple, generally sticking to chord tones, outlining the chord changes from measure to measure. Track 4 is the woodwind ensembles, which begins with just some low end (I believe bassoon?), then the second time around, a flute line comes in which sort of weaves in and out of the strings and brass (an accidental result, but wound up sounding pretty cool).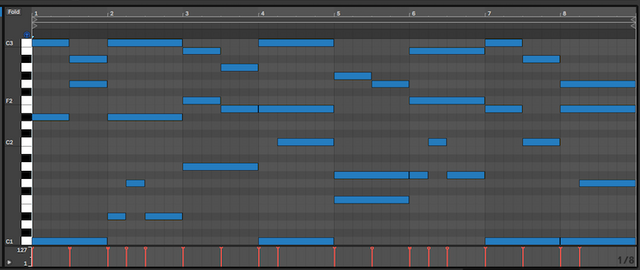 Track 1, strings.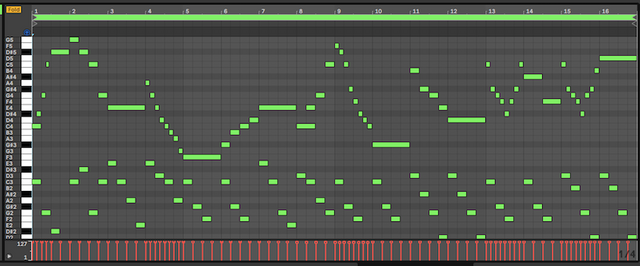 Track 4, woodwinds (with flute on top).
Track 5 is the timpani,
which sticks to a pretty basic rhythm. I wanted to try and keep them in tune as much as possible, but tried to limit myself to four notes maximum to keep it semi-realistic. Tracks 6 and 7 are the cymbals, one track for the hits on the 1, and the other for the cymbal wash/swell. Track 8 is the tubular bells, which are pretty sparse, mostly just accenting the points with actual chord changes, though occasional I added some extra hits to keep it interesting. Finally, we have Track 9, our snare drum. I wanted to try the militaristic/war-march sort of vibe again, and I use a different snare/drumkit from the previous song, which I think worked well.
Stay tuned, I'll be doing updates as I continue working on this! Despite the mistakes/problems, I think this rough draft gets the idea across decently enough, and is definitely a good start for me, lots to work with. Thanks for listening!
---
---
---
---