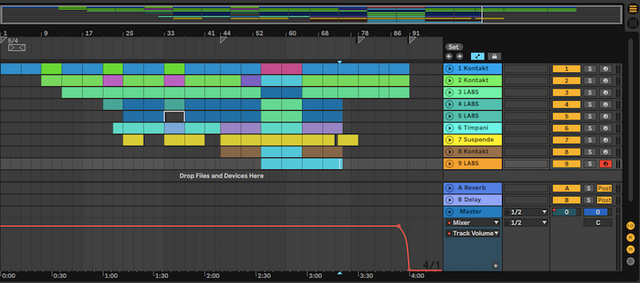 So I continued to work
on the song I shared yesterday, and, as you can see from the overview screenshot above, it grew in length quite a bit, haha. I also added two new tracks, a harp from Native Instruments that has a lute-esque sort of sound, as there isn't much sustain like an actual harp, and some staccato strings from Spitfire Audio. There are also a few points where I chopped off the last chord of a four bar section, so we have 3 bars, and then resolve back to our tonic, and repeat the section. It gives those resolves a more unique feeling, so it's not identical every time around.
Track 8 is the harp,
which plays a little melody line (in Brown), pictured below. It also is used with Track 9 over the new section (Pink in Track 1), which I guess is now the break. Track 9 provides some chords over the break, and then just arpeggiates the main chords over the main section afterwards. There is one more change I need to make, which is adding a cymbal wash/swell to two different points, as it doesn't feel like things build up enough, particularly into the break. So I'll do that tonight, and share the completed version tomorrow!

Track 8, Brown Section, Melody Line.

Track 9, Strings.
Stay tuned for the final version, which will be my submission for the Splinterland's Music/Lore Contest, tomorrow! Thanks for listening!
---
---
---