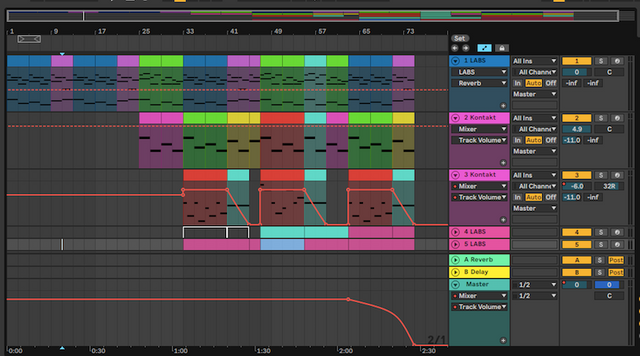 So this is the beginning
of what will be my next submission for the Splinterlands Music/Lore contest which I started working on last night. I initially wanted to add some percussion, but I think it works better without, giving a bit more feeling and less of a rigid rhythm. I will probably wind up adding some other instruments, and fixing some of the volume levels, but overall this is the general shape of the tune.
Track 1 is our piano,
which is divided into a few sections, Blue, Pink, and Green. The Blue section is where I started, in Ebminor, on our tonic, then to the IV, then our Vii, then iv, before moving on. The Pink section uses the V and iv, while the Green changes keys, to our parallel major of Ebmajor, though most of the other chords are substituted from the original key, which gives it a bit of a lift initially, then turns back to the darker, more ominous vibe of the other sections.

Track 1, Piano, Blue section.

Track 5, strings.
Tracks 2 and 3 both
use Native Instrument's Shakuhachi, which sounds awesome but wound up being a little too quiet, so I'll need to pump these up a bit. The final two tracks are both strings, which use Spitfire Audio LABS' string ensembles. These really add a nice vibe to the track, though there are a few points where I put the wrong note and created some accidental dissonances that I'll be fixing.
I hope you've enjoyed the song as it currently sits! I'll keep working on this for the next contest, so stay tuned, and thanks for listening!
---
---
---