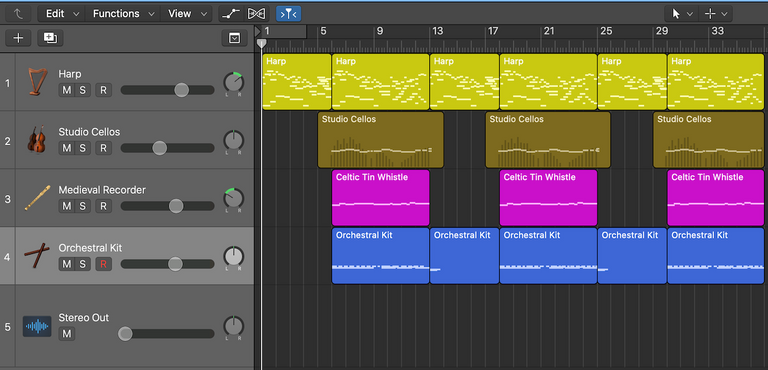 I figured since this song
is similar to the other short theme I shared a few days ago that I'd change the name, make them part of a series. This is the Second Iteration of the idea I shared yesterday though, just so there is no confusion. I went back through the harp part and fixed the weird/amibiguous progression towards the end, just by extending the Dmajor chord by a single beat. That small change COMPLETELY altered the vibe, and made the changes more obvious.
The cellos and recorder were also
edited to reflect this change, holding out on the big Dmajor modulation a bit longer. I kept everything afterwards essentially the same, we move from the Dmajor down to Cmaj and back to D, before a little chromatic run from F, to F# to G, and finally to an E7, which takes us back nicely into our first key of Aminor. I also added some percussion over the longer sections: a bass drum, and a few roto toms, just to accent things a bit, and make those sections feel stronger than the ones in between.


Track 1, Harp, Long Progression w/ New Edit.

Track 4, New Percussion Elements.

Hope you like the changes! I think I'm going to add another instrument or two, to accent the build ups at the end of the long sections, but otherwise this song is nearly complete, so stay tuned for Part 3!
---
---
---