I haven't done a Splinterlands inspired
song in a while, so I figured I'd try and do something Logic this time around. I wanted it to be a simple little theme, with a few 'medieval' sounding instruments, which I think this accomplished. We have a guitar, a celtic harp, a recorder, somet timpanis and tubular bells. The timpani rhythm isn't my favorite, so I'll probably edit it done, as I think it might be more effective if it was a bit more sparse. I think the harmonic simplicity really got the medieval vibe I was going for; my long term goal was to write a number of songs using this theme, with various styles, IE: a sparse, acoustic one (like this), something big and orchestral, perhaps a solo harp rendition, etc.
Track 1 is the acoustic guitar,
which is where I began writing. We're in Ab/G#minor, and stick entirely to diatonic harmonies here. Theres a lot of use of the iv and the Vii, which helps give that Medieval vibe. Track 2 is the Celtic Harp, which mostly harmonizes with the guitar, though it does have a few little 1/16th note runs at the beginning and towards the middle, to give things a little momentum. Track 3 is the Medieval Recorder, which comes in opposite the Celtic Harp, alternating back and forth. It sticks to a relatively simple melody, and is mostly just used to add another medieval vibe. Track 4 is the timpani, which sticks to a pretty basic rhythm, though I did experiment with a little 'crescendo roll' articulation. I will definitely be editing this track down. Finally, we have Track 5, the Tubular Bells. They work decently, though, again, I think they could be used a bit more sparsely.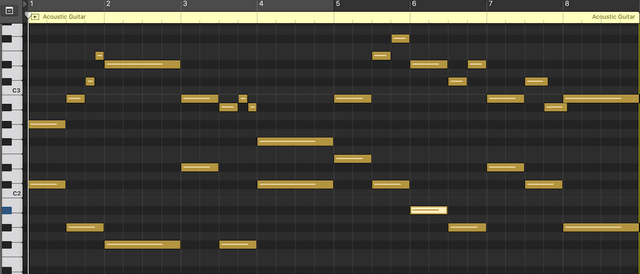 Track 1, Acoustic Guitar.
---

Track 2, Celtic Harp.
---

Track 3, Medieval Recorder.

Hope you enjoy today's Splinterlands inspired song idea! Stay tuned for the variations/reimaginings of this, I will definitely be doing them over the next week!
---
---
---