Hello Everyone,
@steemmonsters is going pretty good now a days. Still its in Beta Phase but only 10% Beta packs are left so if you have already missed it, its the time to grab some until they are gone. Click Here To Check Out.
I have been doing pretty great, just hit the diamond 2 on my account. Now just waiting for the season to end and see what we all will get in rewards.
yesterday i just bought another 5 beta packs and i was lucky to find prince, its about 30$ worth so that was the best pack. Also got 2 Epic summoners in 5th pack. So Do grab some beta if you haven't yet.


2nd Pack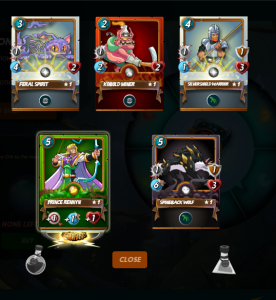 5th Pack