Hi everyone,
I have been doing some numbers the last couple of days to figure out how many maxed cards are possible per card and found them to be quite interesting, so I put them my latest SL Intel.
Check out my previous Intels here:
https://steempeak.com/palnet/@toocurious/splinterlands-intel-2
https://steempeak.com/steemmonsters/@toocurious/splinterlands-intel-1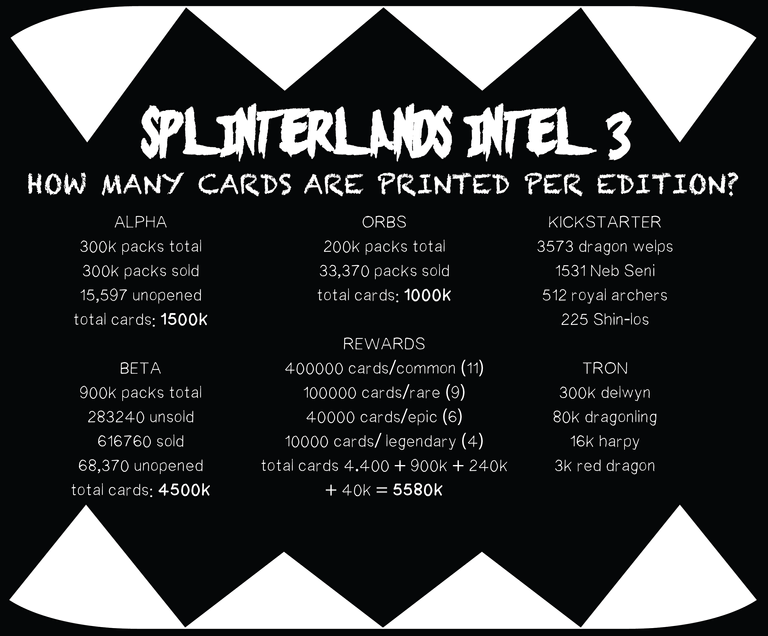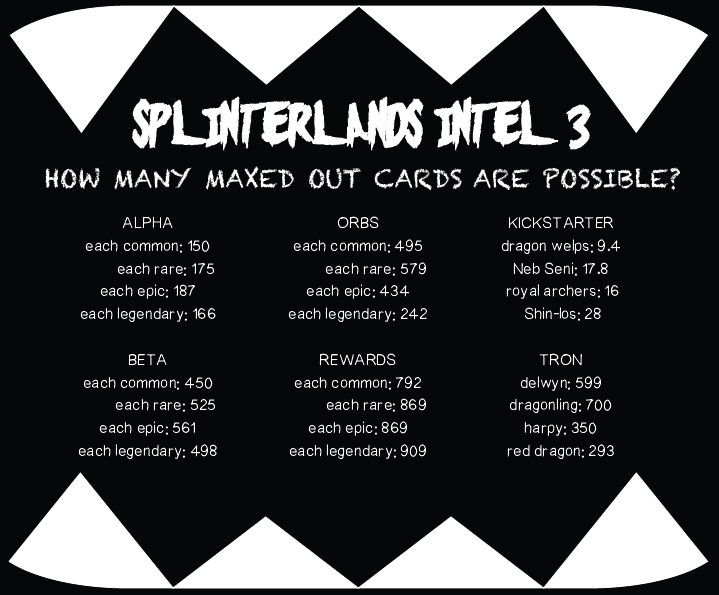 Thoughts edit: I had to update my numbers because I used some wrong data:
The Kickstarter edition is by far the most rare edition in terms of total cards (till now and probably till ever), which puts a smile on my face because I invested in the maxed out version of the normal and goldfoil editions. For example there are only 9.4 maxed-out welps ever possible!!!
Commons are the rarest in terms of possible maxed out cards in each edition (150 for alpha for example), that means there are only 150 maxed out alpha full decks possible, which is not a lot if you know where this game is heading. And puts again a smile on face for investing in Alpha in the early days.
Beta and Alpha combined (450 +150 per common) are at the same level of rarity as the orb cards (495 per common).
It will be a while before the reward cards will be all given out and there are more maxed out cards possible (792 for commons), making the alpha, beta and orbs versions more valuable, although not that much, so don't burn all of your rusty's just yet.
The tron experiment is quite interesting, I think Yaba and Aggy must have not expected to have so many people going for the special dragon cards (599 for the common one) so they are less rare as the alpha and the kickstarter edition, but on par with the beta and orbs.
Yaba and Aggy know damn well what they are doing and put a lot of thought in the possible maxed out version of each card, plus the utility of each one without compromising the older version of the cards and creating scarcity, this whole process is very complex exercise and so @yabamatt did an incredible job in balancing out the numbers.
My guess is, is that as beta sells out, the next editions will have more possible maxed out cards, making the alpha and beta versions even more valuable.
These numbers mean that at the moment only 600 players could play with a full maxed out deck. I am wondering how many are using one at the moment..
I bought some cards today on the market, because of my research.
I have to do these numbers for the goldfoil versions, but that's for another day.
All the best.
T.
PS: don't have an account yet? Start one today, you will not regret it: https://steemmonsters.com?ref=toocurious