🇬🇧 ENG
Heilà Steemians!!! 15 days have passed and it is time again for the Splinterlands season report.
Excellent result for me; for the first time I managed to enter in the Gold II league.
So for the first time I managed to discard 26 cards and it was really cool, it seemed to me that I was a child again to discard the cards my parents bought me.
Here the League screen.
🇮🇹 ITA
Ehilà Steemians, sono trascorsi nuovamente 15 giorni ed è tempo di nuovo report della stagione di Splinterlands.
Risultato per me ottimo, sono riuscito per la prima volta ad entrare nella lega Oro II.
Per la prima volta quindi sono riuscito a scartare 26 carte ed è stato fighissimo, mi è sembrato di tornare bambino a scartare le figurine che mi compravano i genitori.
Qui lo screen Lega.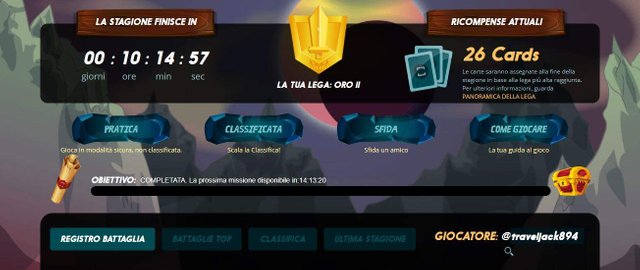 🇬🇧 ENG
Here below instead I insert the last battle that allowed me to reach the Gold II level.
🇮🇹 ITA
Qui di seguito invece inserisco l'ultima battaglia che mi ha consentito di raggiungere il livello Gold II.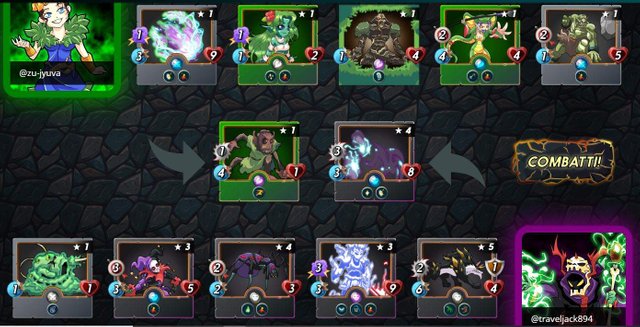 🇬🇧ENG
Fortunately for me, at the decisive battle, I met an opponent with an "Earth" deck at level 1 and I managed to win the match.
🇮🇹 ITA
Per mia fortuna, alla battaglia decisiva, ho incontrato un'avversario con un mazzo "Earth" al livello 1 e sono riuscito cosi a vincere il match.
🇬🇧 ENG
Nice satisfied and loaded, I decide to invest 2500 DEC won with battles and take an ORBS pack. The catch was fantastic:
🇮🇹 ITA
Bello soddisfatto e carico, decido, di investire 2500 DEC vinti con le battaglie e prendere un pack ORBS.
La pescata è stata fantastica: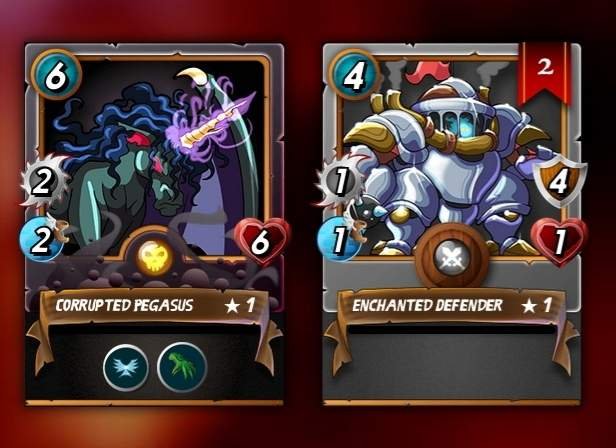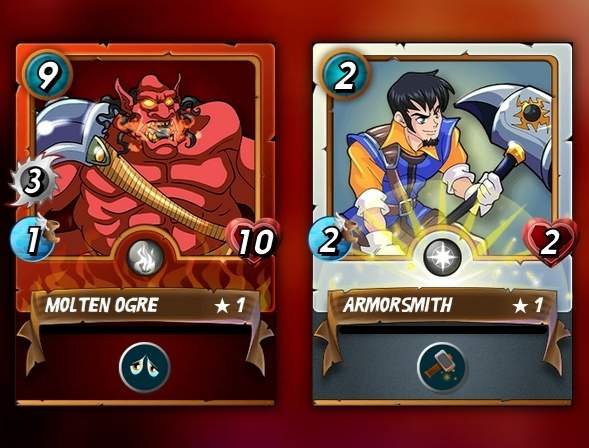 🇬🇧 ENG
Corrupted Pegasus !!! Caught a legendary PROMO package, whose current value is around $ 12. Fantastic!!
I would say that in this way I have repaid the investment made.
By making a more careful analysis of the data, one can easily guess how this game can also be considered as an investment, which I had not fully considered before yesterday.
Now let's do two very simple accounts: Spending for 2500DEC about 2.2 $; total card value won around $ 12.50.
10X multiplied value.
We agree, I was very lucky, but even if it was 3X or 4X, it would have been worth it. Will it be so in the near future?
With the growth in the number of players and with the arrival of the new UNTAMED expansion, I really believe that this game is a real hit. We'll see you soon. Byee
🇮🇹 ITA
Corrupted Pegasus !!! Peascata una leggendaria del pacchetto PROMO, del cui valore attuale si aggira intorno ai 12$. Fantastico!!
Direi che cosi mi sono ampiamente ripagato l'investimento fatto.
Facendo un'analisi più attenta dei dati, si può facilmente intuire come questo gioco possa anche essere considerato come un investimento, cosa che non avevo considerato a pieno prima di ieri.
Ora facciamo 2 conti molto semplici:
Spesa per 2500DEC circa 2,2$; valore delle carte complessive vinte circa 12,50$.
Valore moltiplicato 10X.
Siamo d'accordo, sono stato parecchio fortunato, ma se anche fosse stato 3X o 4X, ne sarebbe valsa la pena.
Sarà cosi nel prossimo futuro?
Con la crescita del numero di giocatori e con l'arrivo della nuova espansione UNTAMED, credo proprio che questo gioco faccia il botto. Vedremo, a presto. Ciaooo
Posted using Partiko Android