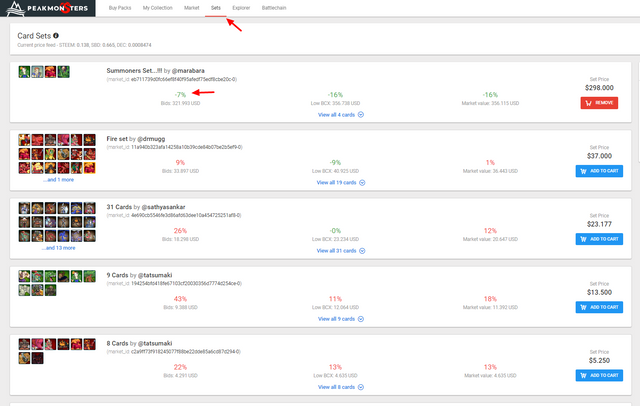 https://peakmonsters.com/packages
GREEN IS GOOD
Basically if you see GREEN it's a really good deal.
It means that the price is LOWER than what you'd see on the market.
If it's below BID price then it's an amazing deal because you know there are willing buyers of cards at those prices. Though obviously the BID market is presently based on 1bcx cards.
KEEP IN MIND MARKET LIQUIDITY
Even many red numbers are good because if you were to buy lots of those cards the price would likely be much higher. So even sets that are a little bit red may be way cheaper than when you compare how much it would take to buy from market.
TIP FOR SELLERS
You have the ability to give a pretty long description about the package you're trying to sell.
Make thematic sets of cards that would help a new user or a buyer who wants to buy and then rent them out or let another user play with those accounts.
Buyers may be willing to buy at a bit higher value if they see you've already done a lot of work for them.
Also you can now make sets up to 200 ... that means entire teams of every card in the game.
You can sell your whole collection of leveled up cards
SEE THE DETAILS
Don't forget to expand the set and see what exactly is in the offering and how much BCX each card has.

CHECKING OUT VALUE IN ANOTHER WAY
You can use the BULK CALCULATOR to see what the price would be to buy this card on the market which is another great indicator of value
Click to view larger... assuming you're o SteemPeak.com
https://steempeak.com/@peakmonsters/using-sets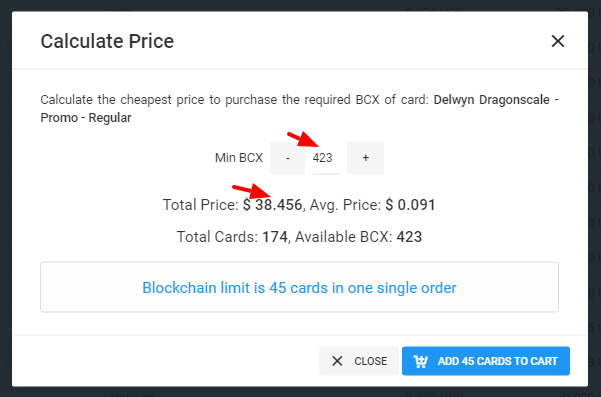 So i'll do the math it's about $371 if you wanted to buy these 4 cards from the market at this very moment and the user is selling it for $298 ... That's about a 20% reduction in cost. So that's even better than the 3 green numbers we list.
THE TRICK
as a seller it's about making a set the user will actually want with as few cards they don't want
And I suppose for the buyer it's finding a set of cards you actually care about. For example you may not want the delwn but if you add up the values of the other 3 it may still be worth it and you can just sell the delwyn.