Have you been down to the Playhouse?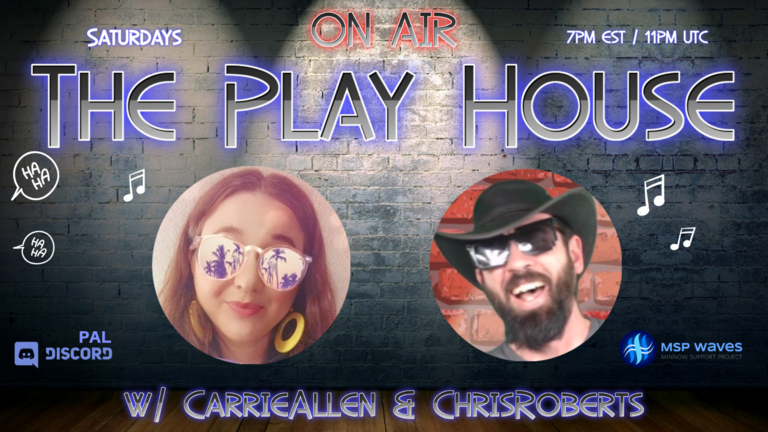 ---
Carrie and are settling into our new home on MSPWaves, getting into the groove of providing you original entertainment every Saturday night!
Join us from 5-7 MST, Saturday nights on MSPWaves!
---
We've been doing the STEEM sketch comedy thing with the Playhouse for over a year now, but after a little break, we're back with a bang. This is the only interactive comedy show of its kind!
---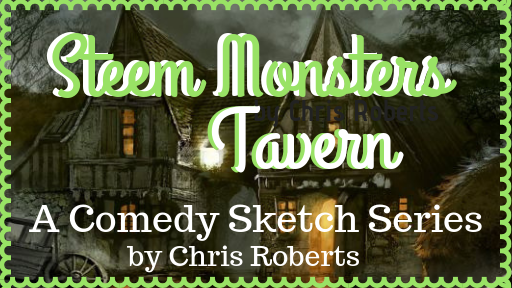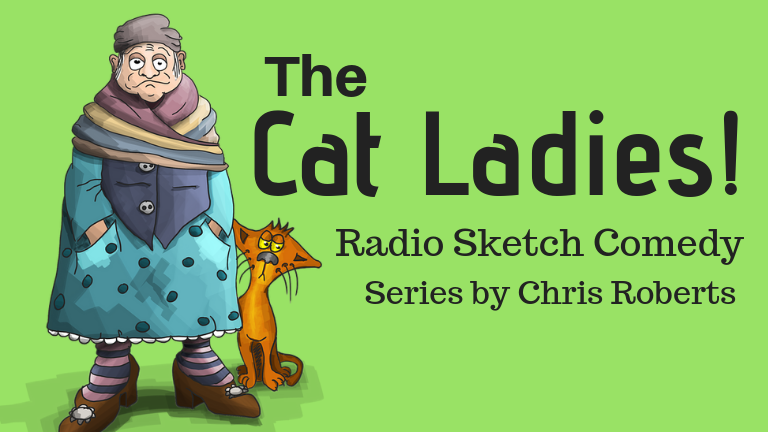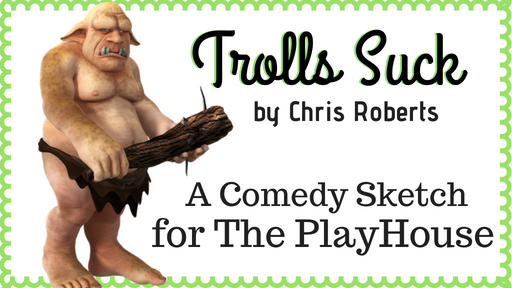 In the past, we have brought you such amazing Episodes and Sketches as...
The Cat Ladies! (12 episodes)
The Steem Monsters Tavern! (20+ episodes)
Space Carrie's Adventures in Space (7 episodes)
Animals Suck (6 episodes)
Inside the Fart Plane
The Safe Space
The Unsung Heroes Club
The Chronicles of SteemTown
Keto Wars
Indestructibilly the Kid
The Chronicled Defeat of the Dragon of Gurbly
A Cryptmas Carol
The Hardware Store
There are so many more... I could keep going.
---
I have also written dozens of original songs just for you, STEEM, and tons of hilarious song parodies!
---
Come play some games, win some prizes, laugh a little (or a lottle).
---
Here is the script for the newest episode of the Cat Ladies, which will be performed LIVE on tonight's show!
---
The Cat Ladies
Episode 12 - "Looking for Bit Coins"
CHARACTERS
AGNES - Definitely the oldest looking, sounding and smelling.
DORIS - She has the cleanest house and the most air conditioners.
ETHEL - She's been lots of places and done lots of things.
NARRATOR
In the middle of a hot summer, three old ladies are relaxing in the artificial comfort of four blasting air conditioners, one situated in each of Doris' four living room windows. The cats are sleeping soundly in their various nooks and corners. Ethel is scoffing at the pages of a newspaper, and Agnes is seated at a fold out card table, picking through a literal mountain of quarters, nickels and dimes. Welcome to a typical Cat Ladies summer day!
AGNES
Who is that?
DORIS
Who's what, Agnes? You've got your face buried in coins.
AGNES
Who's that on the dime?
ETHEL
Who's on the dime, you say? Well that's Franklin SmellyWhore Roosevelt.
DORIS
I don't think that was his name…
AGNES
He's so handsome!
ETHEL
Everyone looks good on a coin. He was a damn socialist cripple! I've been writing letters to my congressmen for last twenty years to get Ronald Reagan on the dime like he should oughtta be!
DORIS
Oh Ethel, Ronald Reagan is never gonna be on the dime. I heard they're gonna get rid of the dime, anyway.
ETHEL
Well, I want to see Reagan on the dime before I die!
DORIS
What about you, Agnes. Who would you like to be pictured on the dime?
AGNES
Zeus!
ETHEL
He'd never go for that. He's more hundred dollar bill material.
DORIS
One more time Agnes, can you tell me about your little coin project here.
AGNES
Sure thing, Doris. I keep hearing about these bit coins.
ETHEL
What the hell do you know about bitcoin, Agnes?
AGNES
Oh, I know plenty. These bit coins just a few years ago, when we were in our sixties, were worth just a few pennies each.
DORIS
Don't you know about this stuff, Ethel?
ETHEL
Yeah, but I wanna hear Agnes tell it. Go on, Agnes.
AGNES
Certainly. Well, now, each bit coin is worth about ten thousand dollars! Can you believe that?
DORIS
I don't know, Agnes. Nothing's meant to rise in value so quickly… Maybe it's a bubble.
AGNES
No, not bubbles, Doris. Bit Coins. Have you taken your meds today?
ETHEL
What do you use the bit coins for Agnes?
AGNES
Oh, lots of things. You can't buy stuff with 'em unless you're computer smart, but if I find any I'll just put a classified ad in the paper.
ETHEL
If you find any?
DORIS
Right. That explains the coins.
AGNES
Yep. In the past six days I have acquired approximately 624,000 units of coinage. It's taking a little longer than I thought to go through them.
ETHEL
So you're looking for…
AGNES
That's right, bit coins. Can we watch Frozen again?
DORIS
Agnes, the doctor told you, only once in every six hour period.
ETHEL
I can't believe the doctor prescribed watching less Frozen.
DORIS
Well they can't always completely remove the cancer…
AGNES
Let it go!!! Let it go!!!!!!
ETHEL
Dammit, Agnes! They've made movies since then, you know! Haven't you seen Trolls, or Zootopia? Hell, there's even live action remakes of Beauty and the Beast, Alladdin, the Little Mermaid and the Lion King now.
DORIS
Whoa. Live action Beauty and the Beast?
ETHEL
Yep.
DORIS
Isn't that, kind of… gross?
ETHEL
Yep.
DORIS
Alladdin… Who did they get to play the Genie?
ETHEL
The Fresh Prince!
AGNES
Hip, hop! Hippy to the hip with the hip-hip hop and you don't stop…
ETHEL
Dammit, Agnes, that's the Sugar Hill Gang. I'm talking about the Fresh Prince, with DJ Jazzy Jeff.
DORIS
So the Fresh Prince plays the Genie. What color is he?
AGNES
Racist!
ETHEL
Blue, like in the cartoon.
DORIS
Okay, what about the Lion King? It must have been dangerous to train all those animals for the movie.
ETHEL
What, you think they went to the Serengeti and filmed with a bunch of hungry wild animals. Hell no! They used computers for that shit!
DORIS
Well that's a relief.
AGNES
Computers! That's it!
ETHEL
What, Agnes?
AGNES
Well, I've been looking like the dickens for these bit coins, but I don't really know what I'm looking for.
DORIS
I'm sure they'll be easy to recognize if you find one, Agnes.
AGNES
What if I have to put them in a computer to be able to tell if they're bit coins or not.
ETHEL
Where would you put it?
AGNES
Don't know. Doris, can I use your computer?
DORIS
No, it's, uh, in the shop.
AGNES
Dammit, Doris, you need to take better care of that thing. It's always in the shop when I'm over.
ETHEL
How'd you acquire all those coins anyway, Agnes?
AGNES
I had to go to about twenty banks. Did you know that most banks will sell you rolls of coins, even if you're not a customer? If they hesitated, I just acted like I was a pirate looking for treasure. Then they just thought I was senile and gave me the coins.
DORIS
I love playing the senile card.
ETHEL
You bought 'em in rolls? Then why the hell'd you mix 'em all together like that?
AGNES
I figured it would be easier to find the bit coins this way.
DORIS
Well, Agnes, it seems like you have a good system in place.
AGNES
You're damn right! If I find even a single bit coin, I'll be in the money!
ETHEL
Stranger things have happened.
AGNES
Can we watch Frozen now?
DORIS
No, Agnes. You still have an hour to wait.
AGNES
You know what that means, Ethel? It's time for the foot cream.
DORIS
Oh, god.
AGNES
You promised, Doris! You know I can't reach my own feet, and the foot doctor says I have to put it on every four hours or the anomaly will only grow.
DORIS
Hold on, lemme get my gloves.
ETHEL (reading newspaper)
Holy crap! Jeffery Epstein death ruled a suicide! That's hilarious!
AGNES
Nothing much funny about suicide, Ethel.
ETHEL
Sorry Agnes, but this time there is. This is the biggest load of bullshit the fake news has tried to feed us yet. But this time, everybody knows it. And soon, those evil sons of bitches are going down.
AGNES
It's funny when you get all serious, Ethel. Ooo! I think I found one!
ETHEL
Lemme see… Nope, that's a Chuck-E-Cheese token. Better keep looking, Agnes.
DORIS
Don't give up Agnes, I'm sure you'll find a bit coin sooner or later. Now let's get that foot creamed up.
AGNES
Okay, but watch out for the oozing part…
DORIS AND ETHEL
Ewwwwwwwww.
NARRATOR
And so, as the dog day wore on, Agnes counted coins while Ethel complained about politics and Doris made excuses to save her appliances from Agnes's experiments. After watching Frozen, Agnes proclaimed to everyone's shock that Frozen no longer entertained her the way that it used to, and that she was willing to give a new movie a try. She did specify, however, that she would have no part in any Disney offerings containing bestiality or blue Fresh Prince Genies. So the quest began to find a new film for Agnes to enjoy. Unfortunately, she was unable to find any bit coin… this time. Don't miss the next episode of The Cat Ladies, on the Playhouse!

End of Episode
---