New Splinterlands card #GIVEAWAY! Thursday 6/17/2021
Sorry I missed the last couple days of streaming!
I keep waking up either early in the morning and then keep passing out or I sleep so late I miss my whole day....
See, the thing is, that I'm not like most of y'all. I was in an accident in 2012 and I broke my neck and back in 5 spots.
Now I can't walk and I have no control over my fingers. On top of that I have such severe sleep apnea that I stop breathing for 30+ seconds multiple times and it's like pulling teeth to fall asleep.
Now I'm not saying all this to get your pity or anything like that. Everyone's got problems and some are worse than others but I felt like I had to say something.😕
I just wanted to bring you a little closer to my life I guess.
Ok enough about me let's talk about what I'm gonna #GIVEAWAY to one lucky #follower!!
OK so I'm gonna be reorganizing how I write these posts.
Follow my profile here and on https://www.twitch.tv/gigassplinterlands to know when I post each #GIVEAWAY and go #LIVE
Leave a comment at the end of each #PEAKD post
#UPVOTE and #SHARE if you want to help me with my #LIVESTREAM
The prize for this giveaway is a card I use a LOT...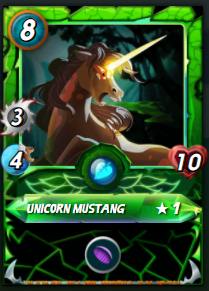 Unicorn Mustang is absolutely a tank among tanks!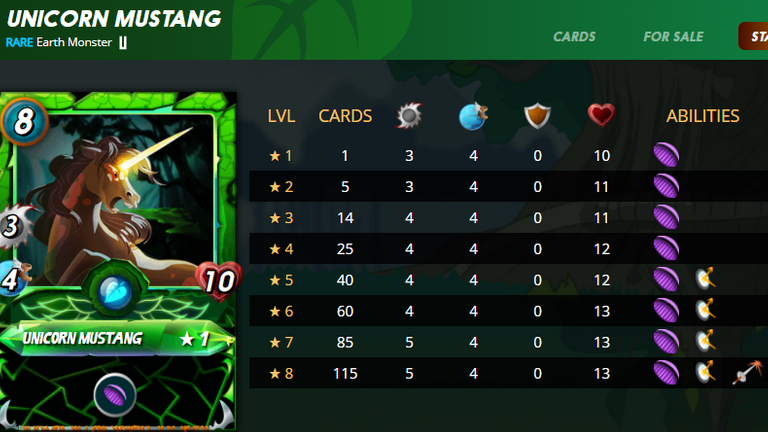 Just look at those stats! Void, magic reflect, and piercing!
This untamed tank is truly a #BEAST! I hope the winner will enjoy this tank as much as I do!
Are you new to #Splinterlands and want to join the fastest growing and largest #BLOCKCHAIN game? Use this link https://splinterlands.com?ref=gigas It really helps me fund the future giveaways with better prizes!!
Make sure to tune in to my Livestream on Thursday when I'll be spinning the wheel of names to pick the winner!
That's not the only way to #WIN on my livestream! I accept challenges from YOU and if you win you get to spin my "Wheel of prizes"!!!
Rules for challenges
You must be watching my stream at https://www.twitch.tv/gigassplinterlands at 7PM EST!
Each challenge costs 100 DEC. Send DEC to "gigas". The DEC will be used to fund future giveaways and contests.
You can challenge me 2 times each stream
You can choose any tier from novice to silver

If you lose or are dissatisfied with your prize; Do not throw a fit, swear at me, DM me on discord and do the previous rude behavior, or you will be banned from all future giveaways, contests, and challenges! This is your ONLY warning!
Prizes will be as follows:
Various amounts of DEC between 1-500
All splinters each in separate slots
Bonus spins (two total and cannot be awarded more than once)
Bankruptcy (no prize will be awarded)
Now for the next #Livestream Giveaway (you don't HAVE to watch to win. But it really helps me get my name out there) 😘
I hope we'll see each other on Thursday! Goodluck to those that dare to challenge me! Just know that I will be fighting to win! No one should expect me to go easy on them!!!
God Bless
---
---