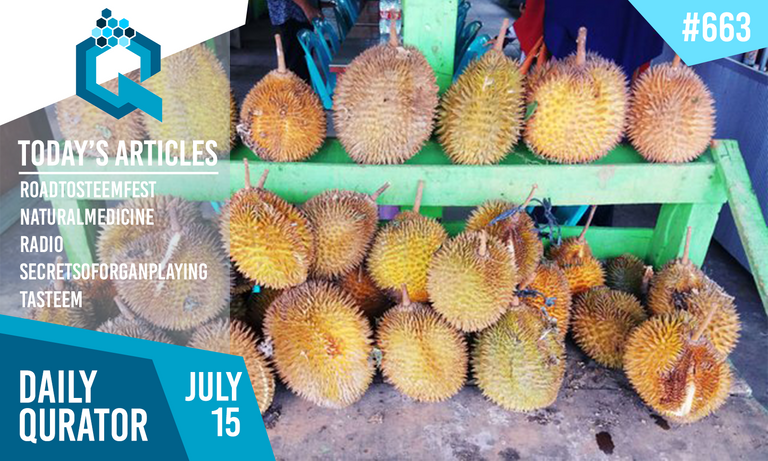 Cover graphics by - @aaronleang

Welcome to the 663rd Daily Edition of the Daily Qurator. Below you will find some awesome members of @qurator that worked hard to post some good quality content for all you awesome Steemians to enjoy!
---
Your Quality Curator ~( @goldendawne )~ Presents:
---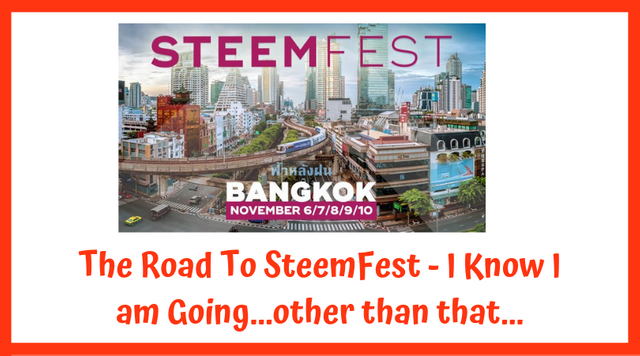 The Road To Steem Fest- Sorting Out My Top 3 Priorities
Thanks to @anomadsoul and his Road To Steem Fest initiative to help us get into the groove of thinking about Steem Fest and getting really excited about it. I first heard that the dates for Steemfest was already set from my good friend @elizacheng as Malaysians would have over a meal! After being away from Steemit for a long time as I was going through a really tough challenge, it could not have been a coincidence that as I came out of it, I decided to meet up with friends from @teammalaysia who encouraged and supported me throughout my difficult period
Are you heading off to Steem Fest this year too? What are you looking to do there? See what @khimgoh's main three things she wants to do and accomplish while there!
---
Show Me The Money Honey
If you google - local honey a cure for hay fever - nine out of ten of the top websites listed state there is no scientific proof that local honey helps with hay fever
Really?... during the summer of 1994 my chronic hay fever disappeared after a course of local honey. I started taking it in the autumn and winter of 1993, slowly increasing my daily intake to one teaspoon of local honey/day, continuing with a teaspoon/day right through the spring of 1994
If you like honey and eat it frequently, then you know how much better raw and organic honey tastes compared to plain old store bought honey. But do you know the healthy benefits of this natural sweetener? See @raj808's most recent post to learn more.
---
Another Night With The NOAA 18 Satellite And Tracking Airplanes
I recently started to play with my SDR (Software Defined Radio) trying to receive any radio signal I could reach and decoding them. Due software limitation on Mac OS X, I'm currently focusing on NOAA weather satellite imagery and ADS-B (air traffic surveillance)
WHAT an unusual thing to monitor! Have you often wondered how many airplanes are in the skies at an exact moment? See how @quochuy uses this radio and receiver to see just that!
---
Secrets of Organ Playing Contest Week 29 (Participants Can Claim 100 ORGANDUO Coins!)
Have you ever wanted to start to practice on the organ but found yourself sidetracked after a few days? Apparently your inner motivation wasn't enough.
Want to enter a contest to win some... STEEM? Then head on over to fellow Qurite @organduo's post to learn more!
I know how you feel. I also was stuck many times. What helped me was to find some external motivation as well.
In order for you to advance your organ playing skills and help you motivate to practice, my wife Ausra - @laputis and I invite you to join in a contest to submit your organ music and win some Steem
---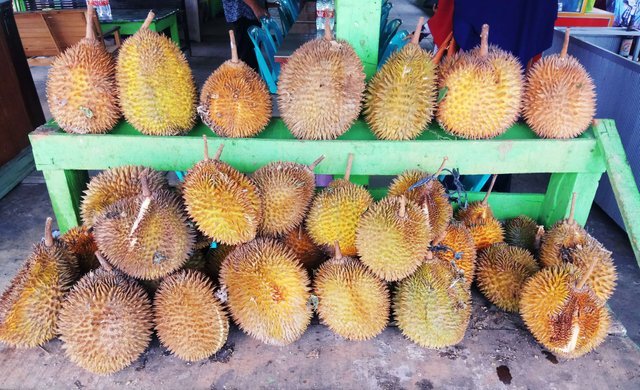 Bulukat Boh Drien
Durian fruit is a type of fruit that is very easy to get in Southeast Asia, especially in Aceh, Indonesia, because the durian fruit grows in the tropics. For those of you who like durian, Aceh is an area that you must go to. Because in Aceh there are various kinds of processed from durian. One of them is Bulukat Boh Drien (durian sticky rice). One of the places that provides Bulukat Boh Drien is Pondok Durian Abua Amin
Durian is one of those foods that you either love... or hate. There is no middle ground. It's the taste and flavor of the durian that has people classified as lovers or haters. So which are you?
And if you're looking for a great place to enjoy this food, @anroja has just the location for you!
---
@qurator does not explicitly or implicitly endorse third parties opinions or statements in the Daily Qurator. Any statements made in these posts are the author's and curator's own opinion.

Qurator News:
---
Free Registration and how to join details can be found here: Registration Details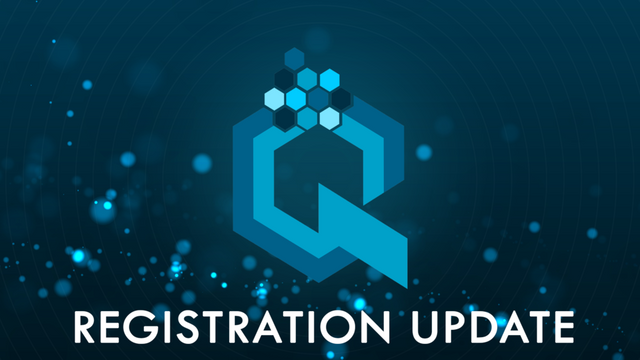 ---
Bigger better monthly subs!
We know not everyone can delegate or upvote for larger upvotes. Thus sending in steem allowed for a larger upvote for the month.
It used to be only two levels.
SUB1 = 0.8 Steem for an upvote from 750 SP
SUB2 = 1.6 Steem for an upvote from 1500 SP
We decided to add three more levels to this, with level 5 adding a little bonus in there!
SUB3 = 2.4 Steem for an upvote from 2250 SP
SUB4 = 3.2 Steem for an upvote from 3000 SP
SUB5 = 4 Steem for an upvote from 4000 SP (250SP Bonus!)
So how does that work?
Let's say you send 3.2 Steem with the memo sub JULY then you will get an upvote from @qurator similar to a 3000 SP account.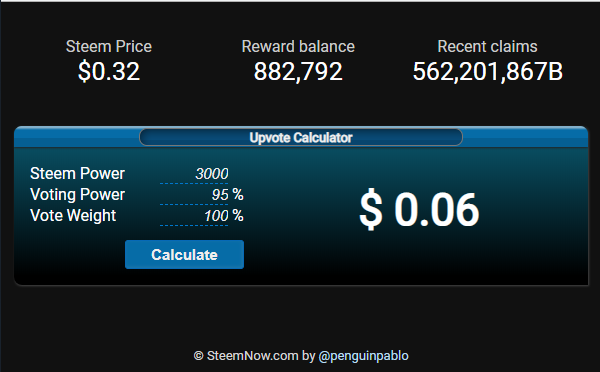 Competitions


We host weekly Photo and Food competitions. Click on the images below to view the posts.
Additionally for all members we have Toss up Thursday, a biweekly free for all post-promotional competition.
| Tasty Tuesday | Toss up Thursday | Photo Friday |
| --- | --- | --- |
| | | |
For Qurator members
For those who would like some extra upvotes from the Qurator project can send SBD and their link to
@qustodian
. This little bot is available to Qurator members only.
- Send any amount of SBD and your link to receive upvotes.

- Any extra SBD will be refunded.

- The bot will upvote your post to the value of 2.35 times the amount of SBD you send.
For Investors
For those who would like to invest some Steem Power,
@qustodian
pays out 90% of all the SBD sent to the account. Delegate minimum of 50 SP to invest and receive daily payouts in SBD.
Delegation links for @qustodian (NOT @QURATOR):
Please remember to leave at least 50SP in your account!
For any other amount feel free to contact us in Discord.
Delegation links for @qurator
After you click the link you will have to check the value, click next and then enter your Steemit NAME and Private Active Key to delegate.
Please remember to leave at least 50SP in your account and that new delegations overwrites the old one. Always use the total amount you want to delegate.
Qurator's Discord Channel


There is more perks and fun stuff on our server:
Feel free to ask Qurator Team questions
Meet other members
Promote your post in our Postpromotion room
Check your last upvote, current tier and @qustodian balance with Quro bot in Qurator-Assistant room
Keep an eye on on Steemit challenges in Steemit-challenges room
Join us! https://discord.gg/pJtWp57

Qurator banners
If you would like to show some more support and use Qurator banners then please head over to this post and copy the banner links from there. =)



»»-------------¤-------------««
Upvoting or Resteeming this post will help us grow and in turn enable us to give better upvotes to our members and quality content creators.
The Qurator project is brought to you by:
@scrooger | @boontjie | @goldendawne | @ewkaw | @ackhoo | @brumest | @stresskiller | @blacklux
Like what we do? Consider voting for us as a Steemit witness.
Active Witness rank: 75
---