Good Morning,Good Evening, Good Afternoon depending upon where are you in this world this is @ajks with today's blog.
I hope all of you are doing good and all of you are fine. It is great to be with all of you here. Today I'm going to review a Wallet Dapp called Steem Wallet a smart and secure wallet for holding and transferring steem and SBD. This Daap can be used with steem account and this is able to perform most of the transactions we made using our steem account. So without wasting time let me explain about this dapp
What is STEEM WALLET?
Steem Wallet is a Blockchain powered Wallet Dapp which gives us a space where we can send or receive Steem and Steem Dollors . It is a mobile based secure wallet which can be used for sending or receiving Steem or SBD. The Dapp have simple users interface that can help every user to understand the dapp and help to use it. In Steem wallet we can add many steem account and excess them by just taping on username.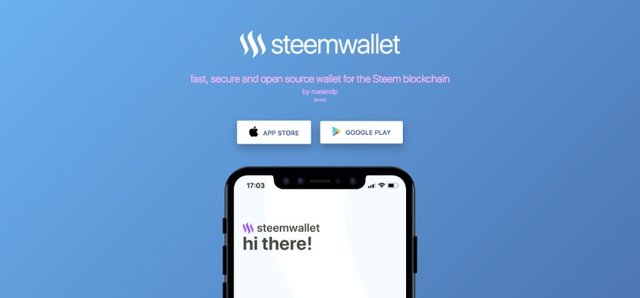 How To Get Started Using The DApp?
It is necessary to have a Steem account to access STEEM WALLET so if you don't have Steem account click on the below link to register for free
So now you have Steem account and you can use Steem Wallet.
IF you want to experience simple users interface of the dapp and want to send or receive steem & SBD easily then you have to use steem wallet. For using the Steem Wallet you have to follow some steps which are given below.
Step-1
Steem Wallet have Android and iOS mobile apps already available on play store and app store.
Go to Steem Wallet official website https://steemwallet.app/
Now you are on official website of Steem Wallet. Click on

for android version download or click on

for IOS verson.
When you click

Play Store will open click on download button for download the app.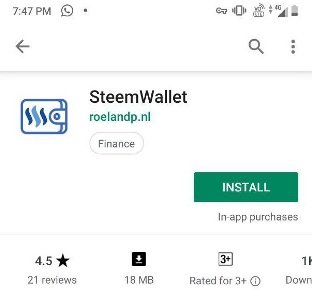 Step-2
If you have successfully installed the dapp then open the dapp and you will see a window like this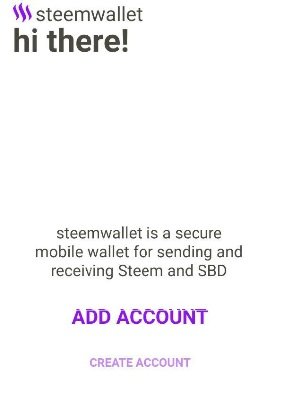 Now you can add your exiting steem account by clicking on ADD ACCOUNT either you can purchase new steem account if you dint have one till now
Steep - 3
Add your steem username on desired filed and then you will see home screen like this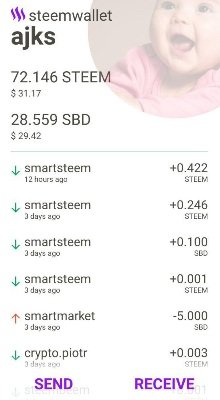 That's it you are all done now you can experience the power of blockchain with simple user interface with Steem Wallet.
Ranking of STEEM WALLET at State of the DApp
STEEM WALLET is one of the decentralized WALLET DApp listed on the State of the DApps platform. Presently, the ranking of Steem Wallet is at #418 on the State of the DApp. But in the Wallet Category it ranks Main Components of The DApp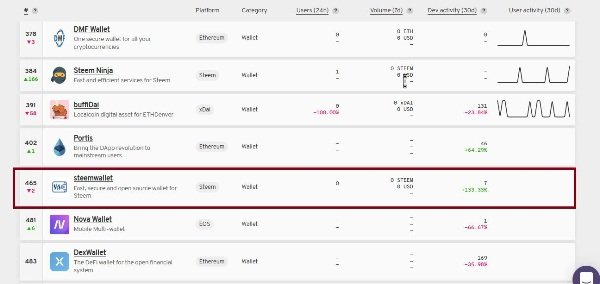 Main Components of The DApp
Here I'm stating some main components of Steem wallet have a quick look below.
There is a setting button on top right corner of the app click on that and you will a window like this.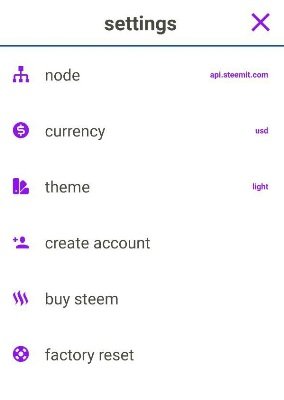 NODE - Using this section you can change witness node for viewing data

CURRENCY - Here you can change account currency you can set your native currency to see estimated account value

THEME - Using this you can change user interface and can set desired theme dark or bright

CREATE ACCOUNT - This section can be used for purchasing steem account from Steem Wallet.

BUY STEEM - From this you can purchase steem from blocktrade cryptocurrency exchange

FACTORY RESET- If you want to clear your account data then you can use this option
Things I Think are Good About The DApp.
Here I'm mentioning some things which are outstanding about the DApp.
The interface of the DApp is quite impressive and user friendly anyone can use it without any problem
Steem Wallet have android and ios app so you can download the app for better experience
We can add as many as we want steem account on this wallet Dapp
We can receive fund by showing WR Code
We can Sign & send transactions with biometry support
The Things I Think are Not Good About The DApp.
There are some things I don't like about the DApp:
Dapp dont have steemconnect support which makes it less trust able.
we have to set a phrase which can be hacked by the hacker
My Experience and How Steepshot Can Improve?
I have amazing experience of this DApp I always love to use its simple user friendly interface. if there is steemconncet support then i can say it is amazing wallet dapp for steem. I noticed a weird thing there is no customer support on official website i think it is necessary to have any contact detail on the website son anyone can contact at the time of trouble.
Star Rating & Conclusion
In the conclusion I just want to say that I have good experience of the dapp and I appreciate the great work of team for this amazing steem wallet. I will give 4. 6 Star Rating to this project. Thank you guys for this awesome Dapp.
https://www.stateofthedapps.com/dapps/steemwallet
Screenshots are taken from android app
Thanks for visiting my blog and reading this post! If you like the post, please upvote, resteem and comment.
Follow me @ajks