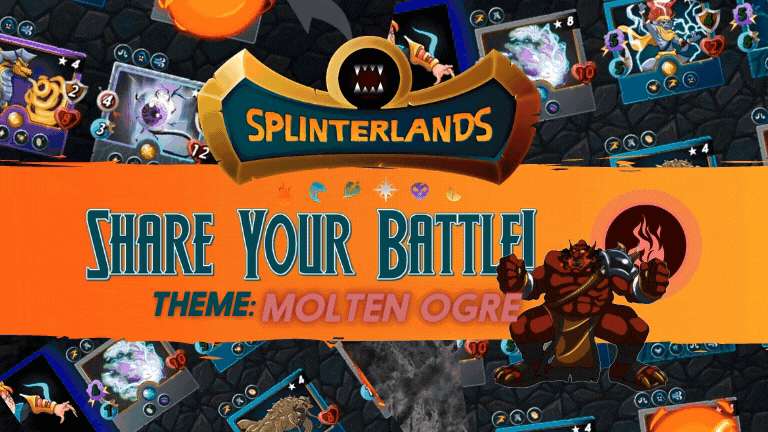 Hola amigos espero que estén muy bien hoy vengo a participar en el reto de la semana de splinterlands en esta oportunidad es con el gigante MOLTEN OGRE, este es un monstruo de la edición promo que salían en las famosas ORB fue de los primeros monstruos que salieron con ul alto costo de mana claro era solo un abre bocas para lo que veríamos luego con la expansión de untamed , MOLTEN OGRE es un monstruo muy bueno para batallas de alta cantidad de mana y adicional donde la probabilidad que todo se resuelva en combate cuerpo a cuerpo sea alta, ya que una de sus habilidades es desmoralizar lo que quita 1 de daño a todos los monstruos del equipo contrario en daño cuerpo a cuerpo, adicional a partir de lvl 6 se activa la habilidad de trample lo que es muy bueno en varios eventos incluyendo el nuevo evento que hace que todos los monstruos que tengan trample pueda activar la habilidad de forma indefinida siempre que el golpe termine matando el monstruo podrá seguir atando al siguiente.
---
Hello friends I hope you are very well today I come to participate in the challenge of the week of splinterlands this time it is with the giant MOLTEN OGRE, this is a monster of the promo edition that appeared in the famous ORB was one of the first monsters that came out With its high mana cost of course it was just a mouth opener for what we would see later with the untamed expansion, MOLTEN OGRE is a very good monster for high mana and additional battles where the probability that everything is resolved in close combat body is high, since one of its abilities is to demoralize which removes 1 damage to all the monsters of the opposing team in melee damage, additional from level 6 the trample ability is activated which is very good in several events including the new event that makes all monsters that have trample can activate the ability indefinitely as long as the blow ends up killing the monster, it can continue to bind the next one.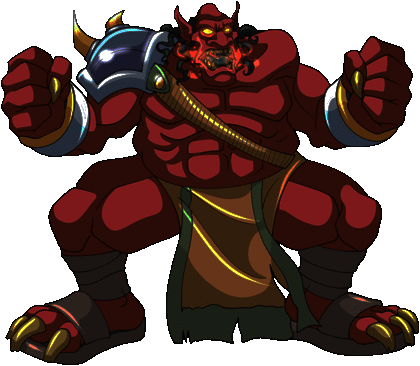 En esta batalla la batalla tenía 2 eventos, el primero es solo monstruos que tengan ataque cuerpo a cuerpo y adicional todos los monstruos pierden las habilidades especiales y una alta cantidad de mana en total 42, en este tipo de batallas son buenas 2 estrategias, la primera es colocar monstruos de alta velocidad en las primeras posiciones para intentar esquivar los ataques del enemigo y luego colocar tanques de alta cantidad de vida y daño para que terminen de hacer el trabajo, justo eso fue lo que hice en esta batalla coloque a SERPENT OF THE FLAME y a SERPENTINE SOLDIER en primeras posiciones, ya que tienen 6 de velocidad luego de ellos coloque a GOBLIN MECH y a MOLTEN OGRE porque son monstruos de mucha vida y buen daño, en la última posición coloque a WAR CHAANG que es muy bueno debido a que por tener ataque cuerpo a cuerpo se puede utilizar en la batalla con este evento, pero adicional tiene ataque de rango lo que hace que cada turno el tanque enemigo reciba dos ataques, el de mi tanque y el ataque de rango de WAR CHAANG , espero poder subirlo a lvl 3, ya que el daño de rango en lvl 3 sube a 2. La estrategia funcionó perfectamente aunque también yo tenía un poco de ventaja porque él tenía 2 monstruos lvl bajos y yo uno solo, les comparto algunas imágenes
---
In this battle the battle had 2 events, the first one is only monsters that have melee attack and additionally all the monsters lose their special abilities and a high amount of mana in total 42, in this type of battles 2 strategies are good, the The first is to place high-speed monsters in the first positions to try to dodge the enemy's attacks and then place tanks with a high amount of life and damage so that they finish doing the job, that's just what I did in this battle, place SERPENT OF THE FLAME and SERPENTINE SOLDIER in first positions, since they have 6 speed after them, place GOBLIN MECH and MOLTEN OGRE because they are monsters with a lot of life and good damage, in the last position place WAR CHAANG, which is very good because For having melee attack it can be used in the battle with this event, but additionally it has a range attack which makes the enemy tank receive two attacks each turn, the one from m i tank and WAR CHAANG's ranged attack, hopefully I can raise it to lvl 3, since the rank damage in lvl 3 goes up to 2. The strategy worked perfectly although I also had a bit of advantage because he had 2 low lvl monsters and I just one, I share some images.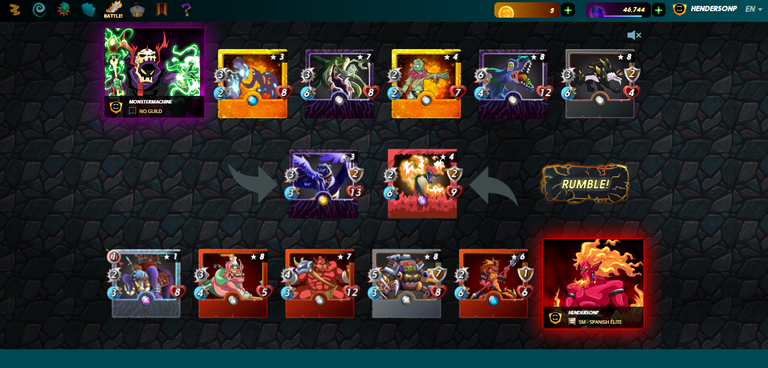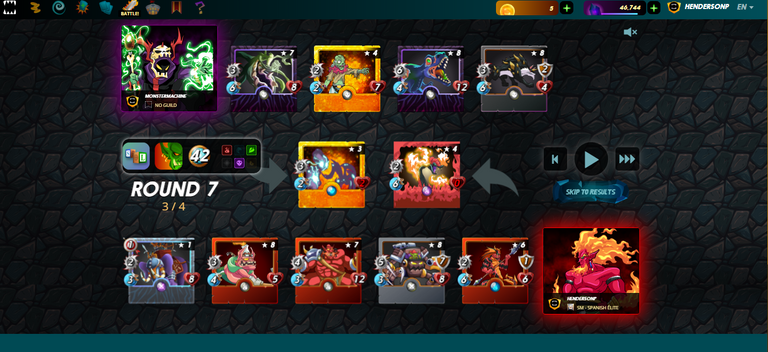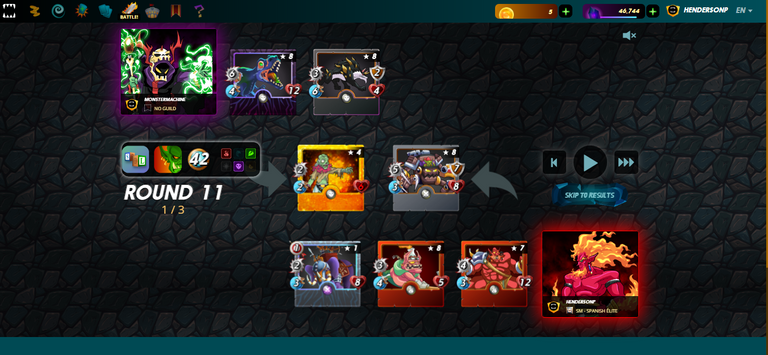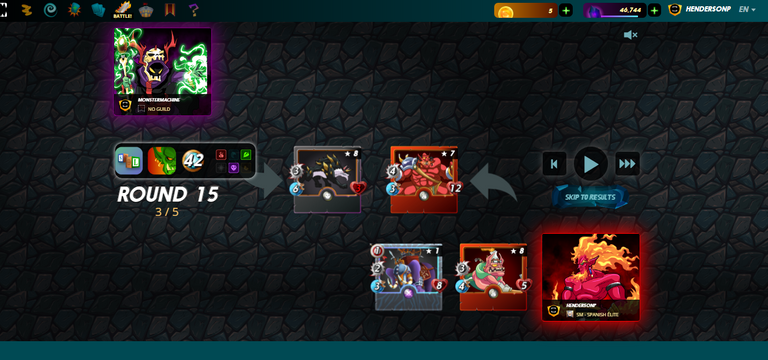 En el siguiente enlace puede ver la batalla completa || In the following link you can see the complete battle.
https://steemmonsters.com?p=battle&id=4f1dd890800e0b2dcbad8bf520b94d1fc02706d3&ref=hendersonp
Bueno amigos, solo quería decirte esto por ahora, si quieres ingresar a este maravilloso juego, puedes hacerlo a través del siguiente enlace: https://splinterlands.com?ref=hendersonp si lo hacen por este enlace el juego nos regalara a ambos una carta aleatoria esa carta puede vale 0.02$ o 100$ todo lo dirá la suerte. Es todo por ahora, nos vemos en la batalla.
---
Well friends, I just wanted to tell you this for now, if you want to enter this wonderful game, you can do it through the following link: https://splinterlands.com?ref=hendersonp if they do it through this link the game will give us both a random card that card can be worth $ 0.02 or $ 100 all luck will say. It is all for now, see you in battle.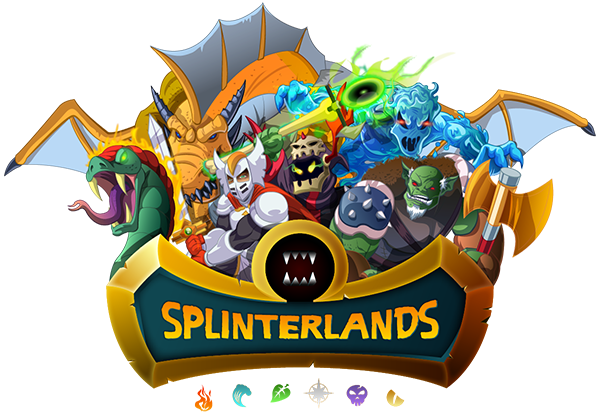 Si quieres apoyarme en esta nueva etapa de migrante, puedes enviar tus donaciones aquí || If you want to support me in this new stage of migrant, you can send your donations here
BTC 18oXg7hfBnso6241ACCSkmHMTKZNKZPZqc
ETH 0xde966945355BC8061fFfCD71Af93751d8c699042