El pequeño amante de los tréboles
Hola, no sé si a ustedes les pasa que tienen una voz interna, esta aparece cada vez que queremos tomar decisiones desde sencillas hasta complejas. Esta voz interna nos muestra claramente las consecuencia de cada acto sea bueno o malo…en otras palabras nos hace reflexionar. Claro, solo si le prestas atención ya que muchos lo pasan por alto y lo ignoran. En lo personal conocí a este personaje desde pequeña, por eso ahora decidí plasmarlo en un dibujo y luego pasarlo a amigurumi.
Hello, I don't know if it happens to you that you have an inner voice, it appears every time we want to make decisions from simple to complex. This inner voice clearly shows us the consequences of each act, whether good or bad... in other words, it makes us reflect. Of course, only if you pay attention to it because many ignore it and ignore it. Personally, I knew this character since I was a little girl, so now I decided to capture it in a drawing and then pass it to amigurumi.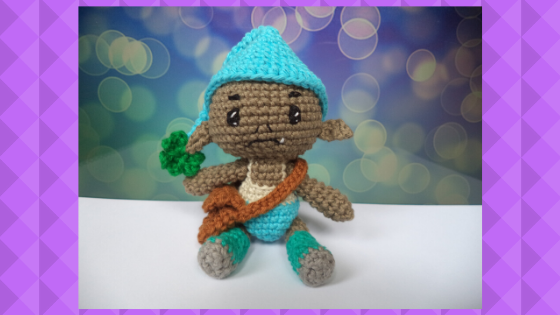 El personaje
El duendecillo de la verdad es un coleccionista de los tréboles, según él esta planta cura la mala vibra presente en ambientes decisivos, por ejemplo en los juzgados, hospitales, orfanatos, cárceles, cementerios, iglesias, entre otros. Lleva un bolcito repleto de hojas de tréboles para llenar de vibras positivas por donde vaya. Quizá se vea algo molesto y es porque debe ser estricto con quienes le hacen ojitos queriéndose ir por el camino incorrecto.
The truth goblin is a collector of clovers, according to him this plant cures the bad vibration present in decisive environments, for example in courts, hospitals, orphanages, prisons, cemeteries, churches, among others. He carries a little ball full of clover leaves to fill with positive vibes wherever he goes. Maybe it is something annoying and it is because you must be strict with those who make eyes wanting to go the wrong way.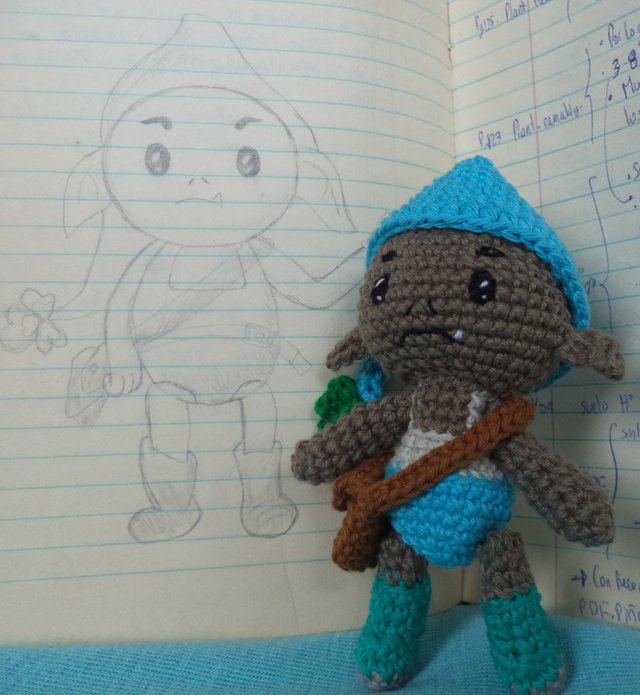 Materiales:
Lápiz HB / pencil
borrador / eraser
hoja bond / bond leaf
lana acrílica/ cotton thread / Acrylic wool
crochet Nº2 / craft Nº2
aguja punta roma / blunt point needle
napa siliconada / siliconated nappa
hilo de bordar
tijera / scissors
alfileres / pins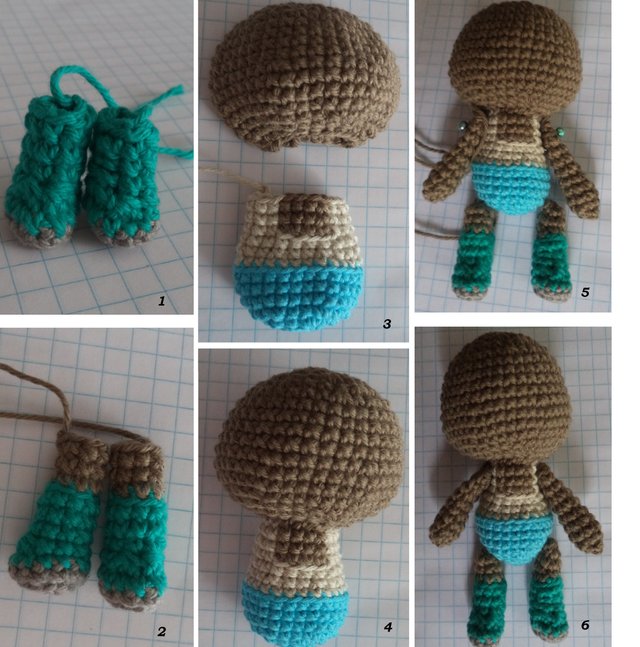 Se inició tejiendo la suela de las botitas color gris, seguido de un verde esmeralda para luego continuar con el color de la piel. Los amigurumis se caracterizan por tener una cabeza de gran tamaño. Se puede comparar el tamaño del cuerpo con la cabeza (figura 4). Una vez tejido los brazos y con la ayuda de los alfileres se realizó la diagramación y unión de las piezas del personaje (figura 5 y 6).
It began by weaving the sole of the grey botitas, followed by an emerald green and then continuing with the colour of the skin. Amigurumis are characterized by a large head. The size of the body can be compared with the head (figure 4). Once the arms were woven and with the help of the pins, the character's pieces were diagrammed and joined together (figures 5 and 6).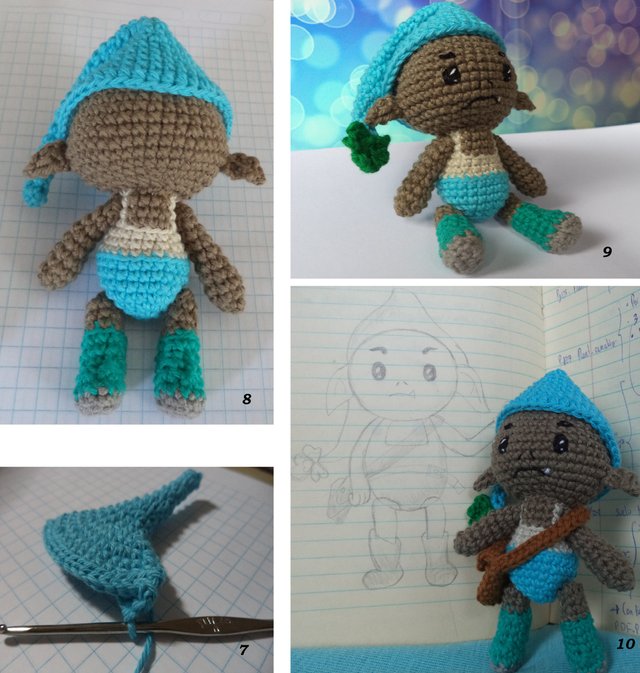 El gorrito fue algo extraño, se unió ambos extremos de la parte del gorrito que colgaría, para luego solo tejer aumentos hasta ajustar al tamaño adecuado de la cabeza (figura 7). Se tejió unas pequeñas orejas con cadenas de 3 puntos y disminuciones (figura 8). Se trató de bordar el rostro lo más parecido al personaje. La presencia del trébol era lo que faltaba, por ello se tejió y unió en la punta de la gorrita además se agregó un bolcito como la imagen de referencia (figura 9 y 10).
The cap was a little strange, he joined both ends of the part of the cap that would hang, and then only weave increases to adjust to the proper size of the head (figure 7). Small ears were woven with 3-point chains and decreases (figure 8). The aim was to embroider the face as close as possible to the character. The presence of the clover was what was missing, so it was woven and joined at the tip of the cap also added a ball as the image reference (Figures 9 and 10).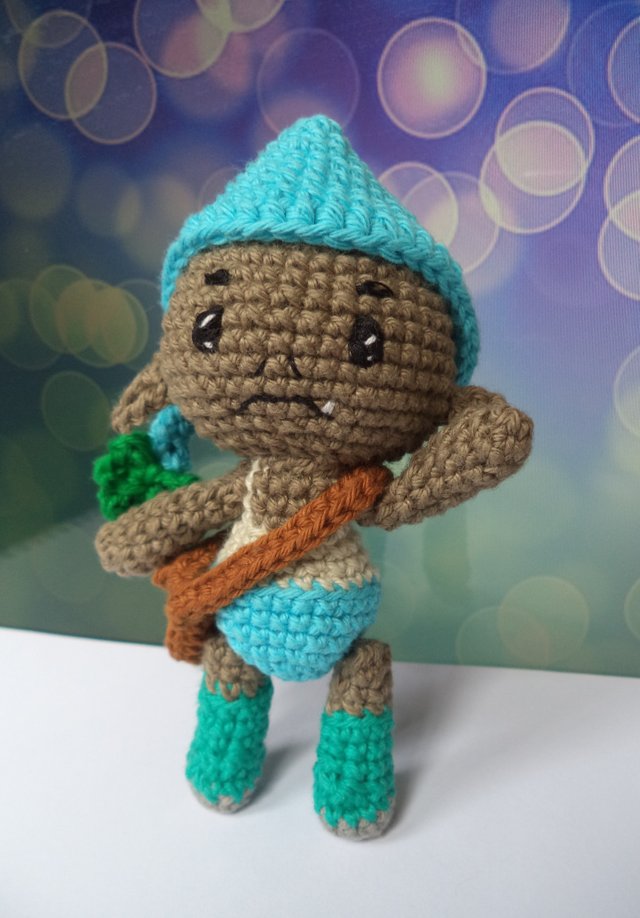 ¡…Hasta la próxima!
See you next time!
 Dato curioso: No hay nada como crear un personaje y llevarlo a 3D.


►Encuéntranos en: