Splinterlands has probably been my best investment of time and money this past year. Posts, Cards, and DEC - they all add up you know!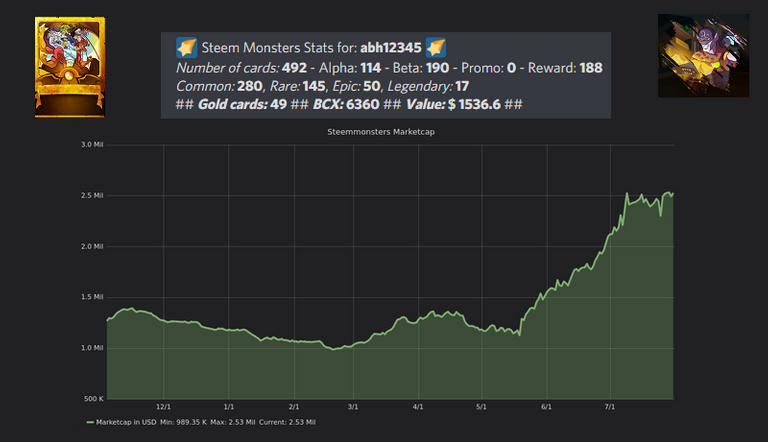 ---
On the days I have time to complete the daily Splinterland (Steemmonsters) quests (all the days), I post the results on @abh12345.spt.
The main reason for this is because I think that Splinterlands is quite niche, even though there is likely a reasonable percentage of the currently active Steem Community playing the game. I think it's better that a daily 5 minute 'hey I got these cards' post is better over there, at least for you anyway :)
As it's end of season rewards time though, those visiting my blog today will see some new cards, a little Splinterlands shilling, and a few figures and sums in relation to game earnings.
---
Season Reward Cards
Bear in mind that I have potions which 'increase the chances of a Legendary card by 50%' and 'increase the changes of a gold foil card by 25%'....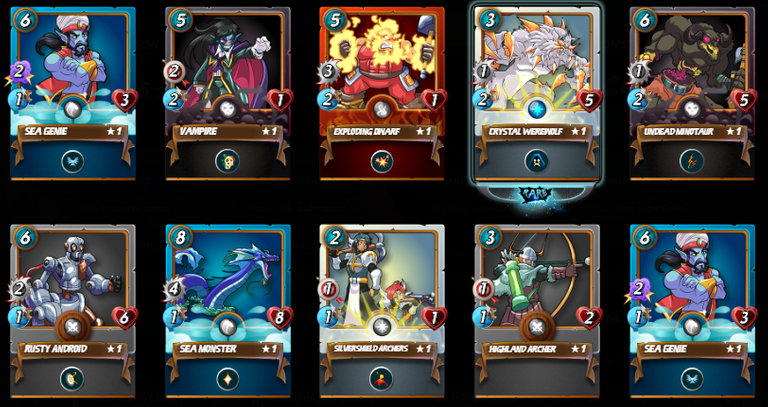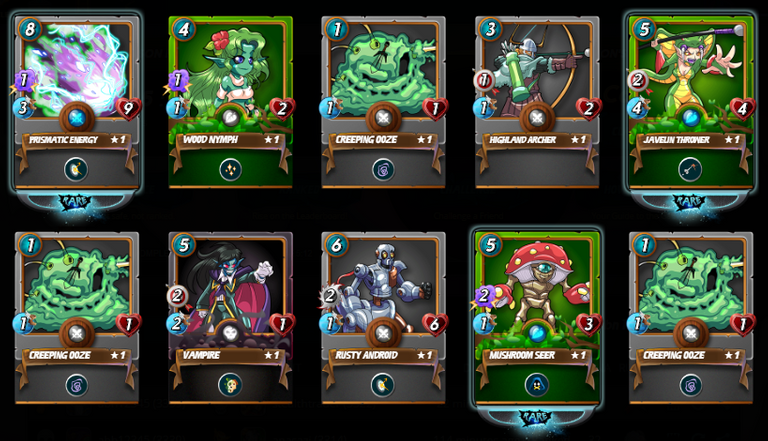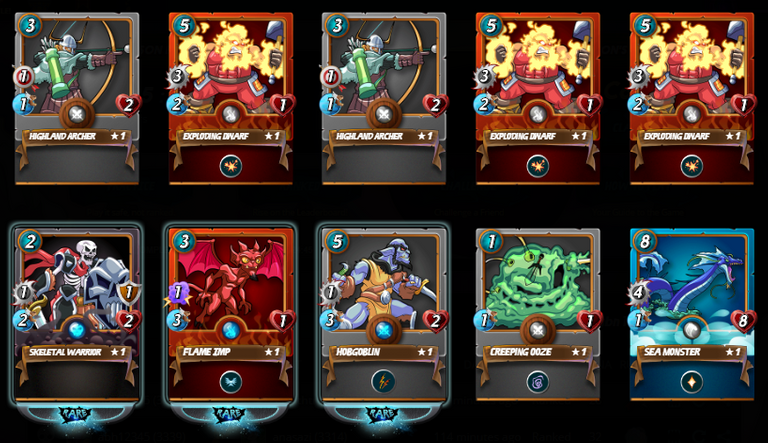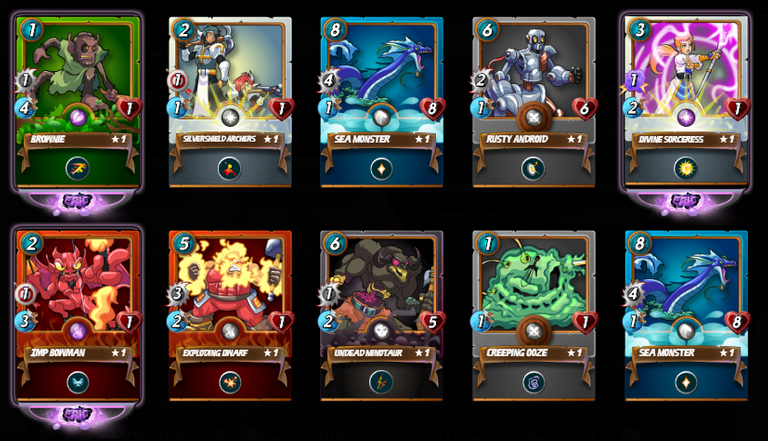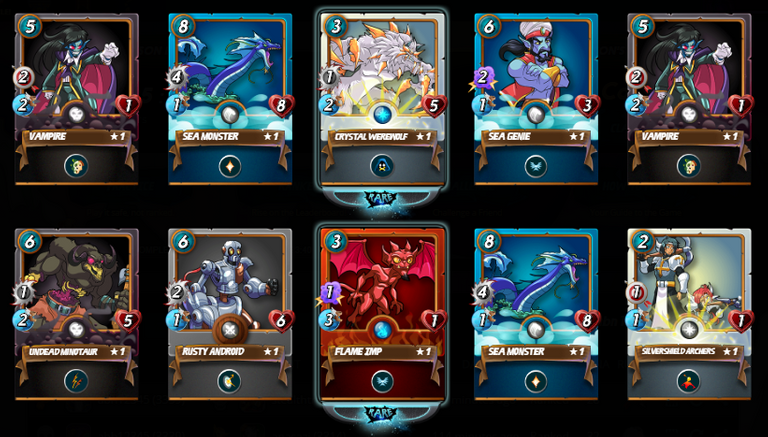 I'm a little disappointed with that draw, but they are free cards and all worth something - the 3 Epic cards are going for about $1.15 in total and the rest (without adding up) total around $2.
Daily Quests
Better luck was had during the season pulling 10 cards for the daily quest in which 2 Legendary cards appeared two days running: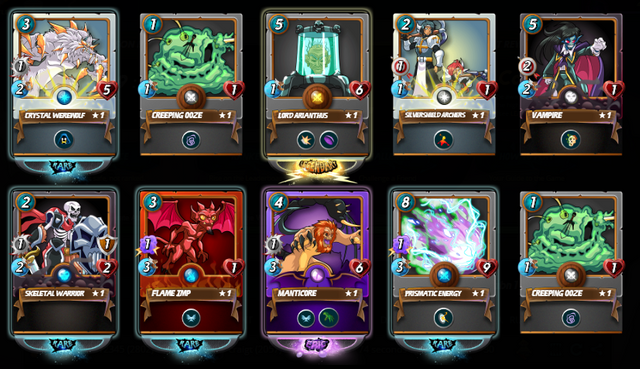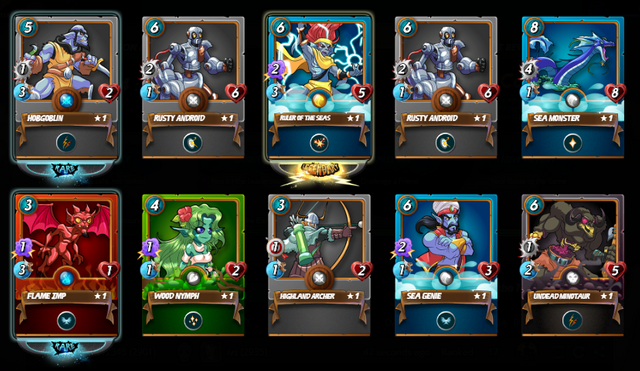 It takes about 30 minutes to complete the daily quest, sometimes a bit longer, and most of the time the cards are worth a STEEM or two. The Legendary cards pulled above are worth around 15 STEEM on the market, and that for many is a reasonable sized post payout - It will likely look even better when HF 21 lands.
DEC
Then you have the DEC (Dark Energy Crystals) that are awarded after each battle, which can be traded for STEEMP, Orbs and Potions, or used to fuel the new Guilds feature added to the game recently. With my current deck, I would say it's possible to collect around 750-1000 of these each day - 1000 DEC being worth 4.85 STEEM at current market prices.
'Easy' content from playing the game each day
Many people post their daily quest results to #spt #battle and #steemace, and many of the early adopters seem to have a fair number of these tokens, especially SPT. I have been buying all of the above in small doses, and @abh12345.spt, @abh12345.battle, and @abh12345.ggame are sharing these tokens out each day, minus 10% for my daily self-vote.



I'll just point out the comment count before someone like Taraz does for me :) To be fair though, I'm posting on an alt. account with 17 followers, and 8 of those are my alts.
The rewards from the above post are:
190 SPT = 1.52 STEEM
95.65 BATTLE = 1.25 STEEM
2.9 GG = 0.098 STEEM
Not far off 3 STEEM a day, for what is a 5 minute post. You could also include #marlians #neoxian and #palnet if you really want to push the tag boat out.
15 days a season (or thereabouts) and the rewards for me this time around look something like :
| Reward Type | STEEM |
| --- | --- |
| Daily Quest Cards | 75 |
| DEC | 70 |
| Daily Post | 45 |
| Season Rewards | 12 |
Roughly 200 STEEM for 30-45 minutes 'work' each day. Under currently market conditions, that doesn't look great, but if you have eyes on STEEM being worth a dollar, or 10 dollars, I would say that is not a bad return at all.
And the card valuations have done really well in recent months: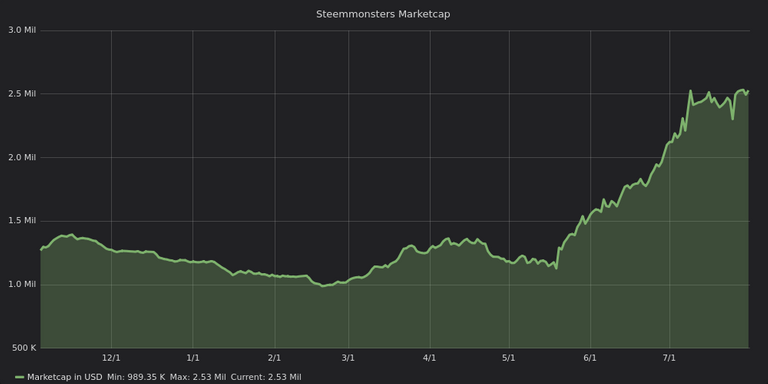 ---
I was a reasonably early adopter but didn't go large on the card buying - most of the packs were bought with STEEM when STEEM was $2/$3.

I also haven't been to the market much at all since STEEM fell from around $1 last October time, which was the ideal time to buy if you were investing fiat into the game.
Some of the larger accounts though that bought stacks of cards at lower prices must be over the moon at the way things have gone this year for Splinterlands.
There are just over 220,000 Beta packs left and I think they'll be gone by end of September at the latest. Hopefully this will drive prices up further and Splinterlands cards will easily have been my best investment this past year.
Cheers
Asher