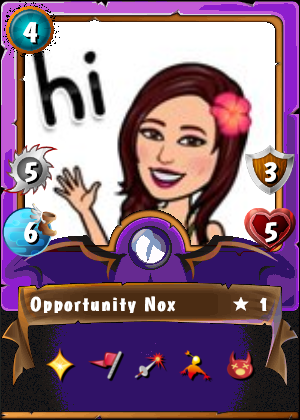 ---
Today, Opportunity Nox had some FOMO!
First of all, thanks @palikari123 for creating that funny card with my name.. and thanks for all the abilities lol.. Although, it's just a level 1, hopefully it wasn't a beta edition (wink wink)...Anyway, today I saw an opportunity, so I thought it was about time to use this card for a post. You probably all know what I'm talking about, if not, you must have been in a wintersleep today.. I woke up this morning reading that there were only a few thousand beta packs left, so I thought oh, that will be done by noon probably. I started my morning routine as usual, making breakfast and get the little one ready for preschool. Suddenly a sense of FOMO hit me, damn it, I told myself to ignore it, but listen, I only have so much willpower to not do things. Like I quit smoking last month, I still didn't touch a cigarette, so let me have this alright? I mean, what if there's another Rennyn waiting for me? Or maybe even better, it came down to this: I needed to try my luck one last time, and I was going to do it before I even brought my daughter to preschool. Determined to make a profit, I bought a few packs. Nothing crazy, because that I couldn't justify at this moment.
---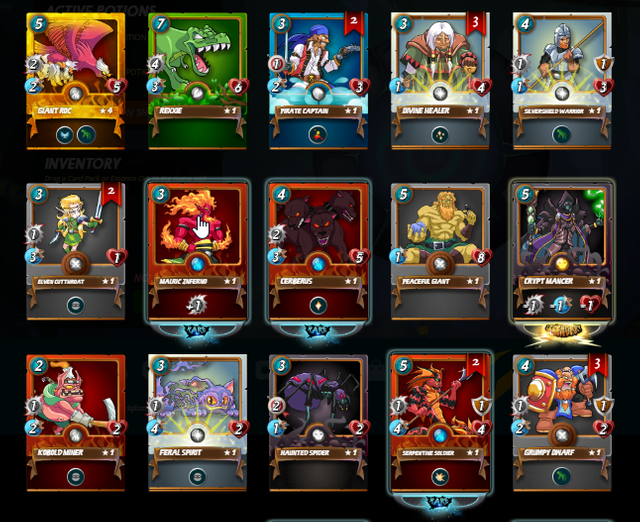 The first round I bought, were opened one by one, way too many screenshots, so let's check out the few I bought after that. I decided to open them at once because time was running out and I actually really needed to leave lol. Above you see that there was at least a cryptmancer, yay... So that's something..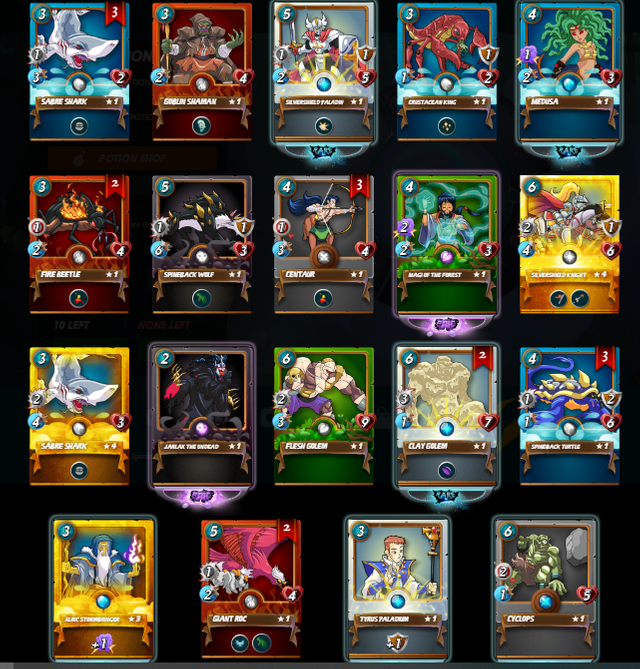 Glad that golden Alric was there, because I seriously felt like a very unlucky person with both brilliant potions activated. I've said it many times before, my Beta luck has always been horrible. My luck is in Orb openings, so "thankfully" I can't waste anymore of these potion charges on Beta packs that won't bring me luck anyway.. :-)
Who am I kidding anyway? I'm one of the Untamed ones.. and Beta was just too last season for me.. :shrug:
---
So what does this mean for the beta cards in the peakmonsters rental market?
So now all these beta babies have been sold, what will happen to the rental market? I believe prices of the cards will rise quickly and with that the beta rental prices as well. Maybe you will get lucky finding beta cards with prices according to when the cards were still available, but probably once a card rises in value quickly, the rental cards will do the same.
We will find out soon enough probably.. I hope the Untamed collection is not too far away, but also will not be announced within a too short time, as I'm curious to see what happens with the card prices now.
---
Today's reward highlights
And last but not least, today's reward highlights of the daily quests I played: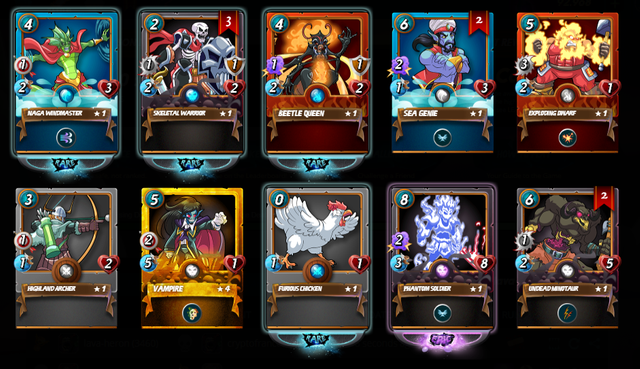 Above you can see the rewards from one herons account, and below you see the rewards from the other one: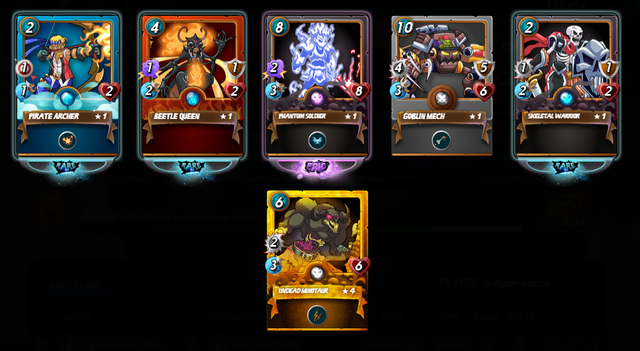 Once again, I forgot to buy the quest potion before opening my rewards on my account, so there went my few extra shots of a great GFL with brilliant potions. Maybe tomorrow?
I can imagine there are a few people out there feeling withdrawal symptoms now they can't open any Beta packs, what about you? Are you feeling restless, a bit shaky? Call your local psych to talk about it, they probably have this hotline now beta packs have been sold out completely. :)
~Anouk