This week's share your battle challenge involves using a card from the fire splinter.
An old schooler who is known for being hot. It can be also be toxic. Over the long term his presence on the battlefield will be felt.
Without further ado let's jump into it!
Theme: Serpent of the flame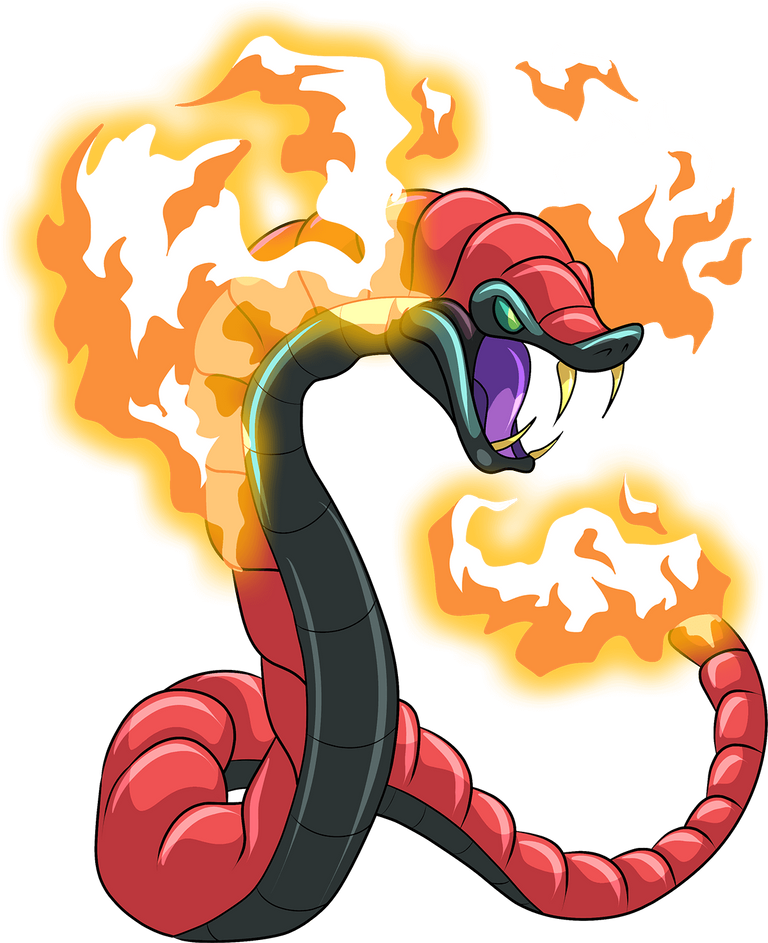 The Serpent of the flame is an epic card from the Beta edition.
It comes with the retaliate ability from the get go, an ability which is great for returning melee damage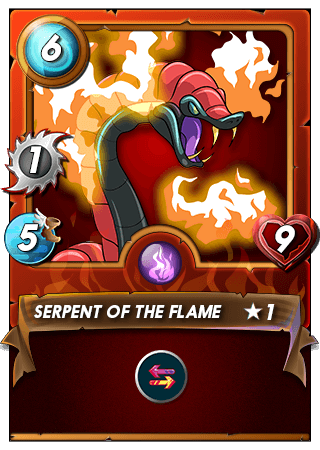 It starts with a melee attack of 1. This might not be very appealing for an epic card.
Its abilities and other stats more than compensate its low attack though.
With 9 hitpoints the serpent is basically a tank.
You'll have a hard time landing a hit on it with its speed of 5.
Should you land a hit on it, you might face a retaliatory attack.
At level 3 it gains the ability to poison.
It can be yours for 0.72 $.
I believe this is underrated, this card is extremely powerful when used correctly.
Where NOT to use
Due to its high mana cost and massive speed it shouldn't be used it for the following rulesets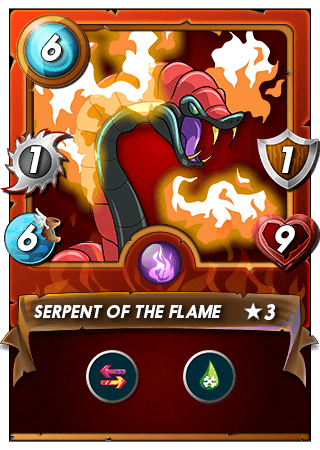 Matches with a low mana cap
Reverse speed
On reverse speed the serpent loses one of its main advantages.
On matches with a low mana cap cards with the shield and healing
ability are better suited.
Where to use
Melee Mayhem
Super Sneak
Earthquake
Matches with high mana cap
Cards with the ability to retaliate are better suited for rulesets where melee cards can attack from everywhere.
Due to the fact that it is a tank it is also suited for earthquake.
Specially in the last position, in order to retaliate against cards with the sneak ability.
The Battle
This Battle took place in a ranked game. It involves the ruleset of "Earthquake"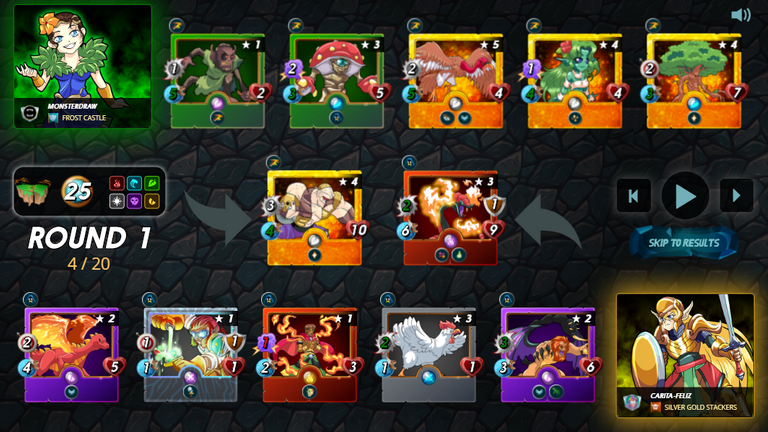 When it comes to the levels this battle was even, as my rival had a level 4 rare summoner and I brought a level 3 epic summoner.
I would say that my rival brought the usual squad for the Earth splinter.
On the other hand my focus was on having a squad able to mostly sustain Earthquake damage.
My Lineup
Serpent of the Flame: The serpent of the week. A great tank for the Earthquake ruleset and able to poison.

Manticore: Great for its ability to reach and its ability to fly.

Furious Chicken: Low mana and able to delay one Opportunity hit.

Zalran Efreet: Great for its ability to leech life, is able to survive the Earthquake damage

Halfling Alchemist: Great for weakening my rival's offense, thus helping my serpent survive.

Fire Spitter: A Flying Dragon with low mana cost. Great for Earthquake
My Serpent was able to outlast half of my rival's card. It even got the Flesh Golem poisoned and retaliated once.
I brought two cards able to fly and one card able to leech life.
In the end the combined damage of my cards was able to take down my rival's Flesh Golem and the Earthquake damage took down most of my rival's lineup.
My Serpent didn't make it, but with its ability to tank, retaliate and poison it was very helpful in winning this battle
See you in the Battlefield!
Previous Challenges
| Pirate Archer | Flesh Golem | Soulstorm | Captain's Ghost | Child of the Forest
| Phantasm | Silvershield Warrior | Serpentine Spy | Goblin Mech
| Nectar Queen | Manticore | Spark Pixies | Undead Minotaur
Sign up
Want to join Splinterlands?
Here is my affiliate link