Hi beautiful gaming world!
Hope you all enjoying this Sunday..
This is my weekly battle share challenge for splinterlands gaming platform.. with THEME- SOULSTORM
---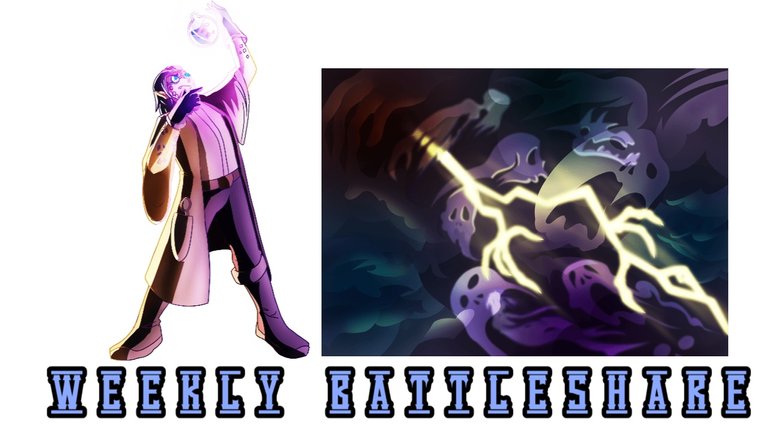 with the end of the previous season, there is lots of change in splinterlands gaming platform taking League and rating..
Now League and rating based on collection power..
However, for the last 4-5 weeks I am not able to remain as regular as I should be.But I would like to end this season with a post which will be my Weekly Battle Share Challenge..
Meanwhile first time I able to touched my highest rating over than 4700..
Recently I bought two Dice summoners, replacing two rare summoners..
These dice summoners and monsters giving lots buff and dbuff to the user, every gamer feel relaxed having these cards..
---
Now This Week's theme card is SOULSTORM, so let's little talk about this wonderful death monster..
Although I was not using this monster before this weekly battle challenge. Two day before I bought it from monstermarket.io..I have other alternative of this card, so I mostly go for that with a better combination..
Soulstorm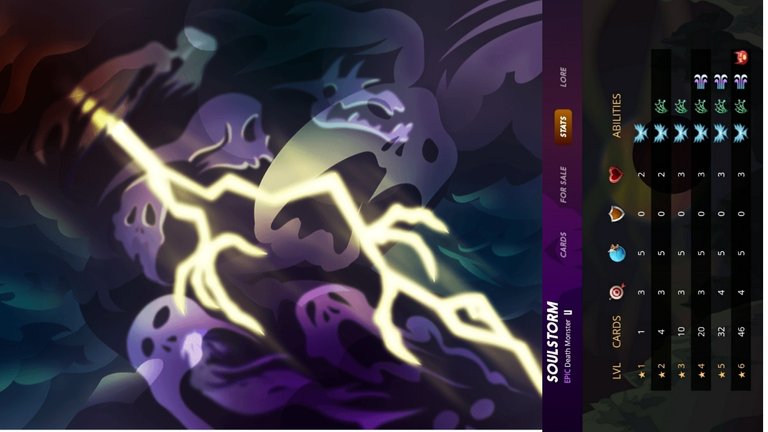 Edition- Untamed
Splinter- Death
Rarity- Epic
Price-$0.368
This wonderful epic monster comes with four ability..
*Flying
*Snare
*Headwind
*Stun
I also noticed that in the situation of earthquakes, it remain unaffected..
Although it's maximum life health is 3, but it's Mana cost is little bit higher that is 5.
You can use it as a range weapons when opponent team comes with shield monsters...
---
Team selection and card placing-
To make a good combination of the monster, I decided to place according to their ability.. to get best result I chosen two monster having magic attack ability, three monster for range attack and one is healing and Mili attack ability....
1- HAUNTED SPIRIT-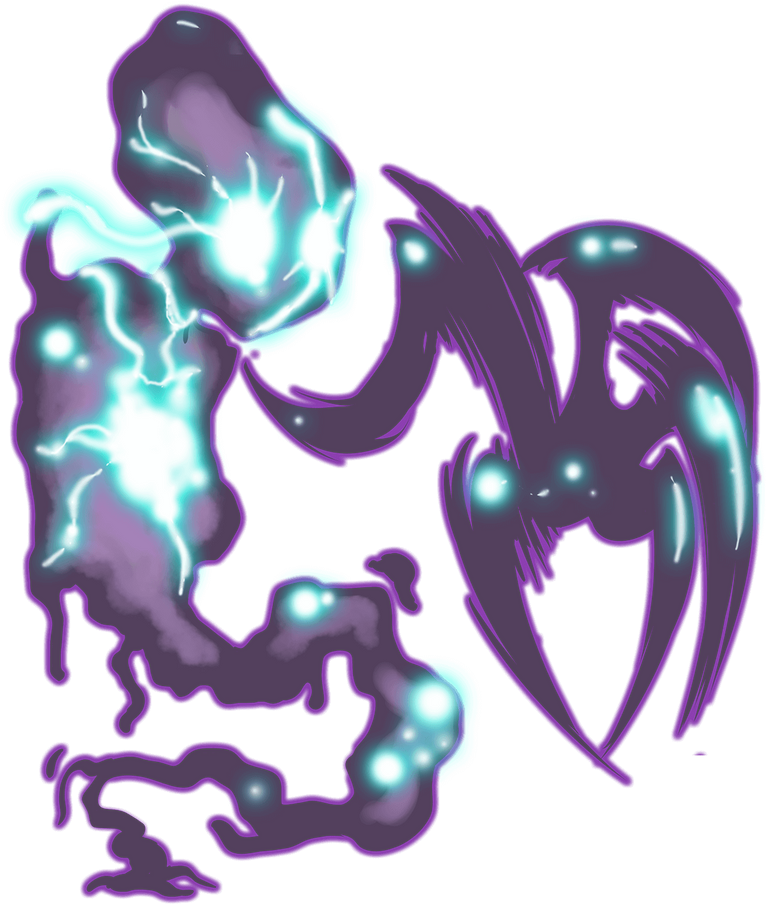 This is my one of the most favourite rare monster from death splinter.. recently I upgraded it into level 5, so that I can use it in a best way.. it's melee attack and magic reflects always be useful for the gamers to reduce the impact of ruler of the sea.. healing ability makes its great..This card is my first priority whenever I go to battle with a death splinter.
2-PRISMATIC ENERGY-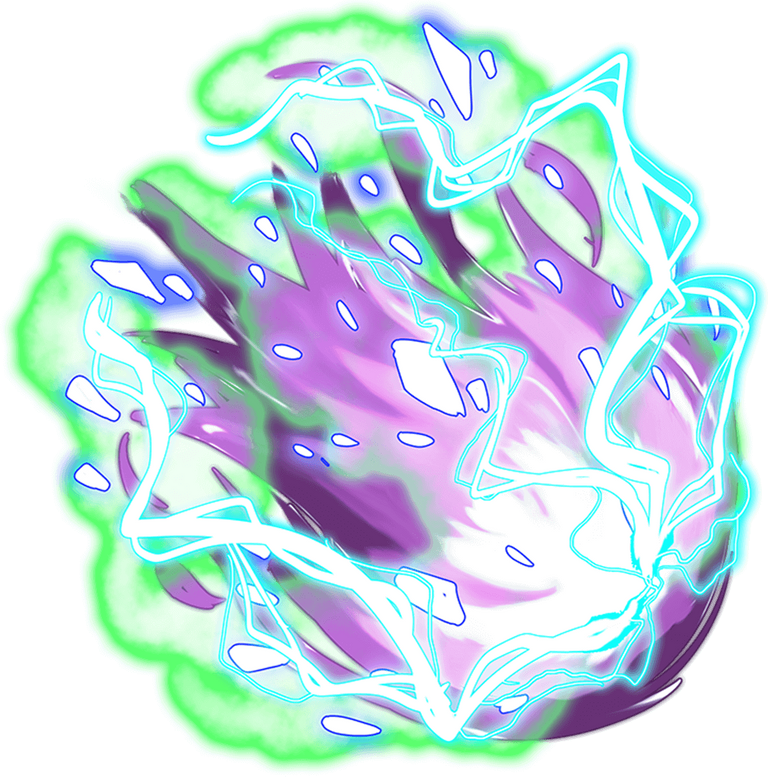 Both hunted spirit and prismatic energy has magic reflect ability, so I always try to place it first and second position so that if there is any magic attacker both can attack them with magic reflect.. with level five this prismatic energy becomes more effective.. no doubt this is my favourite one, which I used to take during every battle.. its role always be supportive for the fellow monster. This is one of the best `neutral monster having rare rarity.. its mana cost is 8 but it is very useful monster.
3-BLACK DRAGON-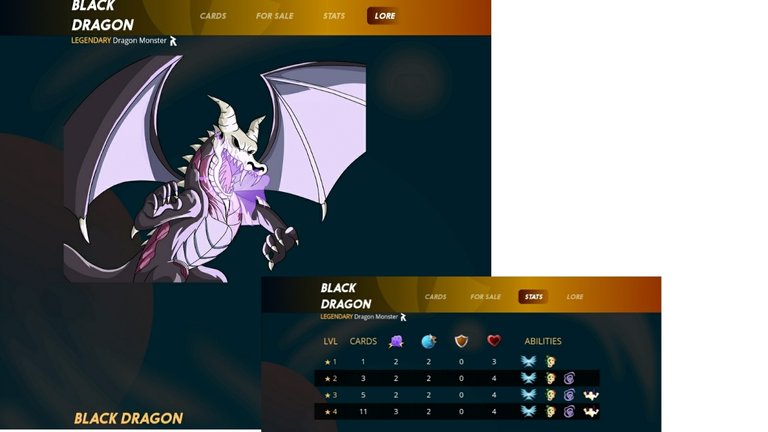 Most of us are familiar with this wonderful legendary Dragon monster.. with each attack its health increases that make is unique from other monsters.. in the situation of earthquake it remains same, there is no effect of earthquake on it..
With the level third it's become more effective... It's mala caste is only 6..
No doubt this is one of the most useful magic attack monster.. it's unique ability is that it reduced the speed of opponent monsters and allows to gain some health for every monster.
4-SOULSTORM-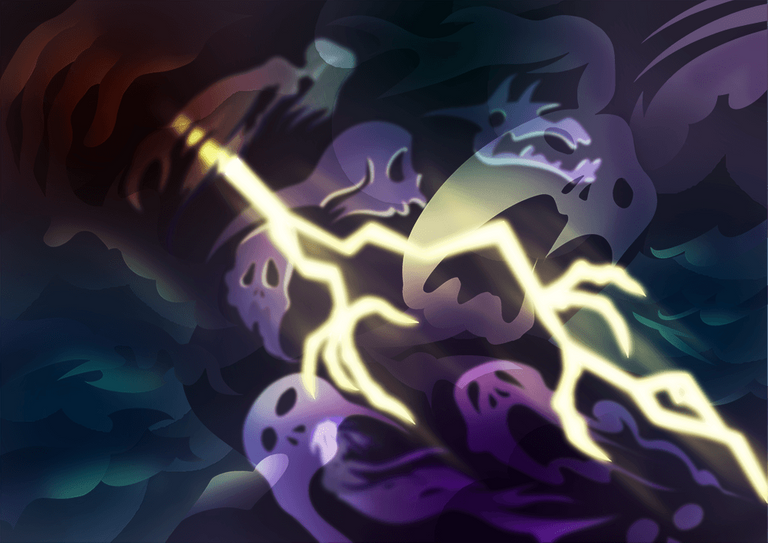 Before this battle I was not using this untamed epic monster.. Although it is very useful monster from splinter.. before the battle I bought it from the market.. in death splinter I have already 3 range attack monster so I avoided it.. perhaps I do not use much it due to its cost that is high compared to health. It comes with flying, headwinds, snare and stun ability.. it also remains same in the situation of earthquakes..
5- SCALE DOCTOR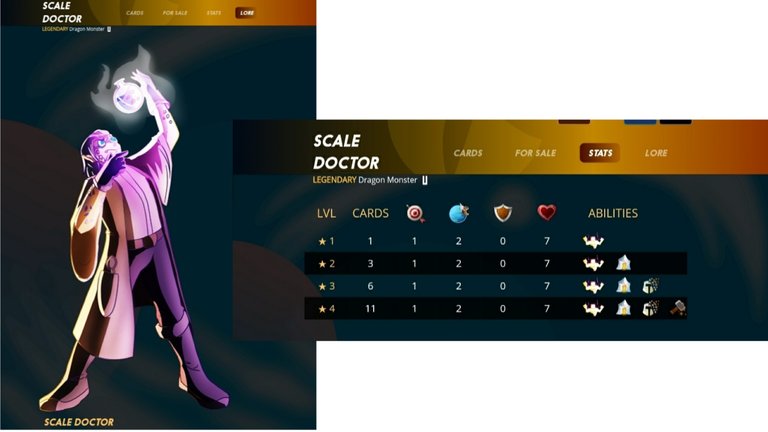 This untamed legendary Dragon monster is a Discovery for me.. recently I dig out it from monster market.. I was little bit surprised to see it's utility for various purpose.
It gives healing health to all friendly back line monster. Will it reduce the armour of enemy monster.. I am very happy with the performance of this wonderful Dragon monster.. I always prefer to have this wonderful legendary in my Battle team..
6- UNDEAD ARCHER-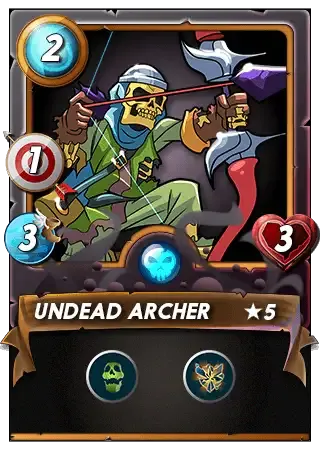 It is a mini bomb but its explosion is very fast. This is one of the most useful low mana rare monster from death splinter.. undead archer becomes more effective during low Mana battle.. I placed it at last because it does not have the ability to strike from the front. Known only for distance attacks from a distance.. it seems cool effective on every types of monster.. I am using this little monster since I familiar with it..
you can check out the battle how easily able to defeat my opponent team with the help of these wonderful monster..
Over all it was not a big deal because my opponent was rather than weak..
Battle details-
It was 34 Mana game.. there was little freedom to choose best monsters..
My opponent was GREATBULLOFFIRE with water splinter.. it taken no long time to finish this battle.. within 3 round it is completed.. for this battle I get only 10 DEC and crossed my rating over 4600..
You can enjoy this battle through this link-
https://splinterlands.com/?p=battle&id=a4fdcc78b6d0235acb202d305500bf4bc4596e15
And here is the some footage of My Battle-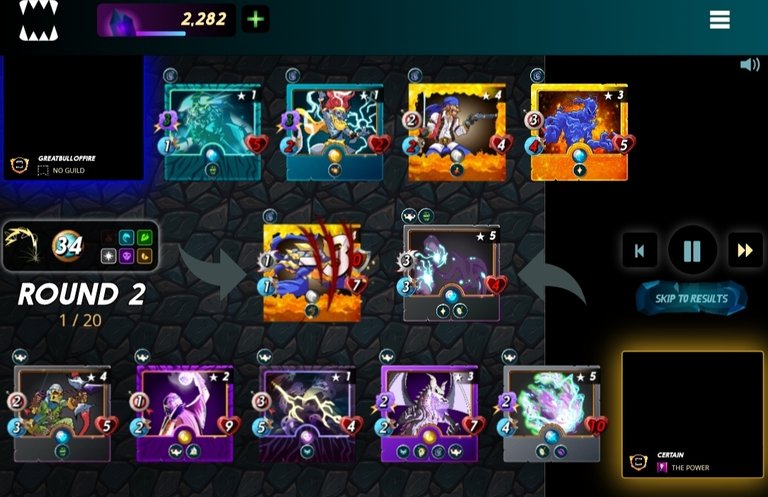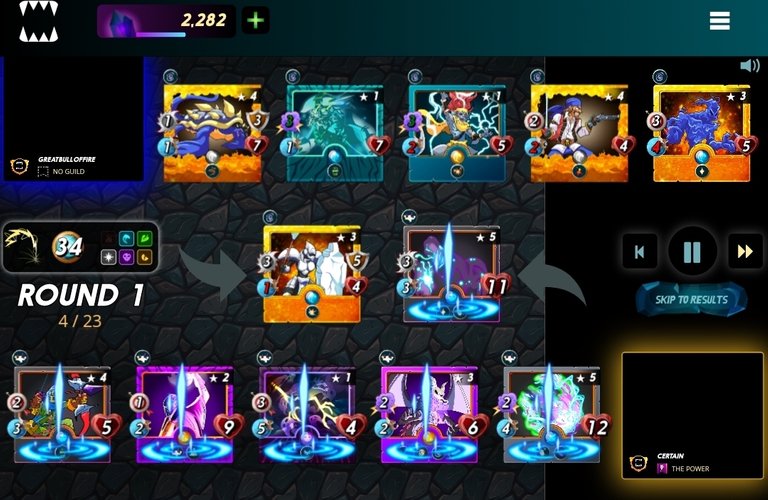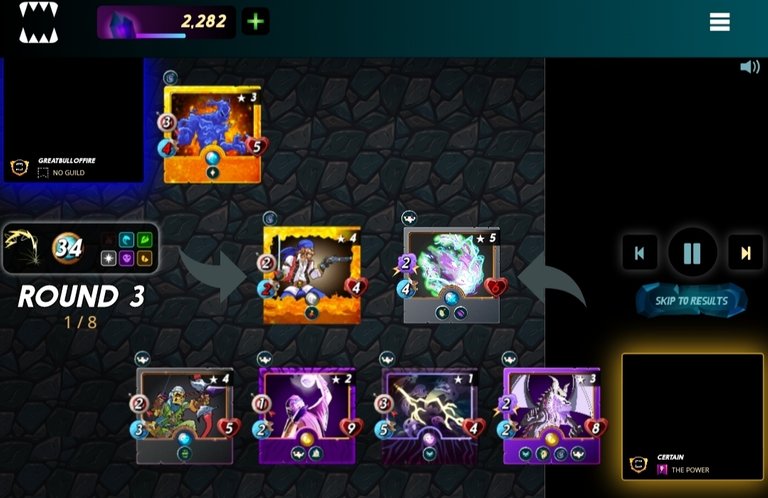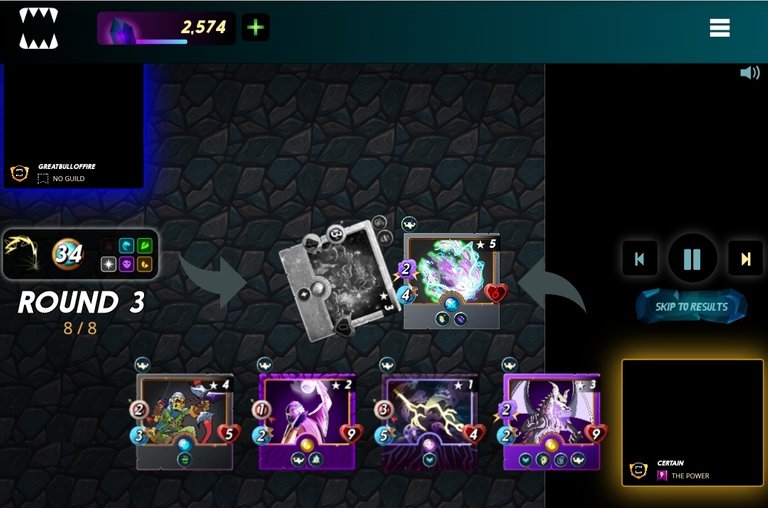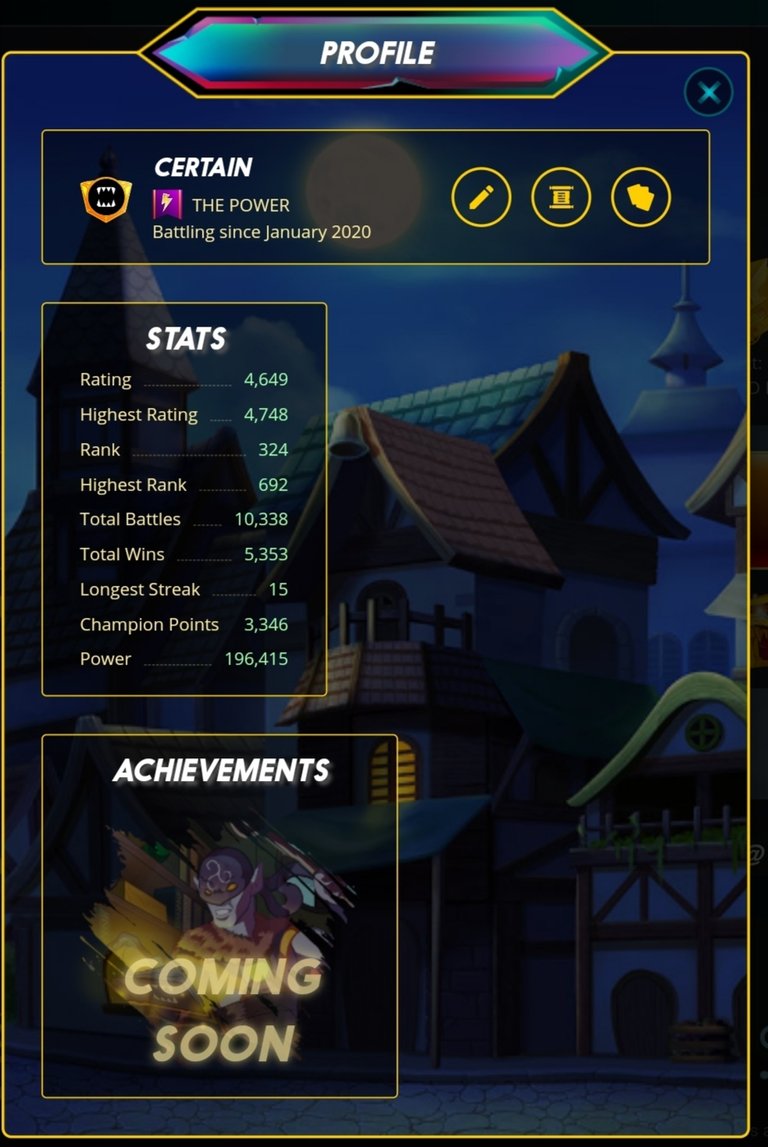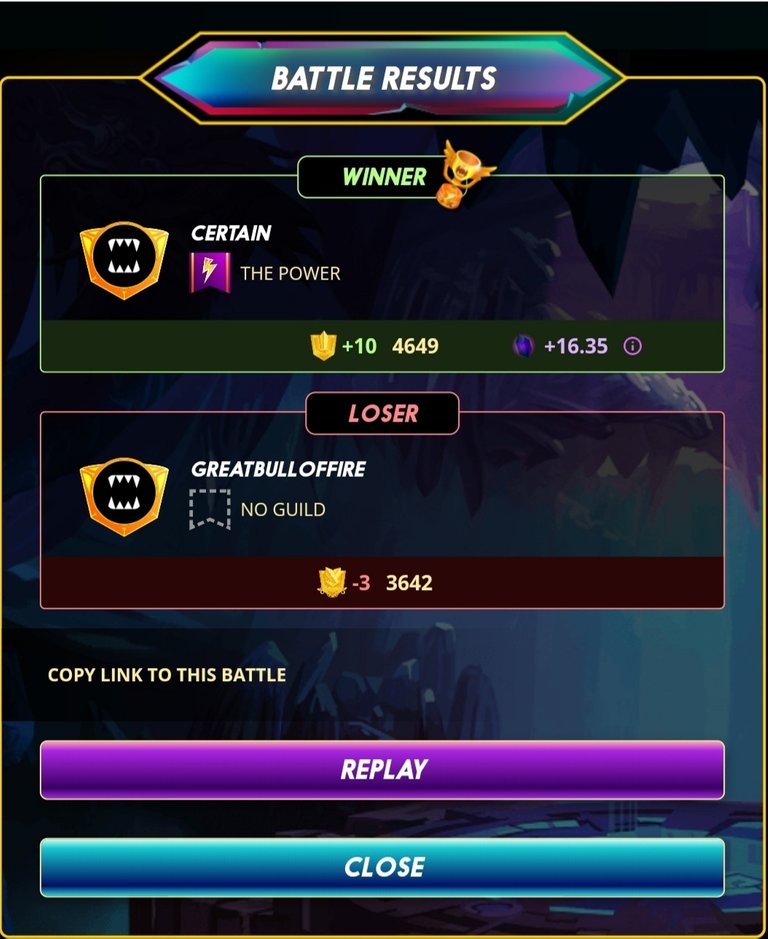 Did your strategy work? What will you try differently in next time?
Of course my strategy work well.. before landing in the field I always check out opponent recently used team along with battle rule. it much helps to find out right solution of the result..I am happy with the performance of my each monsters.. this time doing more experiment with the monster because there is no fear of losing more battle..and this is happening because of recently changed the battle rule that is totally based on collection power..
Do you use SOULSTORM often?
To be honest I was familiar with this wonderful death monster but I was not using this monster often..no one can underestimate its utility in the team but there were another alternative of it in less Mana cost.. in other words you can say my quota is full taking range attack monsters.. Nor I am thinking to include in my battle team..
Looking for some wonderful gaming platform? then check out here to get more visibility about this gaming platform-https://ecency.com/splinterlands/@splinterlands/share-your-battle-weekly-challenge-soulstorm
Declaimer-
above all images/gif and photographs are not mine, credit goes to splinterlands, taken from gaming platforms website monstermarket.io