Weekly battle share...
Let's have fun with powerful BUDDY of Neutral monster - GOBLIN MECH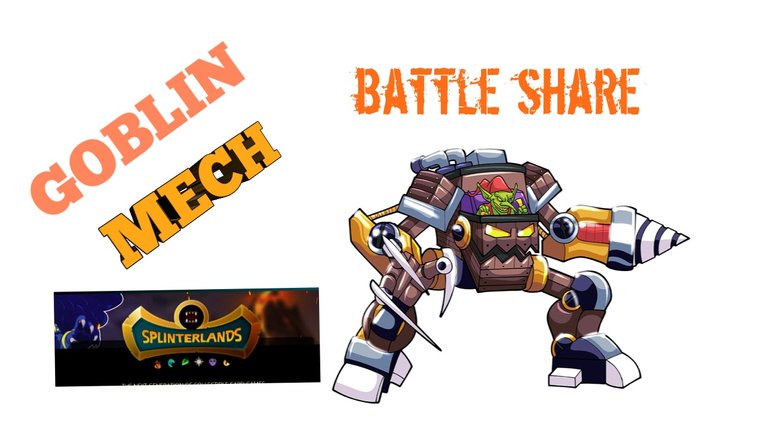 Now& then everyday seems like a Sunday. I am back here with another splinterlands battle share.
It was my plan to make a post soon after the official post is published, but it gets delayed due to some reason. Maybe this is because the lockdown is going on here and I think I have enough time to ever complete it. Anyway, Goblin Mech is my favourite one buddy. Hence it is the theme of this week so,
I am a little excited about this weekly battle share as my previous post was highlighted by splinterlands. The previous theme card was Nectar Queen is one of my favourite cards due to which a little extra effort was made to make the post.
In this post just going to share my weekly battle share challenge by @splinterlands under the theme GOBLIN MECH. This is powerful card of neutral monster having enough ability to destroy the opponent card. It's very useful common card of Reward edition`. I think mostly people use this card in begining League as its utility is great. Its mana cost is 10, so we can use it when we have over 21 mana game. Anyway this is my favourite one.
GOBLIN MECH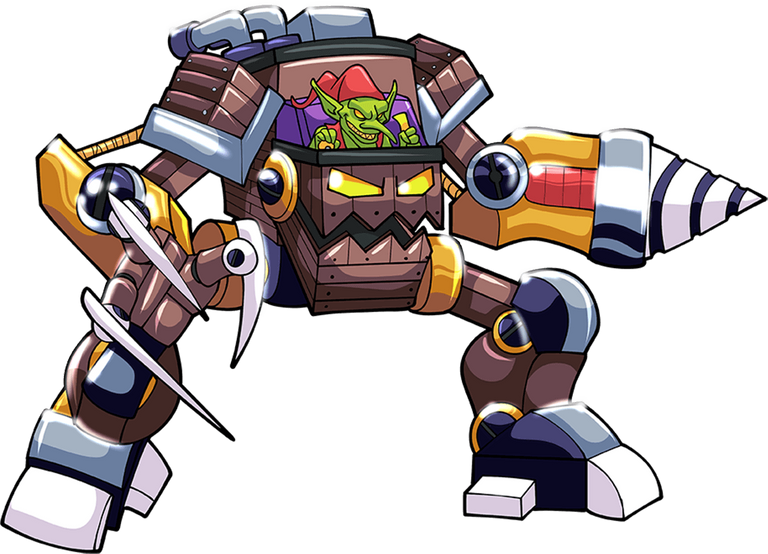 Edition: Reward
Splinter: Neutral
Rarity: Common
This is one of the best powerful buddy neutral monster especially for the lower League. For upper league we have to increase its level to improve its performance.
here you can check its ability by in ascending order.
Piercing : If Melee or Ranged attack damage is in excess of the target's Armour, the remainder will damage the target's Health.
Stun : When a Monster with Stun hits a target, it has a chance to stun the target causing it to skip its next turn>
Goblin mech performance increases when we place it on the front. Three levels card just finish by one hit of this card. So we cannot ignore its ability.
TEAM COMBINATION AND CARD SELECTION-
Hence it was 40 mana game so there was little bit freedom to choose best card for the battle. Just landing with mana cost card we cannot won the battle. For it we have to check opponent's previous team combination. We have to choose our cards carefully and there's placing become more important for any battle. Because there is badly needed unique combination of Melee, range and magic card. MELLEE card always help us to get rid opponent lowest mana cost card which is not in the front position..In this battle I have chosen 6 best card according to my experience.
1-FLESH GOLEM
2-PRISMATIC ENERGY
3-SPIRIT MINER
4-SCREECHING VULTURE
5-WAR CHAANG
6-GOBLIN MECH
In this battle I chosen one melee attack card as screeching vulture and one WAR CHAANG melee and Ranged attack damage is in excess of the target. These two cards take off the cards who is not in the front.
CARD PLACING-
For any battle team selection and their placement become more important to win the battle. In this matter landed with EARTH SPLINTER . When I go to battle with earth splinter that time it is my period to choose FLESH GOLEM and SCREECHING VULTURE. One for front and second for melee attack.
For the first place I chosen-
FLESH GOLEM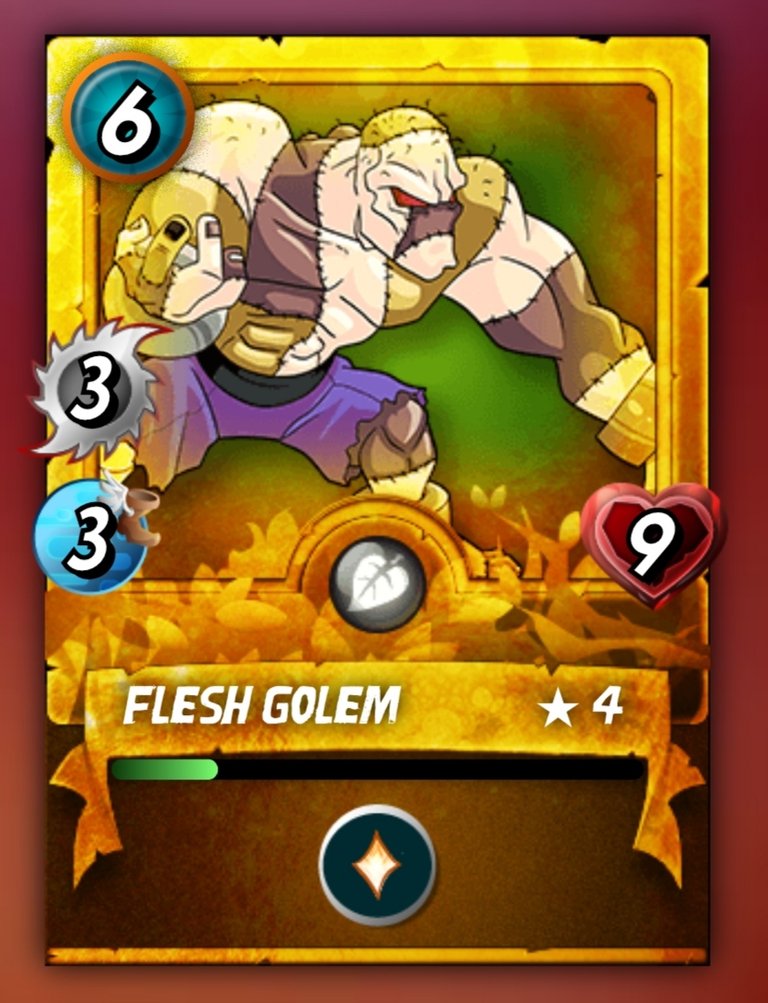 This giant is my favourite card. Mostly mostly I play with this card, when I have option to choose Earth splinter. Most people like to have this card in their team. There are two reasons for this, the first is that it can easily restore part of the Monster's health each round, reduce damages from magic attacks. Its armour is relatively more powerful.
PRISMATIC ENERGY-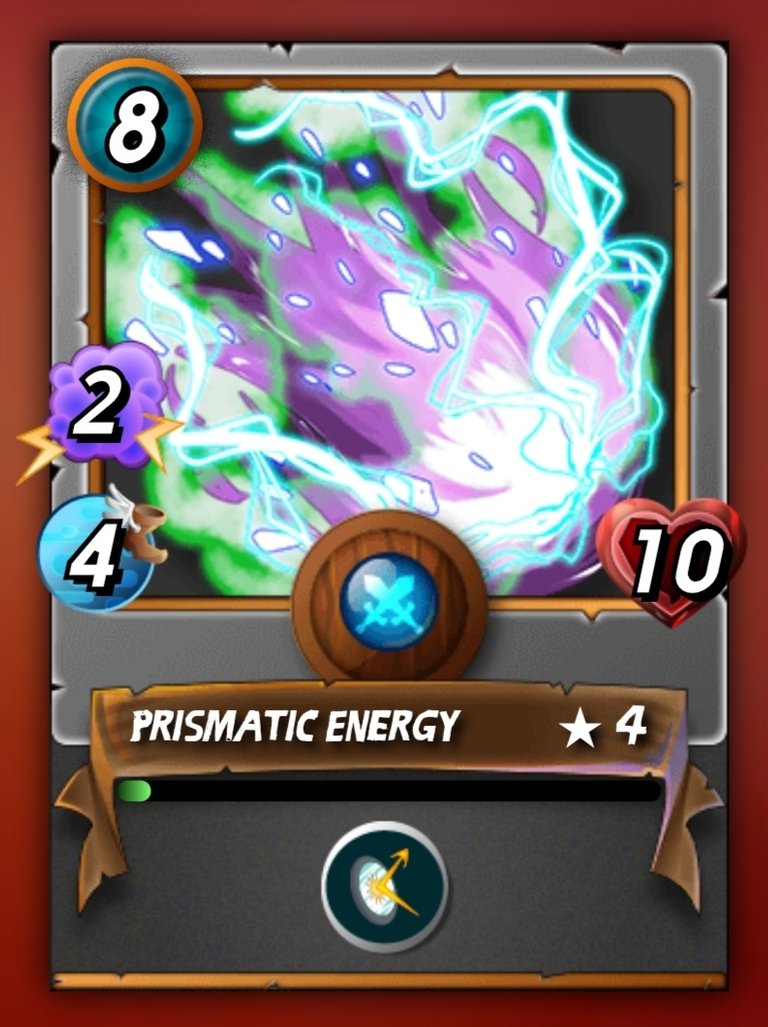 In second position I placed prismatic energy. I am familiar with its ability and furious action. Sometime its begin to to start attacking on front and other melee and magic cards too, who attacks on it. I upgrade its level, so this card gives more pleasure when it destroys opponent. Its mana cost is 9 but we cannot ignore its attacking ability.
SPIRIT MINER-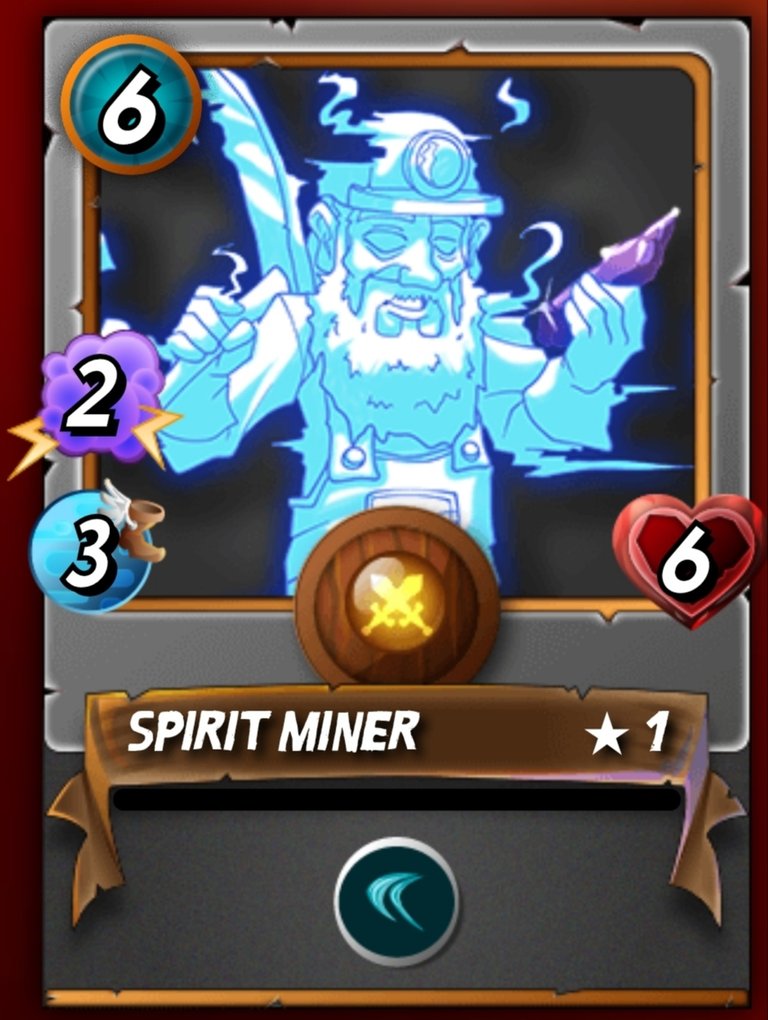 This is one of the powerful monster of common neutral. Who can easily destroy any level card. Its mana cost is 6 but its ability is great. I placed it for third place because I was ready opponent Melee,range and magic attacks restricting card. I am fully happy with its performance.
SCREECHING VULTURE-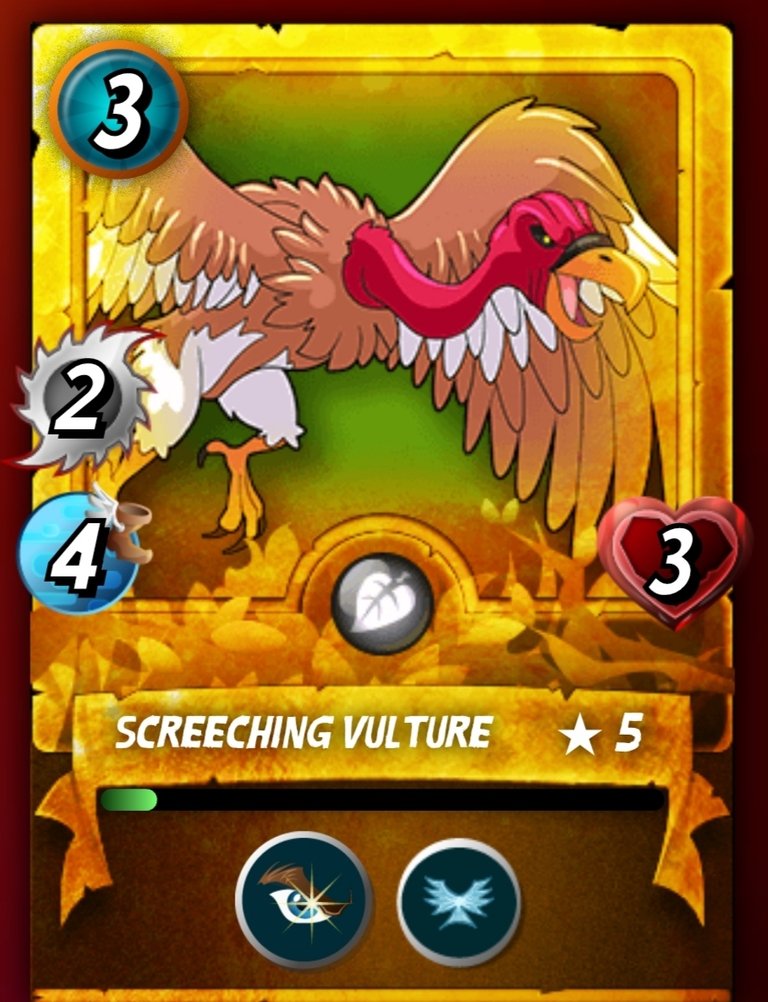 Recently my favourite card has been made, which is proving very useful for me.Because this card hits the fair range and magic cards faster than the monster. It is a card of only three mana, but after upgrading, the utility of this card has increased a lot. If I play the battle with Earth Summoner then it is definitely my priority to keep this card in the team. Which I prefer to place third or fourth.
WAR CHAANG-

Ever since this card was introduced, this card has changed the scale of the battle.However, it find itself unable to attack some cards. But whenever there is a chance, it strikes with a double attack. I am well familiar with its furious role. Although sometimes I use this card in second place but there was enough option to choose the card so I placed it on 5th place.
GOBLIN MECH-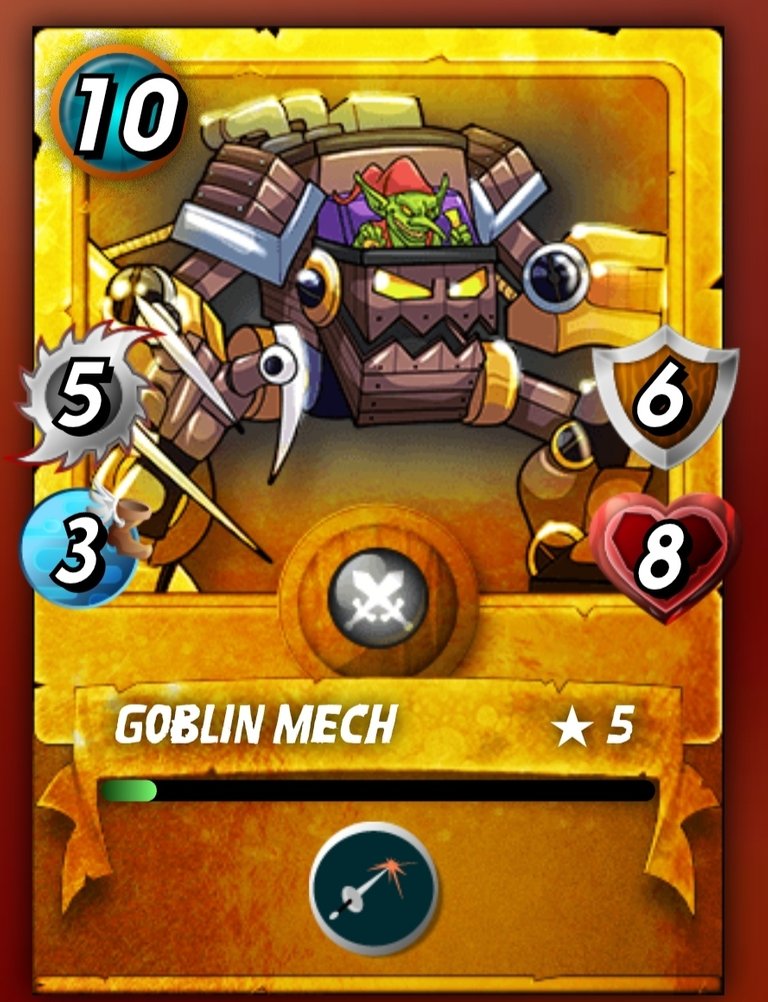 I have no word to say about this card. I want to save this card at ends the battle so I placed is on last position. usually I used to place this card on the front but in this battle there was enough option, so I placed in at the last. This is my dearest robotic card which much help me demolish the opponent.Although in this battle this card got no chance to attack yet its utility is great.
BATTLE DETAIL-
It was 40 mana game in which my opponent was BIRTHRITUAL who landed against me with life splinter. I think he was believing that high mana card performance well but we forget that there is badly needed some attacking card. As you can see in this battle he landed with two attacking card. Rest card were high level mana but he lost the battle. In this battle I did not lost any card.
You can enjoy this battle for this link- https://splinterlands.com/?p=battle&id=f7b7556a8f7427d222bc90e6ba063374079b079a
Here is some footage of my team combination and battle position.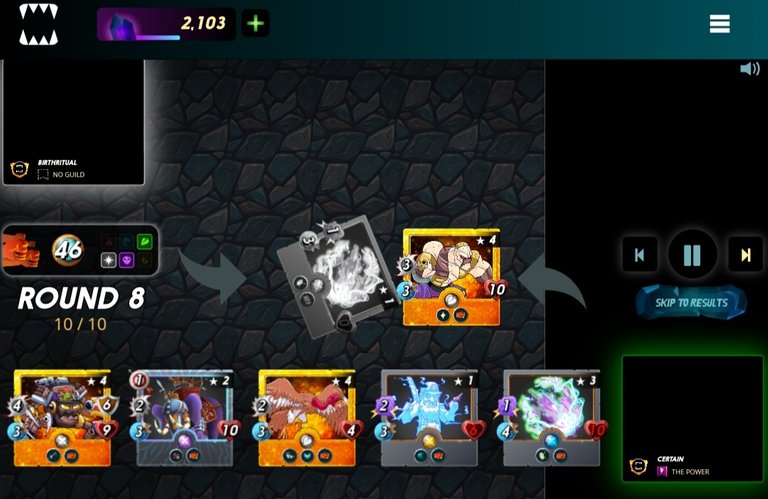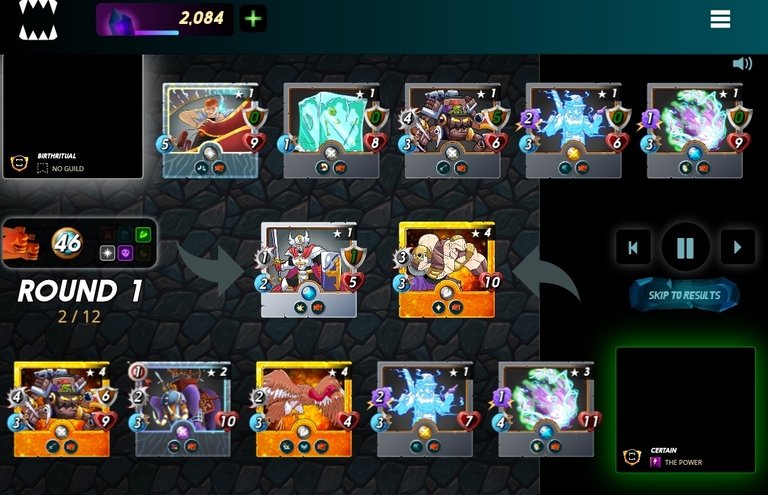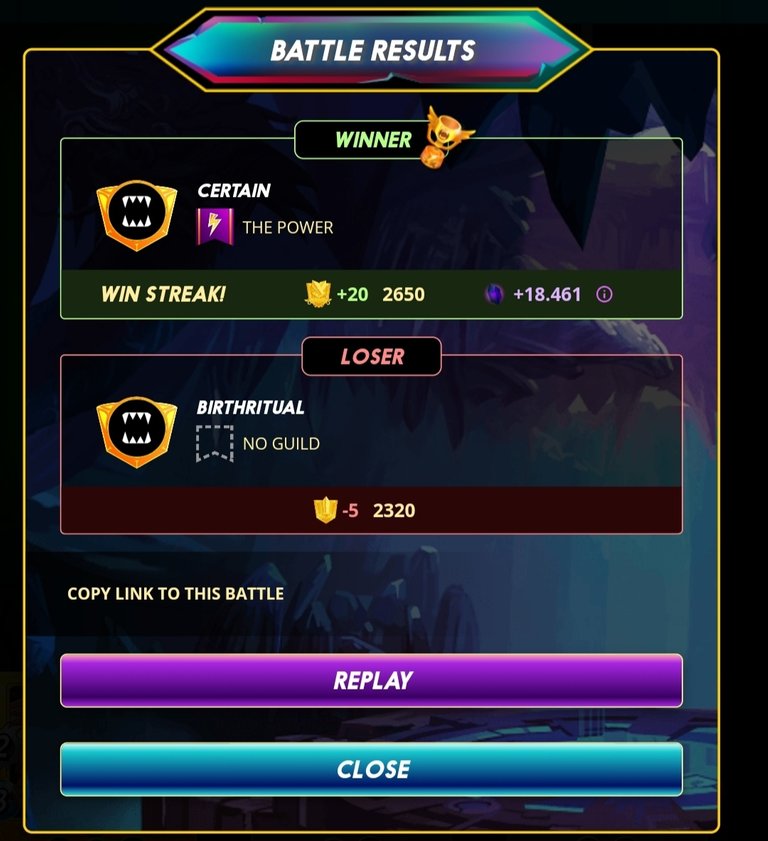 Did my is strategy work? Will I try differently next time?
From the last two seasons of Battle, I learned something about how the placement of the card plays an important role in winning the battle. I have battled with some good rank teams. Learned a lot from them and I am applying the same thing during the battle, which has greatly increased my winning percentage. Which was so far below 50% is now above 50%. Yes, during this time I have also invested in some good cards, which has yielded positive results. Surely my strategy is working properly.I try to innovate according to the need. Otherwise it works like the previous routine.
Do you use GOBLIN MECH often? Why or why not?
To be honest, whenever I have more choice, I use this card as a front card in most of the battles. But when considered less mana, I prefer to go for Battle with Flesh Golem. The most appropriate card for the Lower League. I also affectionately call it my robot. Hence it is, neutral common monsters, so we can use with any splinter. That makes it more useful.

looking for to join this amazing splinterlands gaming platform and wishing to participate in this weekly challenge then check this link
DECLAIMER-
all the photographs and images are not mine, taken from gaming platform splinterlands website here