Hi gamelovers!
This is my weekly battle share with opportunity theme. in this Battle I have taken two monster one from Dragon and one from earth splinter.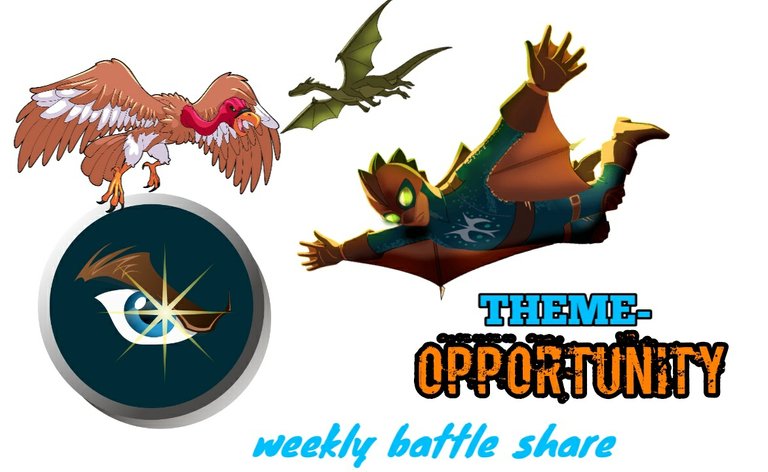 Those who are associated with the Splinterlands gaming platform know better that Opportunity Monsters prove to be the most influential during Battle in this gaming platform. Because they are able to target the lowest health monster from any location. So far, I have encountered only eight Opportunity Standards who plays the most important role in any battle.
Due to Opportunity ability, these monsters prove to be a headache for the opposition team.
Theme Opportunity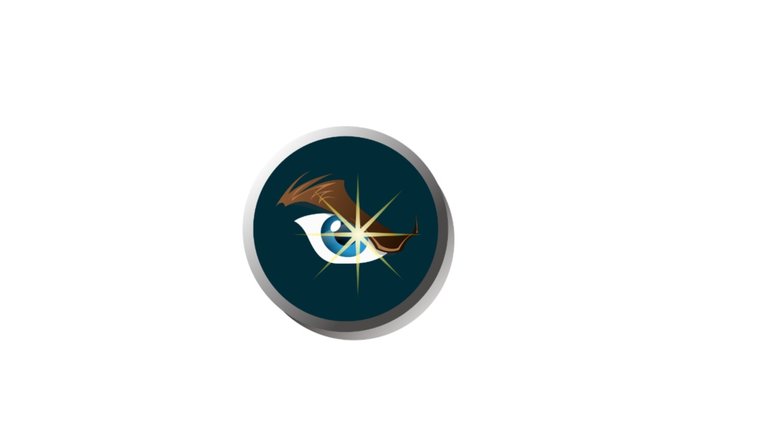 As I checked near about eight card from various splinter as "SCREECHING vulture" from Earth splinter, Maggots from DEATH Splinter life splinter's "Cave slug" , Dragon jumper and fiendish harpy from Dragon splinter , splinter parasitic growth from neutral splinter, serpentine spy from from fire splinter. Those who have opportunity ability. I was trying too late to play at least 2 opportunity monsters in the team, but I was not getting such an opportunity. In the end I picked up Dragon Summoner and landed in the ground with Earth Splinter. In this battle, I used two opportunity cards. One from Earth Splinter and the other from Dragon.
Opportunity monsters-
◆Screeching vulture
◆Maggots
◆dragon jumper
◆fiendish Harpy
◆serpentine spy
◆parasitic growth
◆Cave slug
◆The vigilator
Opportunity Team selection and their placement-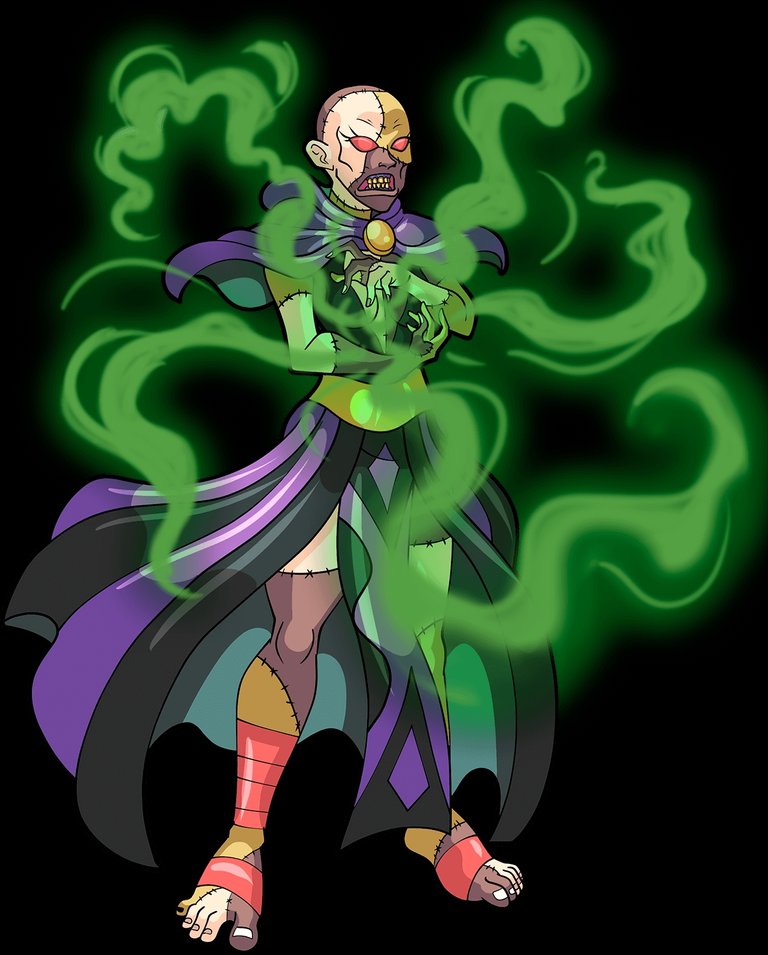 It was 48 Mana game. It means there was some freedom to choose high level/ high MANA monster. I preferred go through dragon via earth splinter.
Hence I wanted to take two opportunity cards in My Battle team, so I taken dragon route. Behind it only one reason that one opportunity monster I can find from dragon and one from earth splinter.
For this battle I chosen dragon summoner. I landed in this battle with a strong team consisting of two Opportunity Cards for the Melle Attack, one more Monster added for the mellee attack, one card for the Range Attack and two for the Magic Attack. This combination made me laugh at the end because its performance was great. I lost only two cards out of 6 cards.
1- Flesh Golem-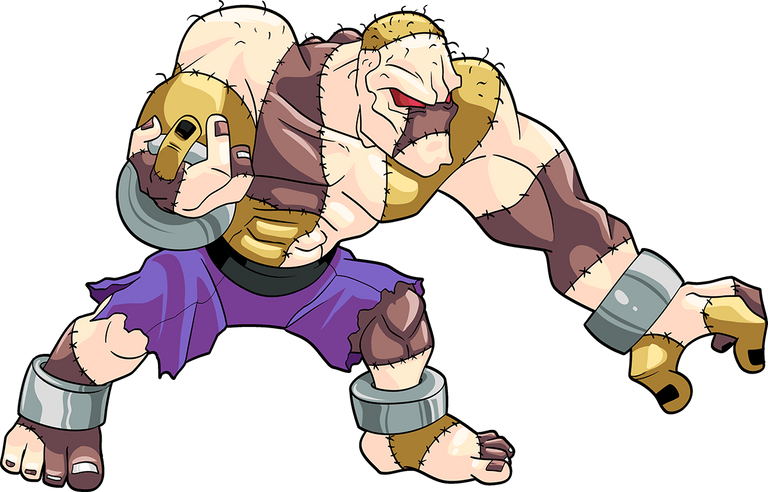 Mostly you have seen that I preferred to take flesh golem in My Battle team and I place as frontier. This is one of the best earth splinters monster having health restoring ability. Its Mana cost is only nine but if performance is double.
2- prismatic energy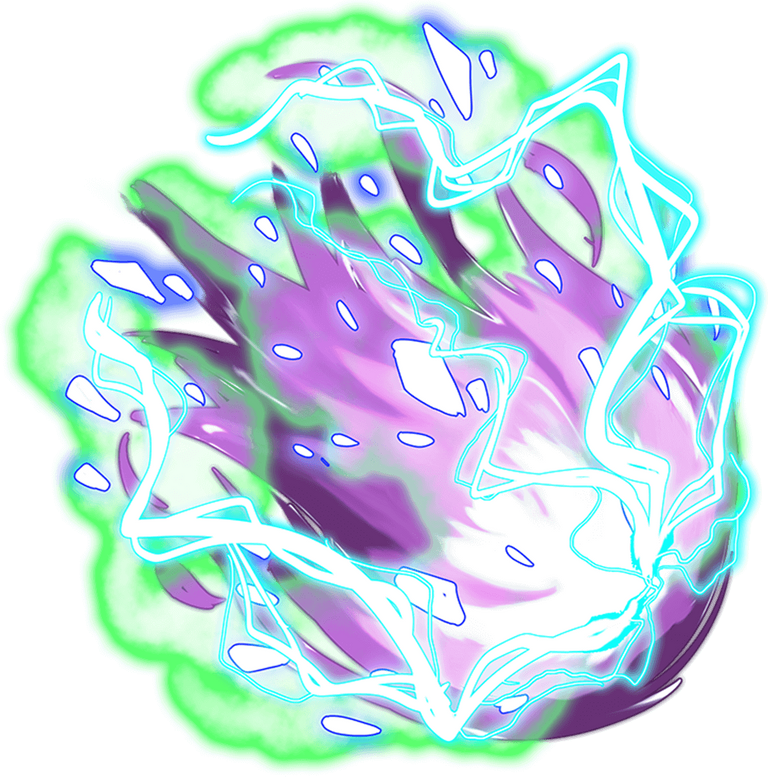 This is one of the most useful neutral master which well known for its Furious attack. It's Mana cost is 11. It utility is great in the team. In other words you can say that Mostly it launches an attack and no one can doubt its usefulness. I used prismatic energy in this battle with level 4.
3- The vigilator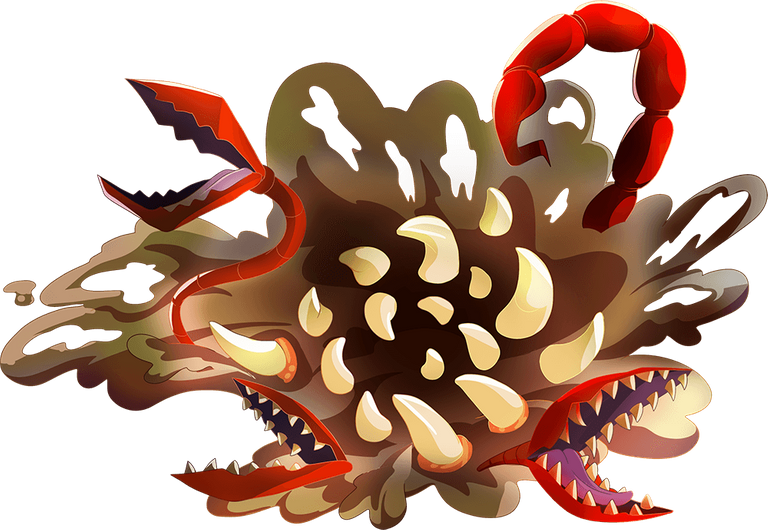 This is an amazing card from Dragon Monster known for its double attack.This is the most useful card of the range attack.Recently I got acquainted with this card. However, its value is high due to which only one level card was purchased. Its Mana cost is 9 but its utility is great.
4- SCREECHING VULTURE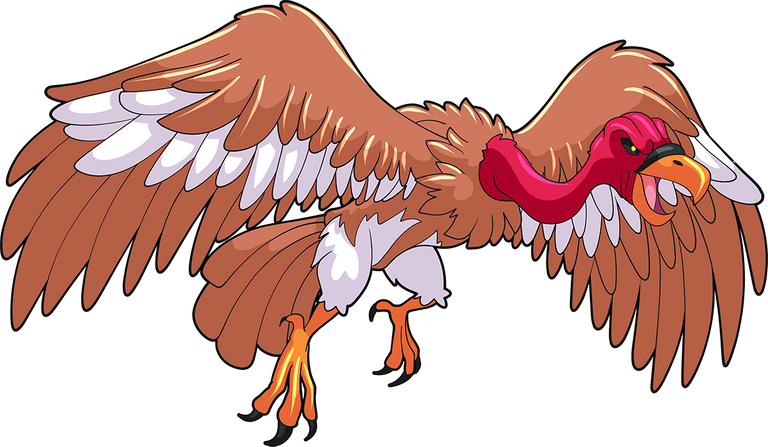 This is today theme/ opportunity card which everyone wants to take in his team due to its sharp mellee attack. This monster always targets opponent lowest health monster. I placed this card on 4th number. I want to keep alive this card till the battles ends. This is one of the most useful Earth splintermonster. Its Mana cost is only 3. I landed for battle with level-5.
5-BLACK DRAGON-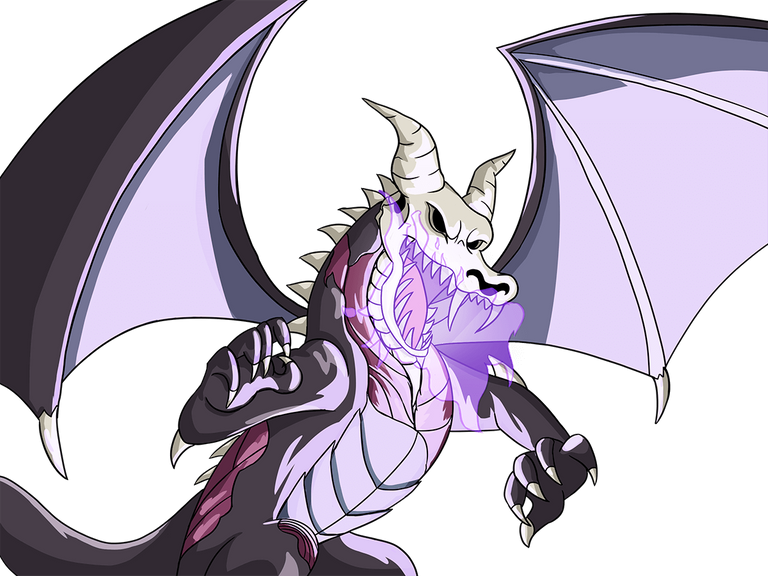 Recently upgraded black dragon in level 2. It is one of the most useful legendary monster from dragon summoner. Its biggest feature is that the more times the opposition attacks the team's card, the more its health increases. This is my favourite one card and when I choose dragon summoner then I take this card in my team.
6- DRAGON JUMPER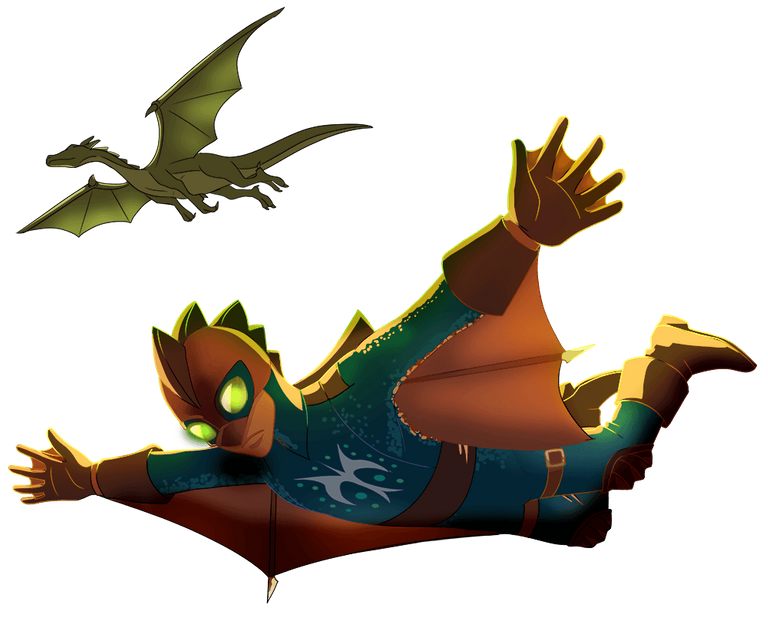 Recently acquainted with this wonderful dragon monster. This card also has opportunity ability it was my wish to keep it on my team. as I have already mentioned that I want to take two opportunity card in my team so I selected this one.
Battle Details
It was 48 Mana game in which my opponent team was NEO2. He landed with life splinter.
His summoners level was higher than me but he made little bit mistake his one car was not in attacking position that was goblin match and this card well known for range attack. Contrary my all cards were in attacking position so I able to won this battle. No doubt Dragon jumper made the effect between two team. It destroyed enemy monster due to opportunity ability.
You can enjoy this battle through this link-
https://splinterlands.com/?p=battle&id=57b7faadb12b260475f5af1292356fb12b6a22e1
And here is some footage app this battle-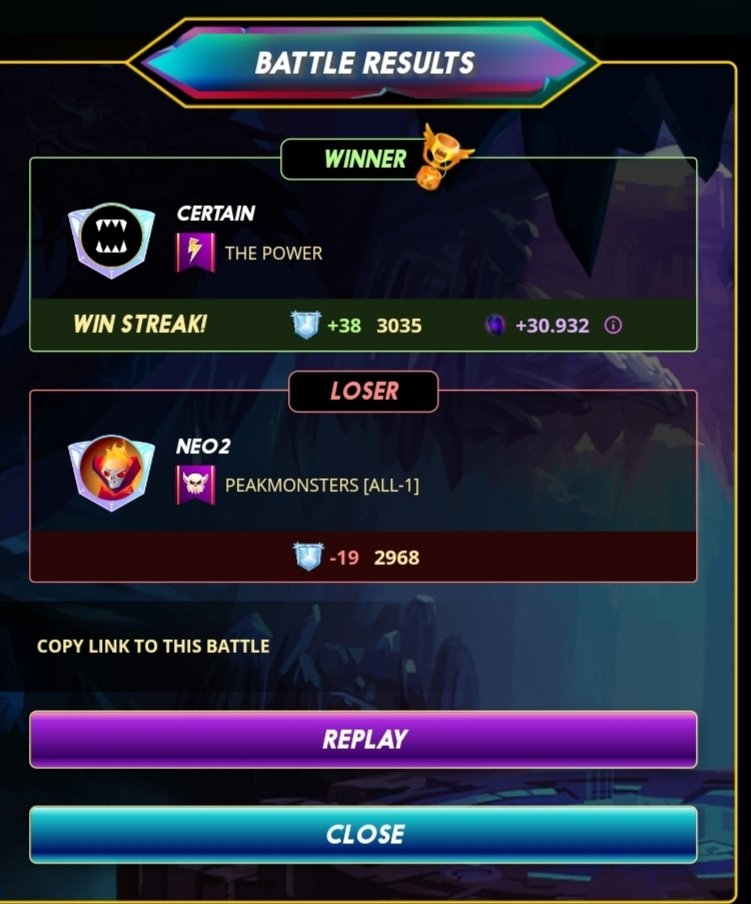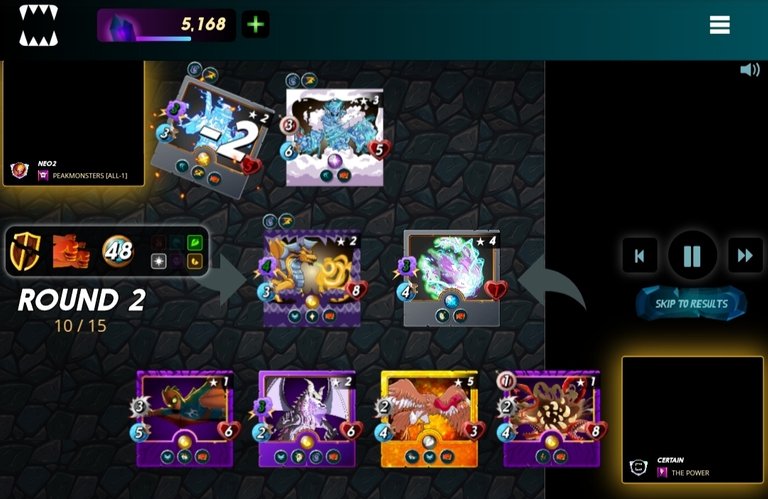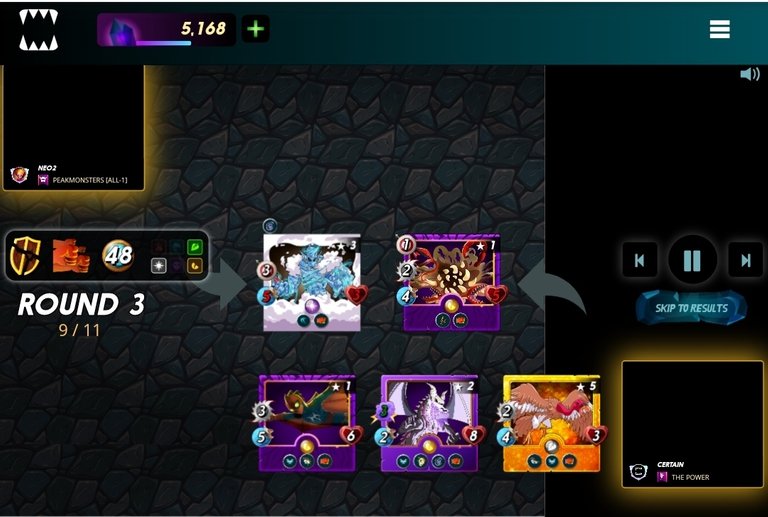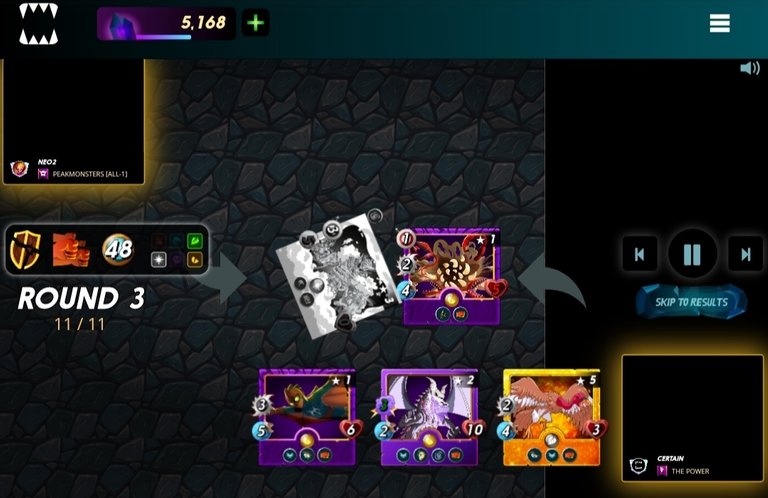 Did your strategy work? What will you try differently next time?
●I got exactly the result I wanted with this team. Hence it was high Mana battle, so there was freedom to choose the best card And the biggest thing is that I went with Dragon Summoner which made the battle a little easier. Sometimes I got fearful seeing The high-level cards of opponent team.But in the end I think that fighting against the opposition team is not a better option. Don't think about defeat or victory just enjoy the battle.
Do you use OPPORTUNITY often? Why or why not?
●Yes of course I use opportunity monster in my team often. With the exception of the Dragon Jumper, most of the opportunity cards are quite low health.The biggest challenge is to organize them in the right place in the team.To be honest, I was already familiar with these cards, but did not know that they also have opportunity ability.The most suitable cards for any battle are those, which are known to attack from any place.
◆Looking for opportunity? Then join wonderful gaming platform●●
If you want to know more about this wonderful gaming platform and this weekly battle share challenge then check out this official post from splinterlands-
HERE
Declaimer-
●Above all images, photograph, gif used in this post are not mine, taken from splinterlands gaming platform website
HERE. All image credit goes to this website.