I gotta say, it's been worth the wait.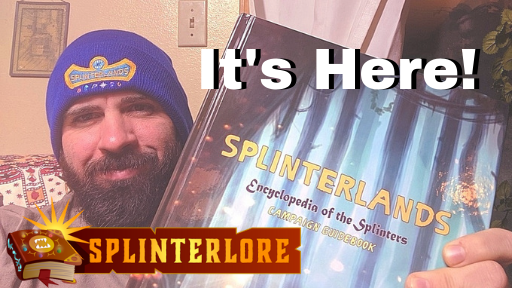 ---
The creation of this book started over a year ago, with the biggest writing contest STEEM had ever seen.
Over a dozen teams of varying numbers of Steemians submitted entire sets of lore for one Splinter, competing for prize money, and for their ideas to be accepted into the official Splinterlands canon (Splinterlore).


---
Winners were chosen, and I began the massive task of editing, organizing, and rewriting their ideas into a single voice.
The result is the beginning of an incredible and diverse world of fantasy, magic and mayhem.
---
This book is the most complete collection of Splinterlore that currently exists in a single volume. We call it the Encyclopedia of the Splinters, and @Aggroed the Wizard lovingly refers to it as the Campaign Setting Guide, as this world will be the basis for all future campaign-based Splinterlands gaming.
It contains about 200 pages of original stories, descriptions of invented beasts and monsters, non-player characters, timelines, cultural and geographical information and more. Did I mention that the Splinterlands art team created nearly 100 original illustrations exclusively for this book? They did, and the graphics are incredible.

---
How Do I Get a Copy?
This book is a limited edition collector's item. The upcoming Splinterlands Kickstarter campaign set to coincide with the depletion of Beta booster packs and the release of the highly anticipated Untamed series was designed to fund the production and distribution of this book, as well as future books.
The PDF version of the Encyclopedia will be available to all active players, but the only way to receive a physical copy is to make the appropriate contribution to the Kickstarter campaign. So stay tuned! Not much longer to wait!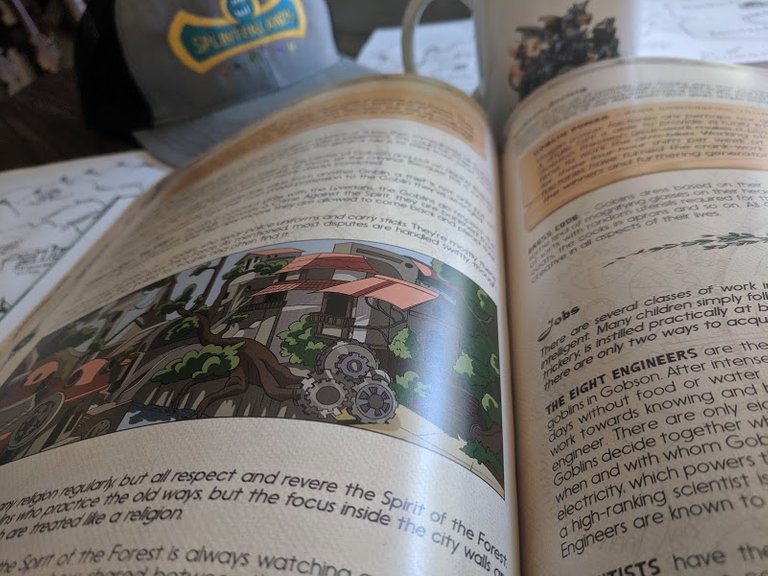 ---
Some Big Thanks
First, I'd like to thank my incredible wife, the charming and brilliant @carrieallen. She is responsible for a great many of the ideas, characters and writing, and I never would have been able to organize everything as thoroughly as she did.
@Aggroed is the one who believed in me (and Carrie) for this project since the beginning. I want to thank him for the opportunity to live the dream of fantasy world creation. Thanks for being so professional and easy to work for. I haven't been this excited about anything in a long, long time. And it means a lot that he decided to send us the very first copy of this, our first book.
Thanks to @Yabapmatt for all his magical powers, making this game a smashing success. I know it will only continue to grow, and I have the greatest confidence in this Wizard.
@Zipporah is responsible for making this book so beautiful. I made some words... a lot of words, but she put it all together, and it looks amazing.
Without amazing original art from a team of talented artists, this book would not be such a magical thing. Thanks to @Candycal, @Virev, Serge! I can't wait to keep creating beautiful things together with you!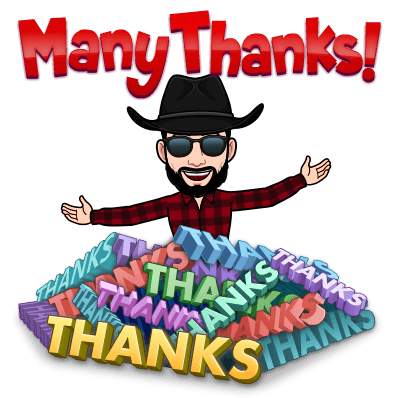 ---
Finally, thanks to you (supporter of Splinterlands)!
Without you, none of this would have been possible. And with your continued support, we'll write more books, make more art, develop more games, and maybe even find that elusive STEEM moon together.
Play the game. Earn the rewards. Work the market...
and glory will be yours!