Hi fellow Splinterlands addicts fans,
I wanted to share one of the pack opening sessions I had recently. I got really lucky and got the best card I've ever received! A gold foil Kron the Undying!
The best part about it all was that I didn't use any potions at all! I figured I would try my luck at buying some packs since I cashed out a few things on Steem engine (which are a lot cheaper than the site!) and bought 14 of them. I was opening the first couple and figured I got some normal stuff so that was cool. All of a sudden, bam! The card shakes a bit and I know I'm lucky and going to get a Legendary. I was thinking sweet, I want to see what I got. Wait wtf, What happened? My phone browser (Brave browser) crashed! I was kind of annoyed at that point, it's happened to me before in Splinterlands but never when I was anticipating something like a card, and a legendary to boot!
So I then launch the browser again, close the window and do the steps I normally take to get some cryptocurrency Presearch rewards (discussed here if you're interested and not sure what I'm referring to) and I'm scanning my deck for my card. I was getting frustrated because I couldn't find what I got.
Thankfully the folks over at @steempeak have the fantastic Peakmonsters site and service going. I went over there and filtered down to my account, and to pack opening. Having all of those filters really makes the process easy.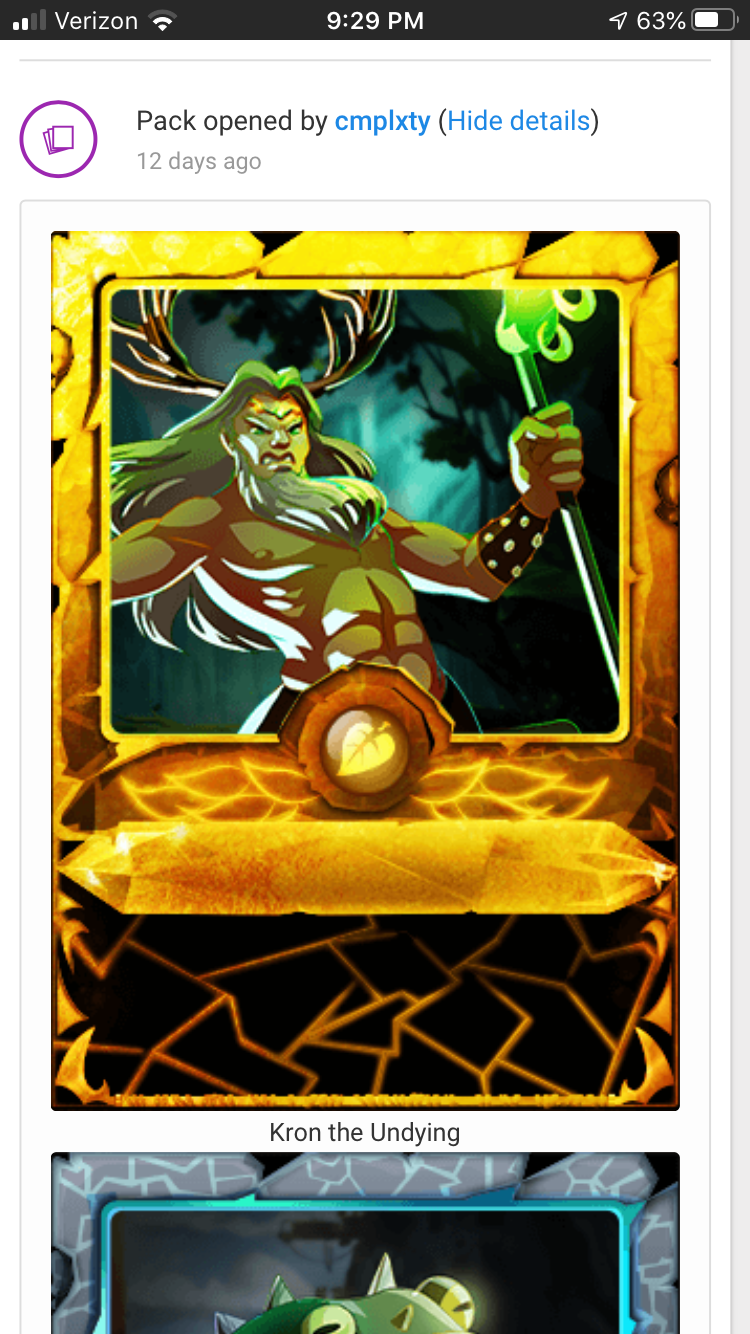 Once I found the right pack with the card in it, I was thinking for a second 'that looks funny, why is it golden looking?' Then it hit me! I got a gold foil legendary! I nearly jumped around for a second like I won the lottery or a slot machine lol.
Check that sexy card out! It's a damn great accomplishment for someone like me who hasn't been able to spend a lot of money on the game.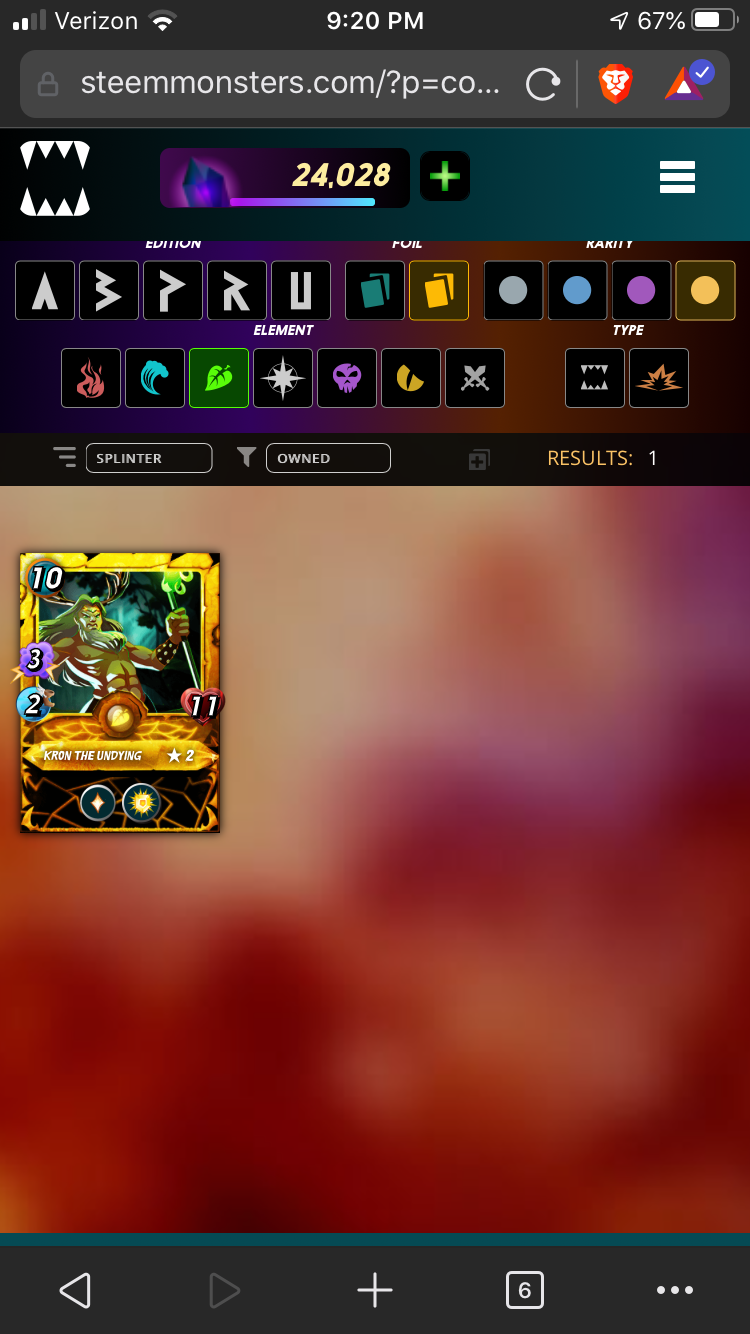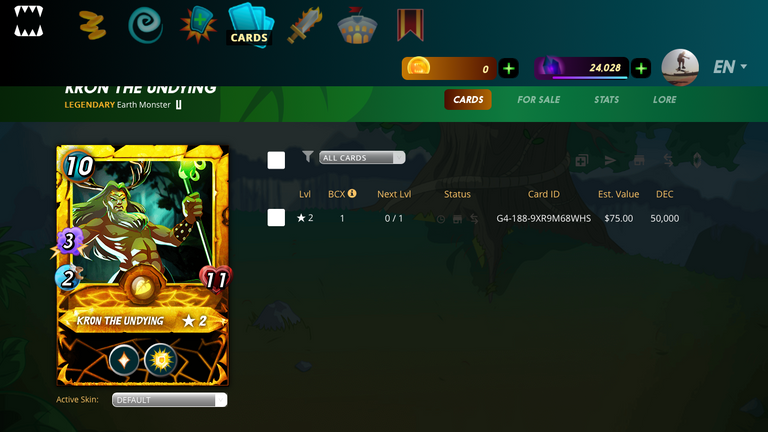 While I was looking through the packs that I bought, after I opened the gold foil above I figured I had a lucky streak. I decided to purchase one more pack with DEC this time. Sure enough! I got lucky and got my first legendary Dragon Jumper. This card has been a badass addition to my deck! The high speed coupled with the lowest HP sense ability makes it pretty fantastic to have in a lot of battles.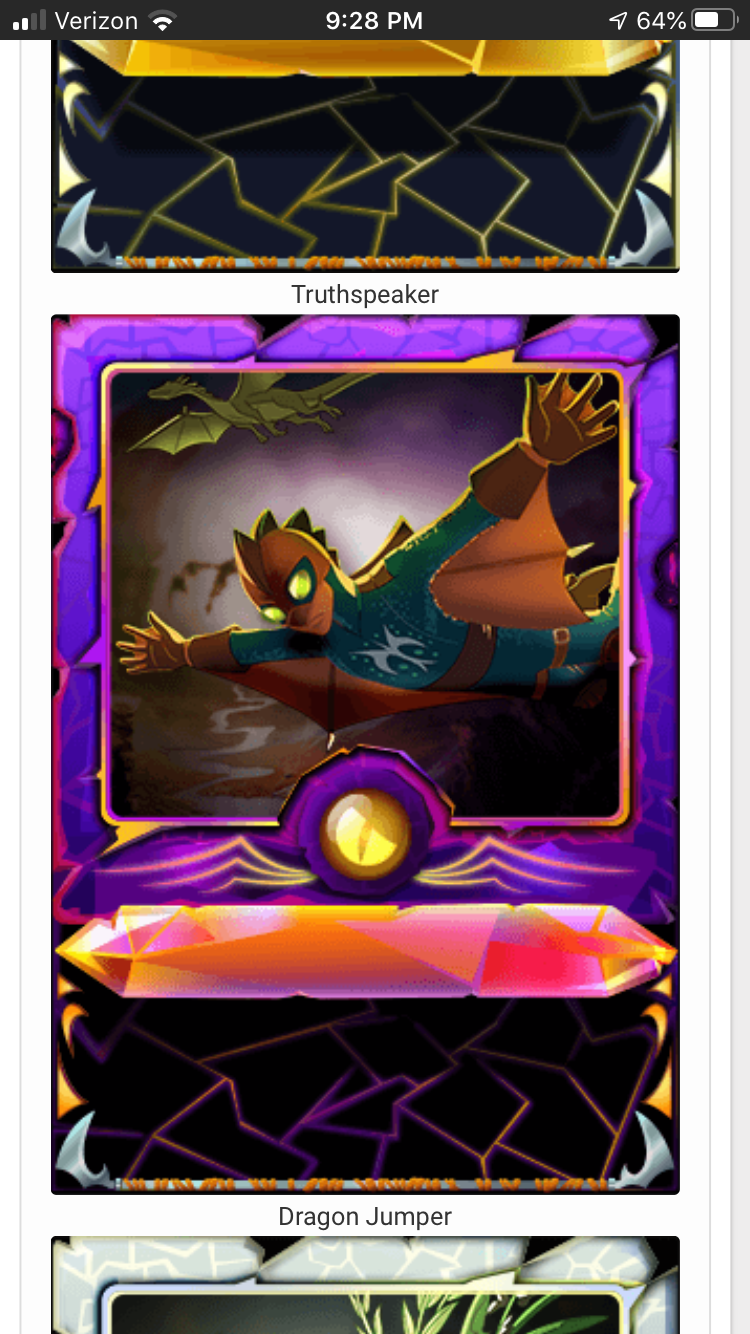 Let's hope for some more luck on Monday when I grab my next round of packs! Power down Steem has been really great for me so far!
Thanks to clove71 for the post inspiration. She recently opened the same gold foil card that I got, Kron the Undying. I congratulated her and told her my unique little story above and she said I had to share it!
Anyone that's reading this, what's been your best card and most unexpected card you've received? I would love to hear about it!
Connect with me!
Did you enjoy this post or my other posts? Please consider following me for more! @cmplxty
Do you want to get paid, in crypto, for searching the internet? Try using and signing up for Presearch to earn some great crypto! I've currently got 1,201 PRE tokens, with a market value of $28.50. It doesn't sound like a lot but when you search using sites like Google you get paid $0! Join Presearch to break Google's stranglehold on the internet searches. If you'd like to sign up, use my referral link below and spread the word!
https://www.presearch.org/signup?rid=513043
Still using Steemit.com? Upgrade! Steempeak is a much better user-interface, gives loads more information at your fingertips and has some great developers behind it. Give it a try, go to www.steampeak.com and see how much easier it is. You just need to use Steem Connect, one of the most secure ways to log into other Steem frontends.