@peakmonsters is a market and website for trading cards for the @splinterlands game. It's available at https://peakmonsters.com and supports Hive Keychain, such that you don't have to do anything reckless with your private keys to use it!
One of my favorite features is MARKET TRENDS, which shows the price history of any card. For example, check out the market trends for Lensmaster, a legendary 1-mana monster of the Life splinter:

You'll notice the markets trends are split into three visualizations:
Price (USD/BCX)
Quantity Sold (BCX)
Volume (USD)
BCX stands for Base Card eXperience and refers to the number of entry level cards. As someone who's been doing data science for over a decade now, I thought I'd share a few ideas on how to improve these plots.
Price: This plot is a filled area chart, which is the right approach. However, on days where there are no purchases, the price value should be undefined / NA / missing / null rather than $0.00. For zero-volume days, no point should be plotted and the trend line should continue straight through. Therefore the price won't look like it's dropping to zero, when actually there has been no change in the price or market.

Quantity Sold: this graph is perfect! A barplot is the right way to visualize this data. Zero-volume days show up cleanly.

Volume: This plot should be switched to a barplot like the Quantity Sold plot. Doing so will make the blue-shaded area exactly proportional to the number of cards (BCX) sold.
Other PeakMonsters Notes
As a side note, I'm part of the PeakMonsters PREMIERE guild. We've got some fierce players in this guild. PeakMonsters also hosts lower-level guilds if you're looking for a guild. But first, make sure you use the PeakMonsters market for purchases, as that is a prerequisite.
Using PeakMonsters can save money using their bid system, kickbacks, and availability of cards paying below 5% market fees.
Also I recently learned about their BULK buy option to get an exact number of BCX for as cheap as possible: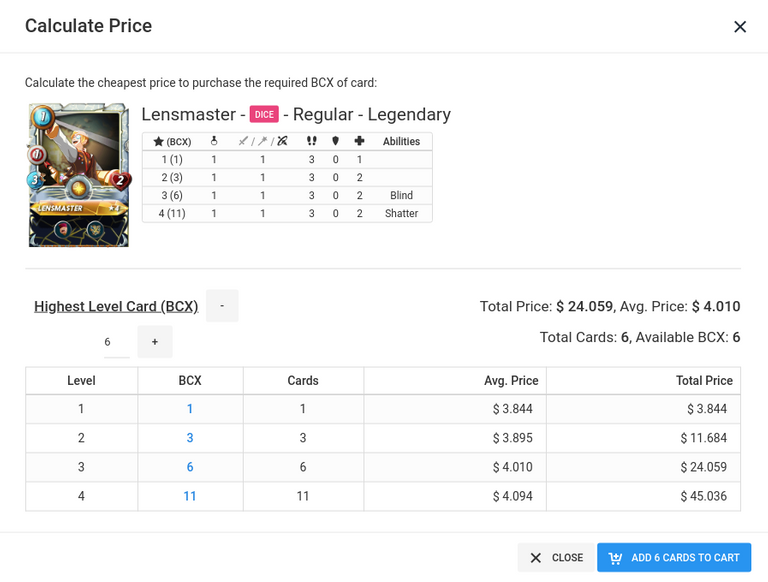 .