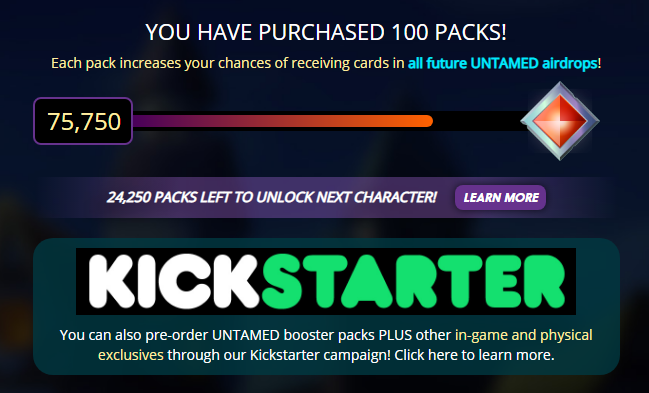 Today I checked the shop page of Splinterlands and I saw that we're getting closer to another 100K pre-ordered Untamed packs. If we get there, everyone who purchased packs has a chance to receive an airdropped card! It would be a benefit to everyone to reach this goal. I have already spend $250 on packs and potions, and I really shouldn't spend more dollars on this game unless it's from my Steem earnings. We're getting close to the end of the pre-sale, so I hope we have a surge in purchases before it's closed out!
Let me know if you've pre-purchased some Untamed packs and what you think about this awesome game!
I do hope that the money gained from this Kickstarter goes towards some serious development of the game, as a mobile app would do wonders for it I believe. They've raised many hundreds of thousands of dollars so I'm sure they can afford it unless they're upgrading their personal lifestyle ahead of game development lol. I hope they realize a better game will return far more profits in the future.