I am still very new. I avoided this game for a long time because it was 'deterministic', but now I have started playing, and I have found it more complex than I had originally thought.
Some serious players exist out there, and apparently there is a very strict culture that has developed. I have already left a guild I was very excited about after donating 34 thousand DEC - I was given a warning that within 24 hours I had to pay 6 thousand more. I don't live my life within 24 hours of my crypto keys, so I left that guild - they gave me most of my DEC back - thanks for trying kid.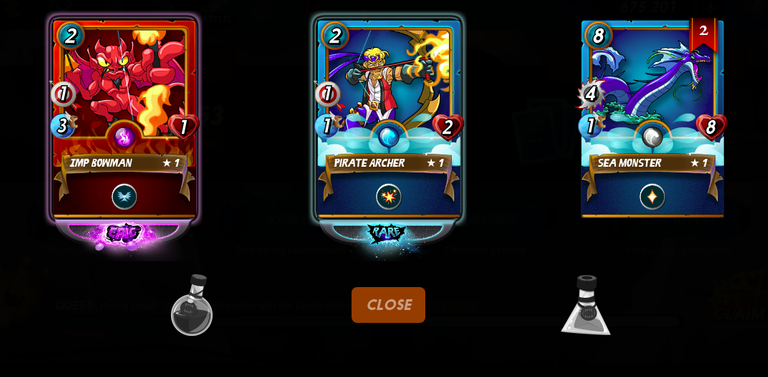 These are free cards that I won!
All I had to do was play the daily quest and win 5 times with the Death Splinter! I get 4 cards because I made it to the GOLD 3 league once this period. Two of these cards have shiny titles - one says EPIC and one says RARE. I know from experience that EPIC is rarer than RARE.
Apparently this game leaks DEC as well, so in order to properly invest in SplinterLands, you should be playing pretty frequently and complete one quest per day.

Here you can see that I won 7 matches in a row! I didn't make it to GOLD league on this attempt, but on the next run of wins.
The reason I am able to make it into GOLD 3 league is because of a LVL4 ARCHMAGE ARIUS card. I won a 3 week delegation of this card in the CONTEST KINGS MONTHLY MEGADRAW and he has been SUPER USEFUL! He is the only summoner I have that gives bonuses to ranged attack creatures. I love to combine him with AIR ELEMENTAL.
He is gone now...and I forgot to take a picture. I can only hope to win another 3 weeks with him in December's MEGADRAW!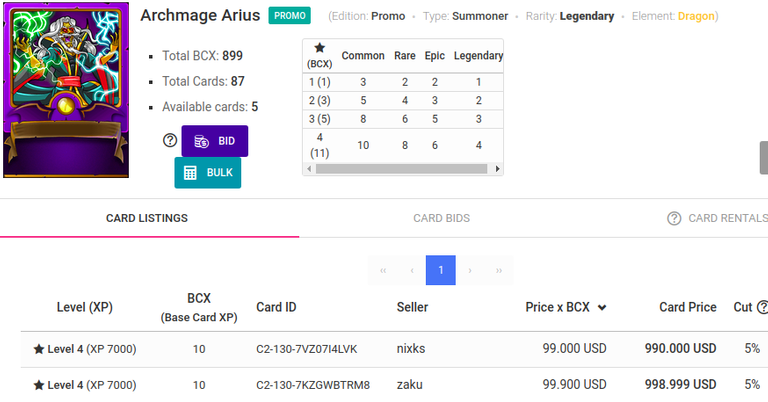 If I wanted to buy him, he would be 1000 dollars....
While each match is indeed deterministic, playing the game largely involves making the team selection under the varying constraints of each match, then watching carefully as it plays out. By changing the mana cap level, available splinters and using a wide variety of special rules, each match can actually feel like a fresh combat.
Haven't tried yet but plan on spending too much money on packs?