People love countdowns!
Maybe not the countdown itself, but the growing anticipation and excitement that comes from it.
And Splinterlands team has been making a HUGE event from the launch of the new packs: the UNTAMED.
There was a Kickstarter campaign, oversubscribed 8x, there was a Fundition campaign, there were direct purchases on-site of the new UNTAMED packs (locked for opening until launch time), and I believe there were direct donations as well.
A few days ago a countdown began, every day a new post showcasing a few cards of the new UNTAMED series. And this will continue until November 30th, the day when UNTAMED packs will be unlocked.
After watching some of the new cards, one thing is clear to me: there will be a completely new game to play after November 30th!
We will see new strategies and some of the old ones will likely not work anymore.
Switching from Beta to UNTAMED is nothing like switching from Alpha to Beta. Beta used the same cards as Alpha plus added some new ones, but it wasn't a complete new set, with new stats, abilities and design, compared to Alpha.
That's why UNTAMED will likely have a HUGE impact going forward.
At the same time, holding Beta may prove to be a good idea for the future, as there will be a bonus for using them in combat later on, just like it is now for using Alpha cards (not necessarily the same type of bonus).
Yesterday Matt let us know on discord that part of the rewards for participating in Kickstarter / Fundition campaigns were sent via email.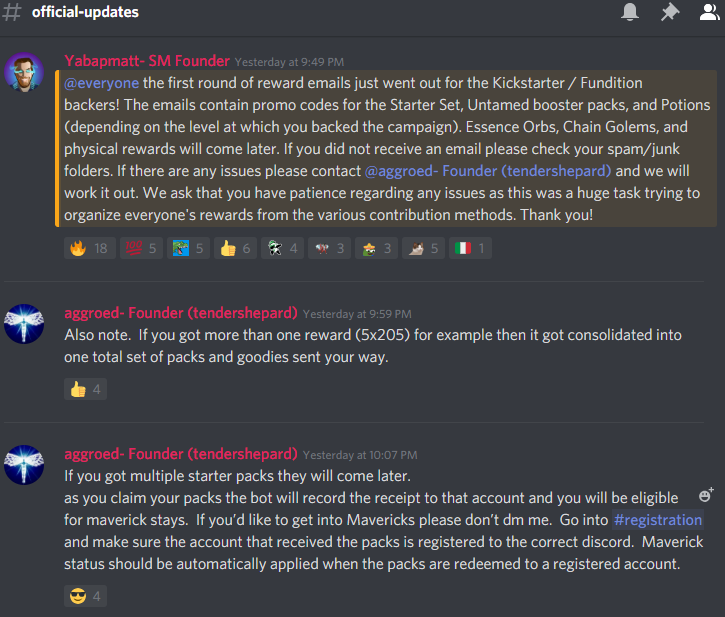 I checked my email and saw this: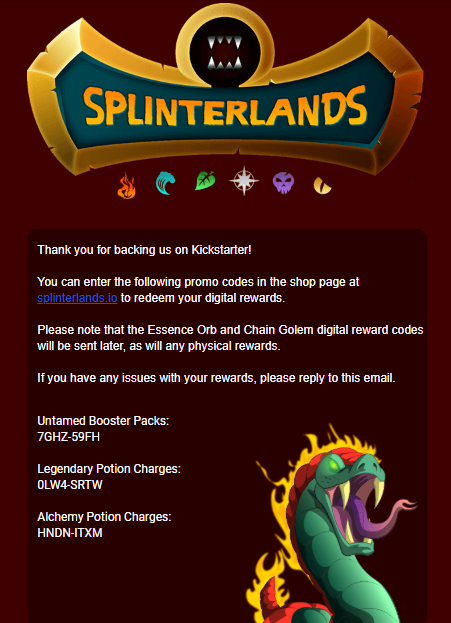 First things first, I claimed my codes, of course! :)
Then, thinking back, I regretted a bit my decision to buy packs on-site when there was no digital-only option on Kickstarter. Now I would have had more potions that I didn't have to buy... Then I remembered it wasn't an easy decision to participate to the Kickstarter campaign after I already bought the packs on-site, so I'm glad at least this part went ok.
Now I'm looking forward to see what cards my packs reserve me! :)
It is obvious in my opinion that someone with only Beta cards will not be able to compete at the highest level (maybe not even medium level) going forward.
At the same time, it is likely a combo of Beta and Untamed will be more successful than Untamed alone. That will keep demand for Beta cards high, especially since there aren't so many any more.