Yesterday, Splinterlands team came up with a week-long promo to get back 10% STEEM Power on purchases with USD, external cryptos or DEC. If you didn't read the promo post and are interested, do it, because there are some exceptions as well.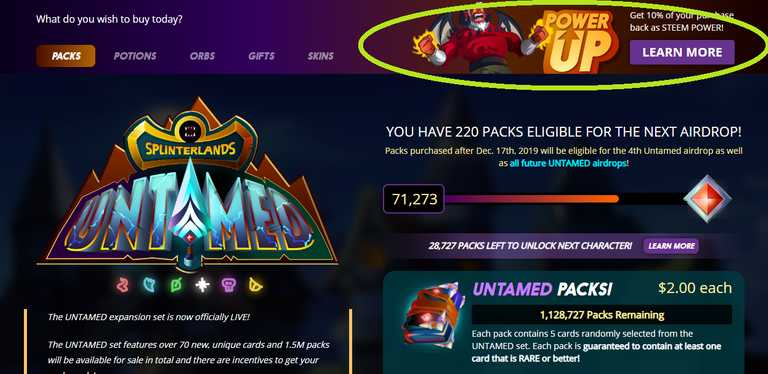 But... I have a problem. Well, the good kind of issues to have.
I have been saving my DEC for a while to reach 45,000 and buy both the legendary and the alchemy potions and receive the 10% bonus for buying at least 500 of each kind. Now that I checked again the shop, I see I would need a little less DEC, 43,200 to be exact.
The problem is this promo offers me an alternative use for my DEC. To buy more untamed packs and receive 10% SP back.
I already have a remaining of 140 untamed packs waiting for the potions to open them. More packs would mean more potions needed to open, and more time needed to gather the DEC, if I were to aim for the 10% bonus potions again.
On the other hand, recently the daily and season rewards include both DEC and potions. That should speed up the process. I can even open packs as potions become available.
That's an interesting and kind of tough choice I'm up against now.
Option 1: Go for the 10% SP back promo.
Option 2: Wait until I have enough DEC for 10% bonus on potion purchases.
I'm leaning towards first option, because the loot chests make the 10% bonus on potion purchases seem less appealing.
What would you choose?