Weil ich meinen Ruler of the Seas als regular Karte auf max Level habe, will ich die anderen Ruler of the Seas Karten verhökern. Schließlich will ich mein Deck verbessern, um mehr Rewards zu erhalten. Das bringt mir mehr, als auf die Wertsteigerung des Rulers zu warten (vermute ich).
Die Erste von drei dieser legendären Karten wurde mir heute Nacht von @sathopper abgekauft. Dafür bekam ich stolze 8742 DEC. Also circa 4€. Diese habe ich dann in Karten investiert, die ich wirklich brauche. So habe ich einen goldenen Bortus kaufen können, der meinen goldenen Bortus auf Level 4 gebracht hat. Endlich habe ich einen Water Summoner auf Level 4. Ich würde gerne Alric auf Max Level bringen, aber die Karten sind einfach viiiiiiiiel zu teuer. Ein einzelner Alric kostet schon 2,5$. Und am Ende brauche ich 115 davon. Da ist mir der goldene Bortus aktuell lieber, weil billiger.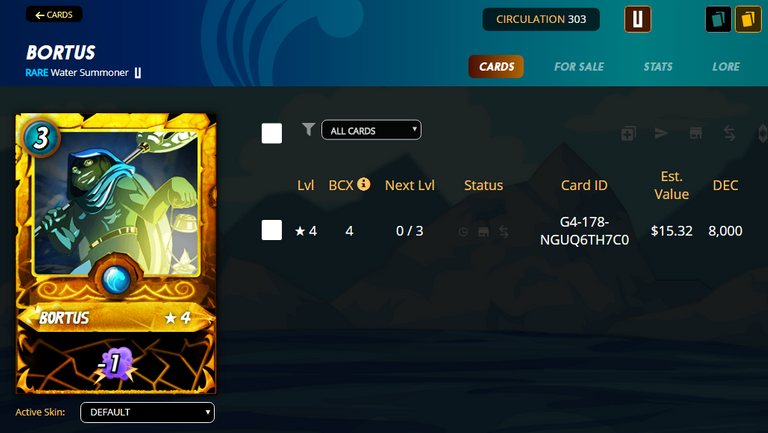 Danach war eigentlich die Kohle aufgebraucht, aber weil ich gerade in Kauflaune war und ein günstiges Angebot meine Aufmerksamkeit auf sich zog, habe ich noch meinen Ettin Spearman aufs nächste Level, nämlich Level 9 gebracht.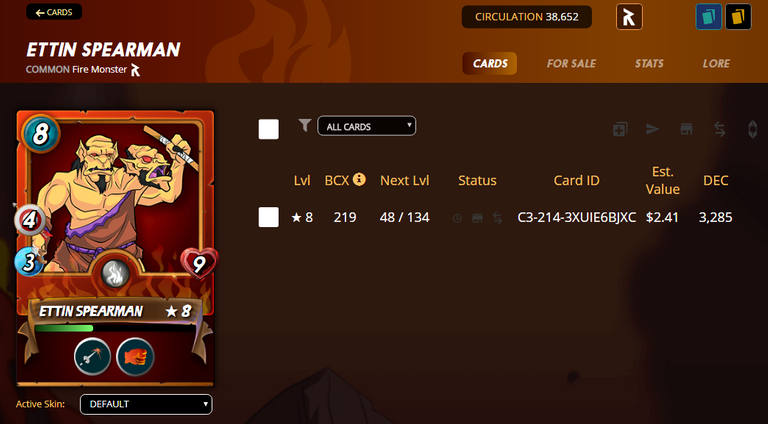 Aktuell lege ich mein Hauptaugenmerk wirklich auf mein Feuerdeck. Schließlich habe ich da einen Max Level Summoner. Und das Spielen damit macht richtig Spaß! Also so richtig! Daher brauche ich auch ein paar Monsterkarten auf Max Level.
Letzte Woche hab ich meinen Naga Fire Wizard auf Lv7 gebracht. Der ist zwar eine Glaskanone, aber ich mag die Karte irgendwie. Mal sehen, wann er das Max Level erreicht.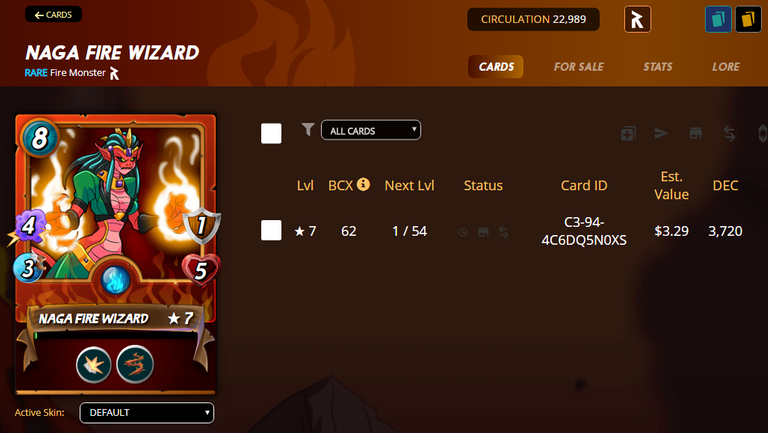 Wie triffst Du Deine Kaufentscheidung? Kaufst Du das, was Deinem Deck gerade am meisten nutzt? Und die Karte, die gerade äußerst günstig ist? Möchtest du zuerst bestimmte Editionen vervollständigen, bevor du zu neuern Karten gehst? Ich freue mich, wenn du es mir in die Kommentare schreibst 😁.
---
Werbeanzeige
Was ist Splinterlands?
Splinterlands ein ein digitales Sammelkartenspiel, das auf der Steemblockchain basiert. Es wurde 2018 von @yabapmatt und @aggroed online und ist die derzeit erfolgreichste Gaming dApp. Stell Dir Dein eigenes Deck zusammen und vernichte Deine Gegner mit Deiner eigenen Strategie. Durch das Absolvieren täglicher Aufgaben bekommst du stetig neue Karten und am Ende jeder Season warten noch größere Belohnungen auf Dich. Zusätzlich kannst Du Dein Deck über den Kauf von Boosterpacks aufstocken oder Du kaufst und verkaufst gezielt Karten über den internen Marktplatz. Es gibt Karten, die schon für mehrere tausend Dollar gehandelt wurden. Mit diesem Link kannst Du Dich jetzt über mich bei Splinterlands anmelden.
---