Right now, the SPT last price is 0.007 STEEMP / $0.001444 USD.
Looking at the top 10 posts on Trending, the average pending payout (for 7 unique authors) is: 3757.280740 SPT, worth 27.428 STEEMP / $5.426178 USD.
If all 10 of those payouts were sold on the market using the actual volume/prices of the buy book, 37572.807401 SPT would sell for 267.519 STEEMP / $52.923936 USD, bringing the price down to 0.006800 STEEMP / $0.001343 USD.
It's unlikely that the top 10 Trending posts would all immediately dump. The authors and curators would all have to dump at the same time. I was just trying to determine what kind of support the market had for this amount.
In my opinion, the order book is pretty healthy.
---
However, there is a small problem happening on splintertalk.io itself. It's a small problem with a simple solution. In my opinion, Splintertalk Trending needs some better curation. It's the kind of thing that any tribe/community can deal with fairly easily.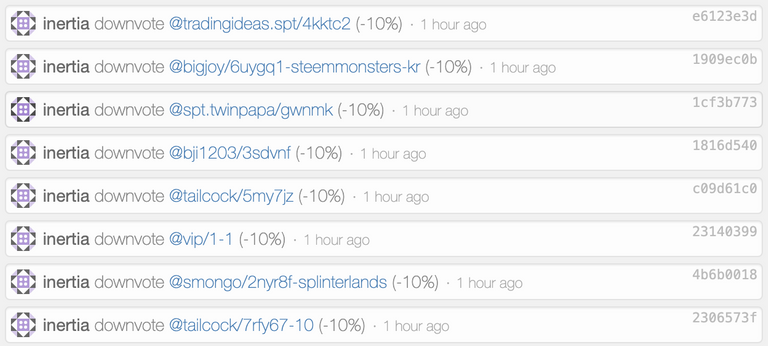 Splintertalk Trending is full of quest status updates and contests. In and of themselves I have no problem with this kind of content. The problem I have is when Trending is 75% quest status updates and contests.
---
Solution
Here's my "10% Downvote" curation rubric:
Is the author on Trending?
Is the author always on Trending?
Did the author appear to put minimal effort into the post?
If these criteria are met, I issue a 10% Downvote. Let's break it down:
Is the author on Trending?
This isn't hard to figure out. There are many authors who show up on Trending every day, so you get to know them over time. New authors on Trending should get a chance to do their thing.
Is the author always on Trending?
On the other hand, there's something fishy about an author who always gets on Trending for every post they write. Can it happen? Certainly. That's why there's more to this rubric ...
Did the author appear to put minimal effort into the post?
Again, an author that isn't always on Trending who puts minimal effort into a post but made it to Trending is not the focus here. They can just do their thing.
There are times when a chronic minimal effort author will put in the effort sometimes. If that happens, usually it's still pretty low-effort. I have a different rubric for that situation.
My goal here, with this "10% Downvote" rubric, is just to communicate my dissatisfaction with a particular pattern of posts that are always on their way to earning daily 4,000 SPT or whatever. I don't just blindly cast these 10% Downvotes. I'm looking at the post. Is it just someone phoning it in, talking about their daily quests every single day? Why would I want to highly reward "I got these cards" from multiple people, every day?
It's one thing if "I got these cards" posts got 100 SPT every day. Not ideal, but hey. On the other hand, I'm seeing 2,000 SPT over and over. That's ridiculous.
So why don't I 100% Downvote these? Well, for one thing, there's too many right now. But there's another reason. If this happens for 10 days on one account, that's as good as a single 100% Downvote, once in a while. Over time, curators will hopefully notice that blindly voting for these is a waste of voting power.
Instead of concentrating on one post every 10 days, casting 10% Downvote helps me track things over time as well. Since I'm only focusing on Trending for this rubric, once I vote I can move on. It helps my cognitive load if I see I've already voted on something on Trending, rather than try to remember if I've already dealt with a particular author in some other post and I can ignore the others. That would be tiring. So 10% Downvote it is.
Conclusion
Does this work? At the moment, it appears it does work.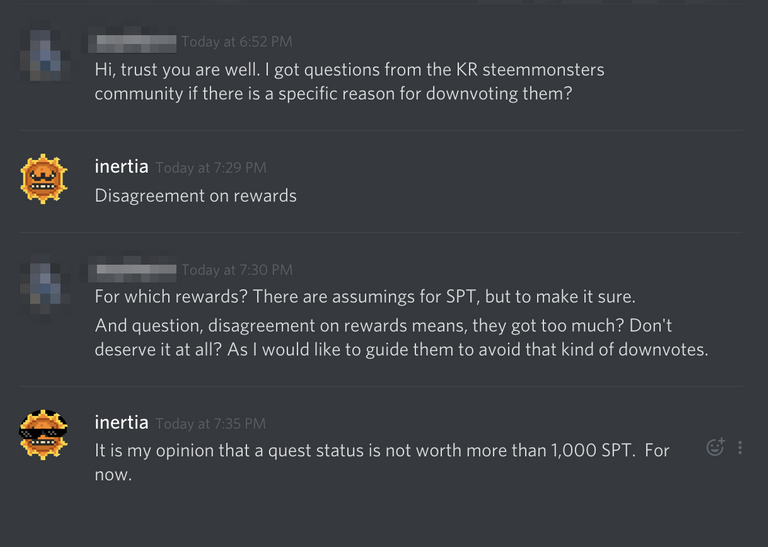 There's a large segment of reasonable people who are receptive to criticism. I'm also trying to be reasonable. I don't think these posts are worth 1,000 SPT, but I'm willing to transition in that direction because that would at least double the number of non-quest status rewards. We'll see if it actually makes any difference. Maybe they'll just double the number of accounts that write these useless posts. Or maybe they'll expand their curation scope. Let's see how this plays out.