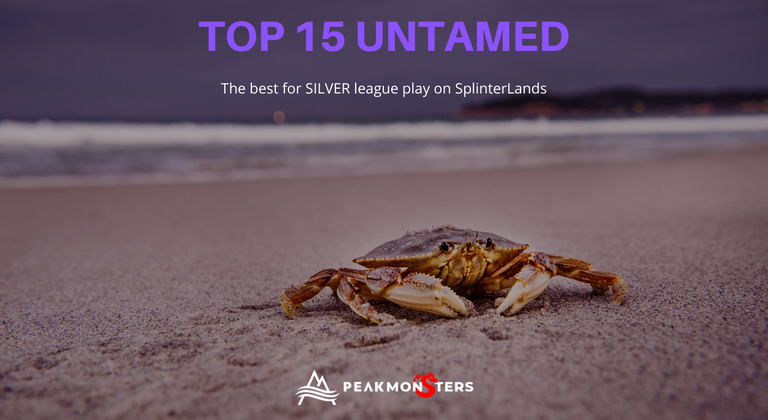 Figured I'd add a picture to this in case you don't play the game and don't care at least you get to see this fun Picture I took years ago... nothing to do with the game. But it's a fun little critter.
SPLINTERLANDS UPGRADE
I've been involved with Splinterlands/SteemMonsters since the beginning and have also played the game and rented out cards and have been making money with the cards... so it was fun that on Saturday they came out with 70 new cards.
I hadn't played Splinterlands for a month as I was traveling. I've let 5 other people play these sort of Free to Play (but split revenue) accounts of mine. But it was fun to play a bit again as me and @asgarth have been developing new tools for https://peakmonsters.com/ which we own and run in addition to https://steempeak.com/
MY EXPERIENCE
I thought i'd share my findings of playing a deck:
With only Untamed cards or and then 2 more cards that i earned via rewards
Silver deck meaning 5/4/3/2 and all cards at my disposal from untamed.
So therefore my findings are only related to bronze and silver league. I'm presently at silver 1 and I feel I can probably get to Gold 1 later in the season but it's gonna take some work.
Also i must say that hands down RED seems to be the best deck... though I would like I didn't explore BLACK enough. Green and Blue have some big weaknesses BUT if you play the new cards with BETA cards then it's a completely different story.
... And now for the fun...
1. Magnor
In silver league there is almost no better matchup than magnor + opporunity. You can screw up people's strategies and be in control with taunt. Taunt overides their strategy... the only bad thing is if their strategy is to overpower the first position guy.


2. Parasitic Growth
If you want any opportunity of using double opportunity then this is a MUST HAVE. As a neutral it's incredibly important and could be the Elven Cutthroat of untamed.

3. Khmer Princess
I think we all know by now how good this card is... but it's really only good when it hits level 4 Having tank heal on GREEN and only 2 mana makes it just as good as we all expected. I put it in my teams all the time because 2 mana seems so perfect. But then again green isn't the best deck in an all untamed team. I think for this card to shine you need beta cards in your deck... specially flesh golem or another good tank.

4. Failed Summoner
No attack and yet i still used it more than expected. Front line, first ranged, wherever i think they're gonna magic attack. Lots of usages for a 2 mana card with great HP.
But level 6 is where it really starts to shine (gold league)
Now here's the thing GREEN untamed doesn't have flesh golem... so that's why it's so high up in my ranking because it was one of the best HP buffers in all of green untamed.


5. Tortisian Chief
Tank heal on a neutral makes this an amazing card... plus 2 mana on low level leagues is solid.

6. Cornealus
Not quite the killer card I expected because unlike Lord A he's not great in first position even though he has thorns and you're a little worried to put him second because he may end up at the front and not able to use his amazing ranged attack which is quite stellar. Because of thorns he seems to be best in the back spot... but you'll find in Silver league not too many people play sneak. Good news is he keeps getting better at level 3 and 4.


7. Serpentine Spy
Opportunity and Taunt are among the best cards in Untamed. You can build whole strategies off those. Having opportunity in RED splinter is the most effective of the bunch because of how fast it is and how the red summoner makes it even faster. Opportunity can wipe out a few of the enemy cards before they even start in a league like silver

8. Dark Ha'on
I do love Taunt and scavenger is fun but i think this is one of those cards that is much more powerful at higher leagues and levels it's not near as awesome as Magnor in silver.


9. Feasting Seaweed
Can you tell how much i like opportunity
This is the 3rd best opportunity card in silver league

10. Coral Wraith
Pretty awesome in games you think they're using armor but good no matter what as a 2 magic attack... in lower leagues 2 mana for 4 is solid. Plus it's one of the few new sneak cards.


11. Undead Badger
2 mana sneak card!! Yep sign me up. It's HP makes this thing a bit scary to use because thors or now Opportunity make this easy pickings. In fact low silver leagues are probably where this shines the most because it doesn't really gain more attack until max anyway.

12. Spark Pixies
I thought it was gonna be good with it's amazing speed... and it's true. It quickly gets to 6 speed and then at level 5 adds in STUN. It's a multi purpose card that you put where you think you're gonna get attacked. At 3hp it does have a weakness... for example what if it actually gets hit. haha Hoever the point is that in silver league this card doesn't have stun... so while it's an amazing card... for silver it's just good.


13. Kron the Undying
I use him plenty in high mana green games... however i often loose with green so that is probably a decent statement. I'm betting he starts to shine a LOT at level 3 with Last Stand and putting him at the end.


14. Shieldbearer


Taunt is amazing but taunt without shield would suck... and additionally taunt with this guy when you know they may be magic heavy makes him not quite amazing. But still awesome in higher mana games.
15. Cursed Slimeball
Not many 1 mana cards in Untamed and they are all valuable. For silver leagues not as awesome as it could be. Level 6 is where it starts to really shine. But still a nice 1 mana filler card.

Honorable Mention: Dragon Jumper
Pretty much i'm adding most of Opportunity type cards in this list. Snare has proven to be a useless new ability and stun at higher levels probably won't be that great because an opportunity card at 4 attack is likely to just wipe the opponents card out quickly since it's searching for the lowest attack anyway. But here's the thing you're playing this likely in high mana games so enemies are gonna have higher HP cards anyway. So yes I do love playing this card but for 7 mana he's more of a luxury when you don't have to worry about mana. You get almost as much from a card like feasting seaweed for much lower cost.


---
UPCOMING PEAKMONSTERS FEATURE
Might as well show you a couple of the new upcoming features we're working on over at https://peakmonsters.com/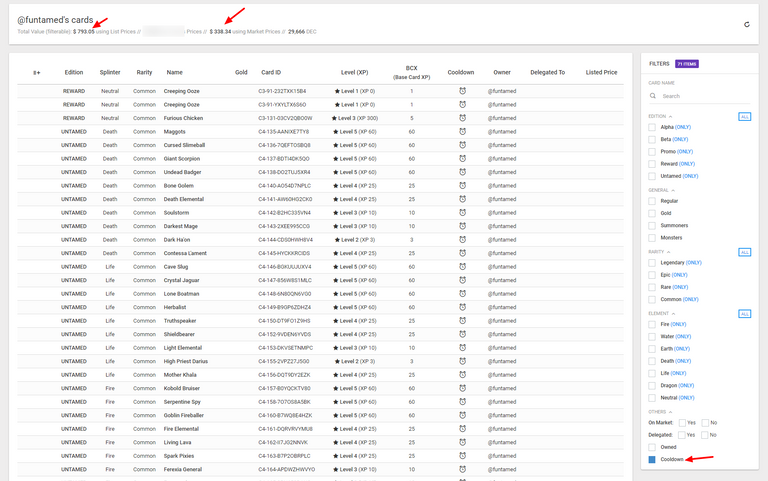 I selected JUST the cards i've played with during the last 3-4 days. Untamed values are still trying to find their footing but you can say that this SILVER deck is worth at least $338 maybe up to $700 and I paid $1400 in my kickstarter to get them and if I unclick cooldown it says my account value is 700/1300
Anyway just a fun teaser looking forward to knowing how you'd use these filters.