So, I have followed a couple of posts and found splintertalk.io, another scot bot front end like PALnet and WEEDcash. If you are seeing this here on Splintertalk, what do you think so far? If you are seeing this on another STEEM front end, have you heard about Splintertalk yet? Will you look into it or has this fragmentation overloaded you with too much to keep track of?
I like that it has an attached forum from tokenbb - I haven't seen that on other front ends yet.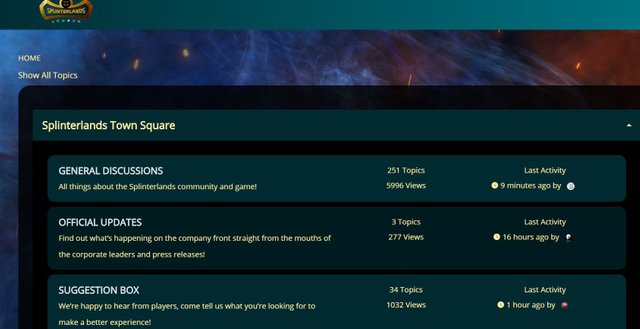 It feels fairly slick, and I can see room for more add on's here, particularly a scot dtube link for vidoe's of commentry, pack reveals and so on. The only thing I wish is that the login on the main splinterlands.io site carried you through to the forum also, instead of needing to login again. Very minor in the scheme of things, but integration of that would enhance the slick feel overall.
I have decided to go back to posting Steemmonsters/splinterland content from my alt account @jk6276.mons rather than my main @jk6276 account. I have no SPT staked yet, but if I do acquire some it will be staked here with this account so I can manage my VP and curation seperately.
Let me know what you think,
Cheers,
John.