A FEW MOONS AGO....
I took part in the Splinterlands fundraiser. A part of that deal was that I was to receive a bunch of Splinterlands good....but not ones and zeros inside a computer. NOPE! ACTUAL REAL PHYSICAL GOODS, SHIPPED TO ME.
WHAT GOODS ARE THOSE?!?
There were quite a few to be truthful. And while the wait was nearly unbearable it was so completely worth it. Let me show you a picture filled with a lot of awesomeness!!!!...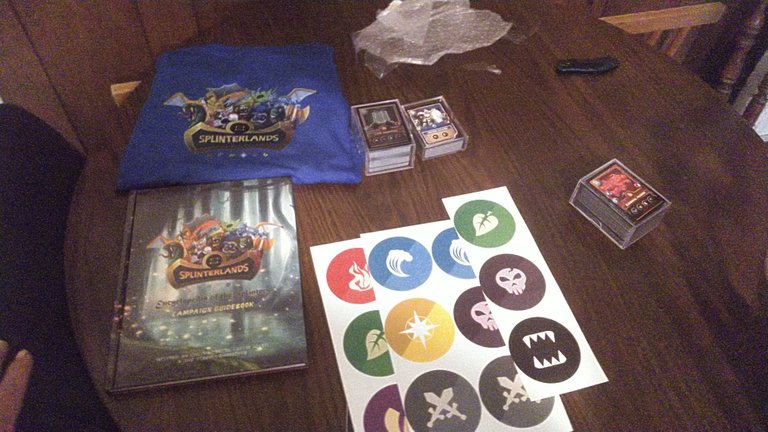 We got cards, stickers, a bumper sticker, a massive 200 page book full of all the amazing lore that we all helped to create...oh yeah and a BUNCH of Splinterlands cards....from Alpha to promo, there's a lot.
HOW ABOUT EVANS REACTION?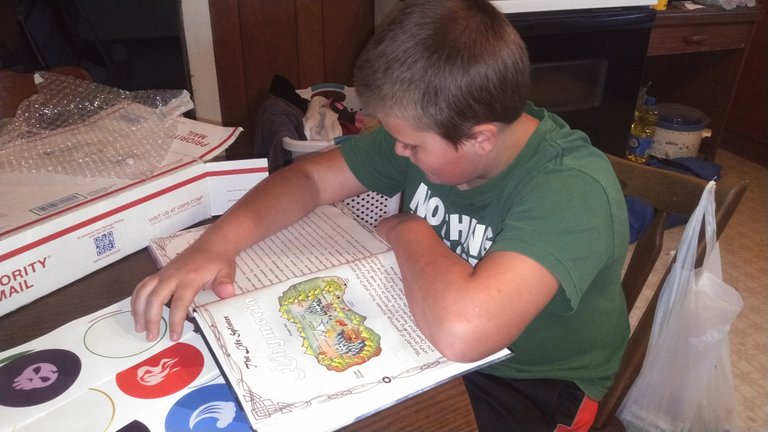 *He loved the book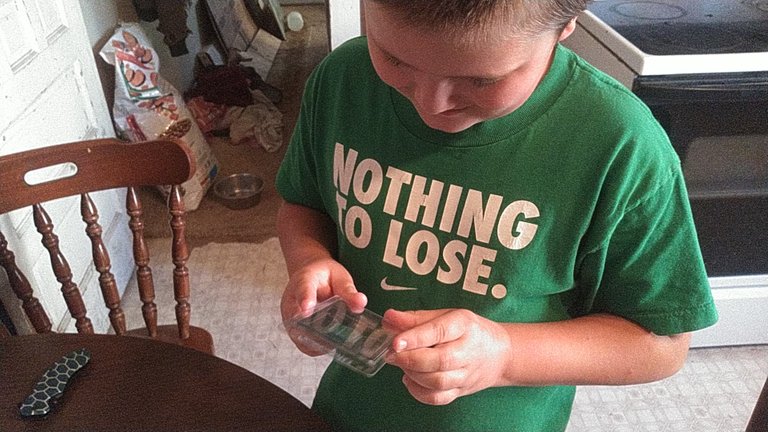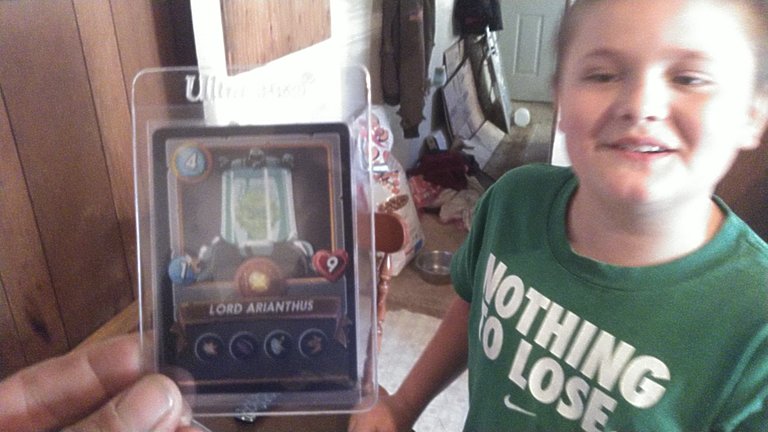 *And the cards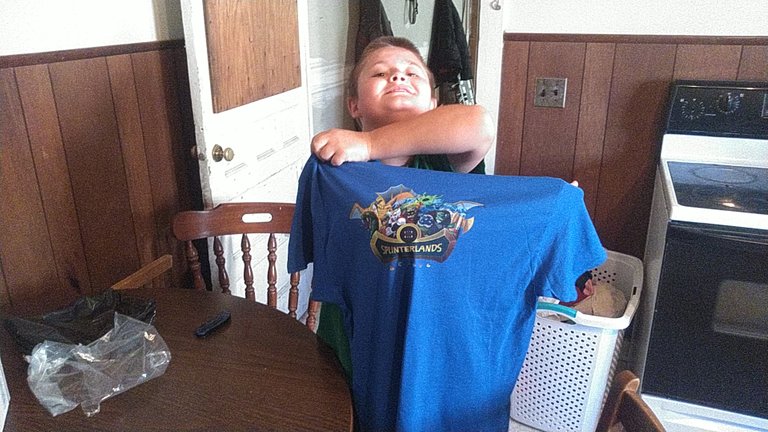 *Oh yeah, the shirt too.😁😁
Truthfully he loved it all as well. Below is a video of our unboxing. It really was an amazing fun time!!! Thanks to @yabapmatt and @aggroed and all the other great people behind the scenes!!!
A special thanks goes out to @reseller who dropped a few extra goodies into everyone's delivery.🤟🤟
TIME TO SPLINTER THE TRUCK!!!
We looked through the book and cards for a bit (and argued over who the shirt belonged to.😂🤣😂🤣) but soon decided it was time to put a couple of those beautiful stickers on the Super Duty!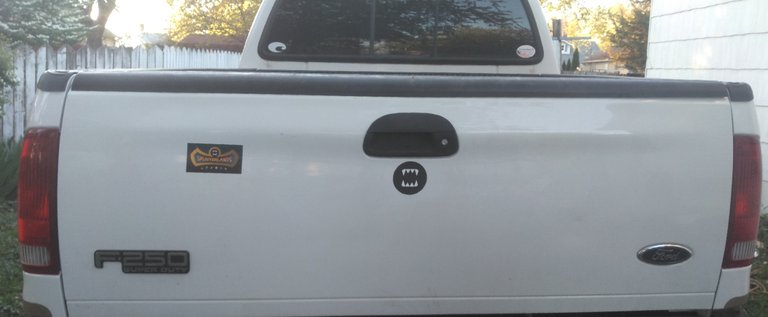 *My only wish is that they were quite BIGGER.😁
And of course we video taped it...I mean it was the first time we ever got to put Splinterlands stickers on the truck!!😁
EVAN GOT HIS SPLINTER ON TOO
Not to be left out, Evan got the chance to Splinter up something as well...he chose his bedroom door.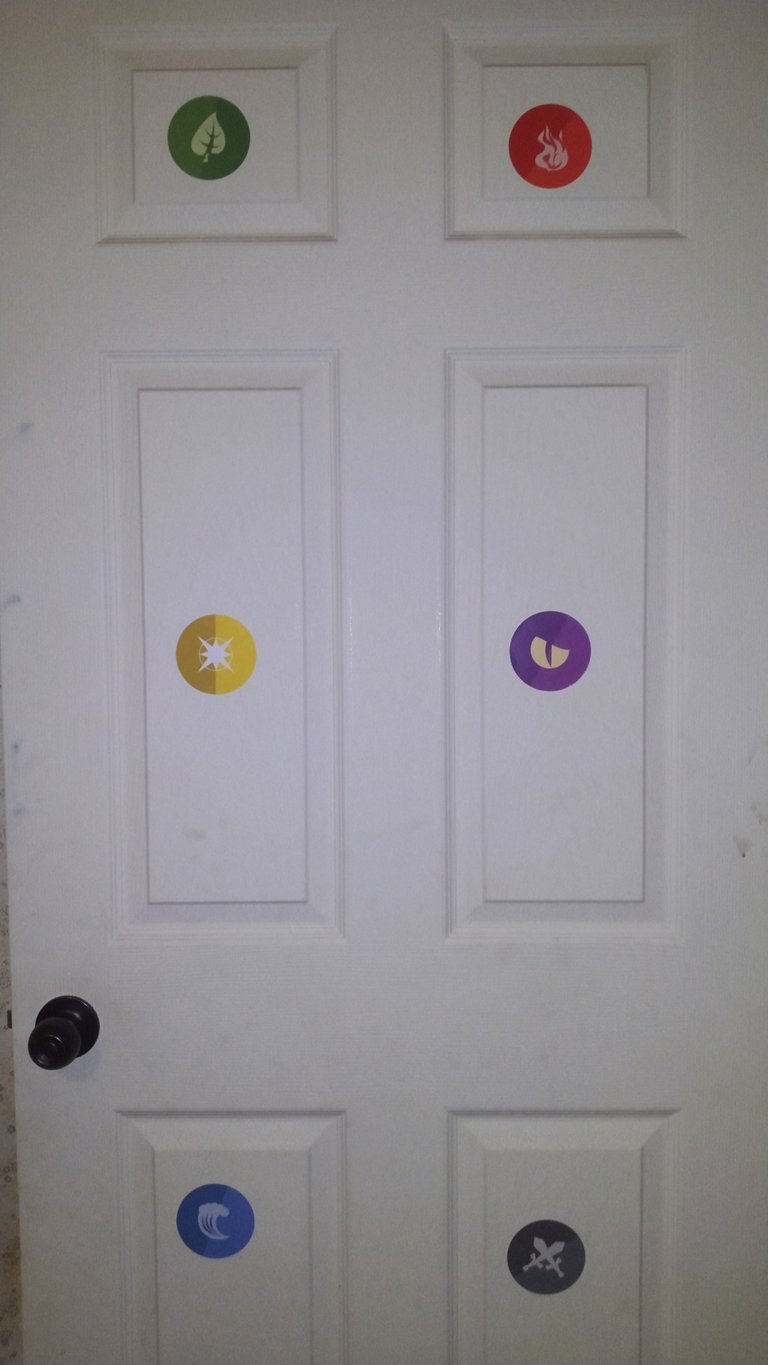 IT WAS TRULY A BOX OF AWESOMENESS
Packed to the very top with amazingness. We had wanted stuff like this since before the game was released.(Evan especially, since in his world, he loves things he can put his hands on.) I'm hoping that the next fundraiser will include more physical goods as I would love to add even more to my collection.
I'M READY TO BE EVEN MORE BLOWN AWAY
As I am out to embark on reading the complete book, I am filled with a sense of excitement. I have glanced through it and read some short clips. And it is very obvious that all the folks behind it took a lot of pride in what they did. It's so detailed and enthralling, and I've just skimmed the surface.(I'm pretty sure it even has the stories in it for some monsters/summoners that haven't even been released yet!!!!)
....THEN THERE'S THE ARTWORK
It's as breathtaking as the volumes of stories in the book...Truly just amazing. The drawings are simply magnificent! I almost feel like they could come out of the pages at me. The detail is astounding. I have looked through it several times and still find myself looking at the details of the monsters and summoners.(a million times better than the cards...because I'm holding it and can look at it as close as i want and IM FRIKKEN HOLDING IT!!!) Can you tell I'm excited to have this stuff in my hands. It makes everything all so much more real and it makes me love the game so much more.😁😁
SO, YEAH,I START TONIGHT...
After finishing this post, I will be curling up in my comfy spot downstairs and cracking the pages of that beauty. But this time I will start at page 1 and continue through..no more skimming.💖💗💓
So for now I bid you adieu and I will see you great people at a later date. Thanks for coming along on my journey....oh yeah, almost forgot.....hey @koh.🤣😂🥁😂🤣
---
---
Splinterlands is an insanely fun card trading game based on blockchain technology. We have an active player bases and the game is one of the highest ranked Dapps around. If you are interested in getting started feel free to leave a comment below or stop by their Website and get set up to play.