Greetings, people from @steemmonsters, @battlegames and @steem-ace and
Yesterday, i bough more 200 Untamed Packs.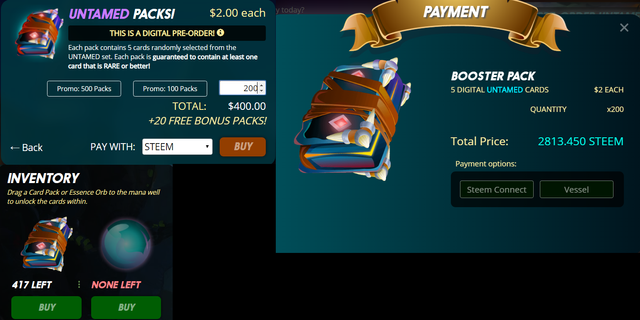 I'm doing powerdowm on my steem and it's all going to the SteemMonsters game. I imagine this investment will treat me better results than if I keep my steem in the account. Next year, I will reap the rewards of this, as I will sell all gold cards and cards I do not want to use from this Untamed Packs.
As you can see from the first picture, each pack costs 2 $, so it was 400 $ spent on it. With the 200 packs I bought, I got 20 more. In total I got 220 packs with 400 $.
As you can see from the second picture, the $ 400 spent was exactly 2813,450 steem. There are 5 cards and each pack, so I have 1100 more cards now.
As you can see in the third picture, my total of purchased packs is 417. So I have 2085 cards to open for now.
I still have around 4800 steem that will come from power dowm. Possibly I'll use half to buy more Untamed packs and half to buy decs, because I want to open the cards with 100% gold and legendary potions.
I hope I get good results from this and these expansion cards are really cool.
Also, maybe I can get some good cards in the upcoming airdrops, because I'm buying in the "first and second round" of selling Untamed packs, so I'll have a lot of airdrops to participate.
Thank you all and good game !!!