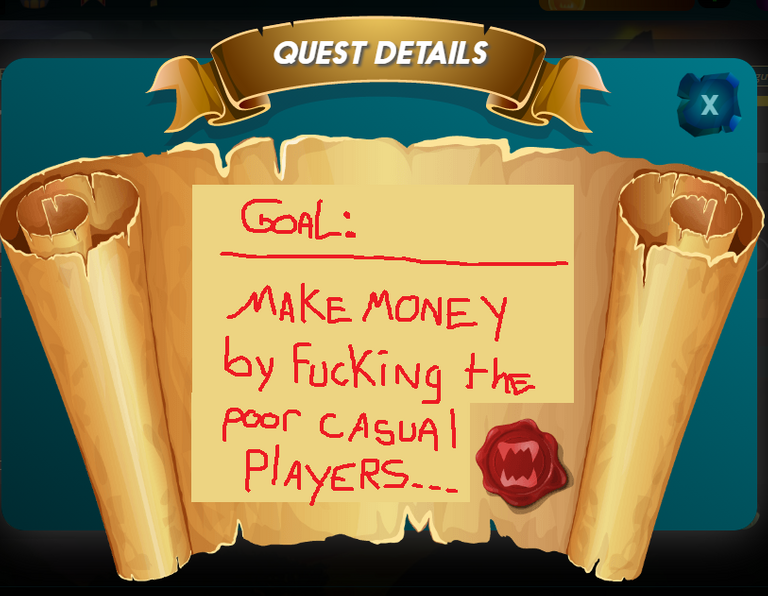 (this post is full of swear words, so it's NSFW, don't fucking at me about it)
While it's common knowledge that majority of services on HIVE operate like businesses and thus need to make income in order to further their development.. But after playing some Splinterlands over the past day as something to do in the background while I code it was realized that I wasn't leveling up any further.. Now one of my favourite things to do was passively play the game in the background while trying to achieve the highest league ranking I can. With the latest update to the Splinterlands platform your league is now capped according to how much DEC your cards are worth.
Take Success and Fuck it for Perceived Profit...
That is EXACTLY What This Update is
Now the game has always been pay to win in a sense, with those able to afford to spend hundreds or thousands of dollars on packs to get high tier cards and level up their low tier trash into something usable generally destroying those of us without frivolous amounts of expendable income. The way the game is now blocking progress and essentially demanding that you either buy packs or rent out cards in order to realize to the full potential of your existing deck is SHIT.. What the actual fuck?!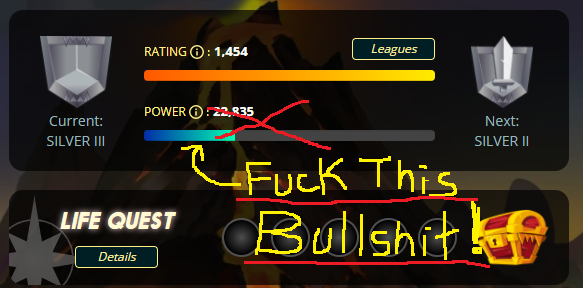 This is an absolute deal breaker for me and while as an entrepreneur I'd like to see the flip side of this and say "I get it, Splinterlands needs to make money"... BUT the fact of the matter is that I'm capped in some shitty lower tier league that I once could easily get through due to not having hundreds or thousands of dollars to spend on cards is absolute fucking bullshit. It's been a long time since I found something that enthralled me or fucked me off enough to write a long format post about it.. So bravo, you guys inspired me by essentially fucking over my gaming experience for a perceived profit.
Now over the past year or so well over $150 was spent on card packs to fill my deck out, however even with such an investment (which face it, is a RIDICULOUS amount to spend on a game) into the platform with the newest update I'm capped around the silver II league. The new system in place that limits the league ceiling at which you can achieve without having more cards is a step in the wrong fucking direction if you want to attract your average gamer or maintain the player/customer base you've built already. Having spent 300% more on this game than I would have on basically any other video game out there, only to be cut off at the fucking knees and told that "You don't have enough power (money)" in order to try to advance further in the league standings is bad business & design.
Appalling Bait & Switch Tactics
Masqueraded as Progress
Now I'm not sure which out of the splinterlands creators @aggroed and @yabapmatt came up with this idea and signed off on it but without coming off as a complete dickhead asshole can I ask:
What the FUCK were ya'll thinking?!
I can understand releasing new booster packs, potions and that sort of shit in order to increase the projects profitability, but when you take a game that was already leaning heavily towards the pay to win model then ramp that monetization model up ten fold what you end up doing is driving away your casual players or those that don't have money to blow on fucking digital cards.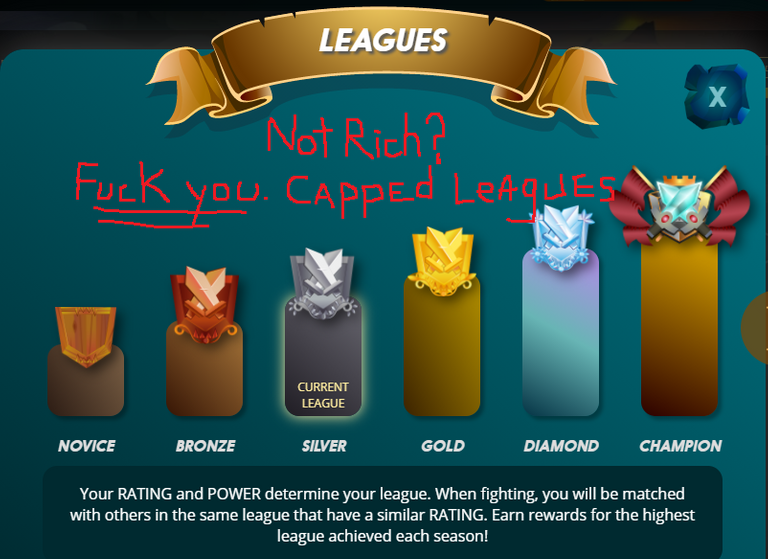 Now not only have I spent a small fortune on digital cards that are basically for lack of a better term "gimped" due to the newly implemented power requirements to get into higher leagues.. but all of that capital I spent bolstering and upgrading my deck to reach higher leagues has basically amounted to me being fucked by you, the developers, in what I consider some form of bait and switch tactics..
Considering the Splinterlands franchise certainly isn't hurting for capital with their ability to create profit simply by printing out digital tokens in the form of booster packs and potions which are then sold to players the executive decision to add what is essentially a fucking paywall after users have already likely forked out fair sums of money is the sort of shit that destroys projects like this.
Why Did / Do You Play Splinterlands?

The fun part of this game for me (and why I spent over $150 on the game) was because I liked trying to beat my previous season league record. That is what this game was about for me, and this last update took that away from me and put it behind a demand for more money.. After spending well over $150 already on the fucking game only to have some "update" come in and completely fucking destroy the aspect of the game I found most appealing is just fucking sad on the developers behalf..
Your greed disguised as an update basically took the reason I play splinterlands away from me then to top it all off basically told me I'm not wealthy enough to try and reach higher leagues anymore. So not only did you get my money, but to top it all off you had the fucking audacity to cripple players ability to advance in the game unless they fork out more cash into the system. That is fucked guys.
Shoot Yourself & Users in the Foot
( For Profit! )
Money makes the world go around, I understand that.. But at what point do you look up from your operation which is pretty damn successful which is basically printing money via the selling booster packs, potions and whatnot and go "Hey, You know what would be cool? Lets fucking design the ranked match system to make sure those who haven't spent thousands of dollars on the game can't advance past the pleb levels!" ... After spending $150+ on a game the absolute fucking least ya'll could do is make sure that your users have the ability to be able to compete if not against other players then against their own personal season best.. But no.. Because FUCK the casual player, right?.
Without spending hundreds or thousands of dollars buying packs or renting cards on the market the average player is left to get capped at some low bullshit level where they can't even see how their deck ranks up in comparison to others basically. Not only have you gimped your low / medium tier players but while doing so you've also gimped the whole fucking business you've been working on.
The mantra of "Profits over Everything" hangs heavy in the air surrounding the Splinterlands franchise right now. I'd expect some shit like this from wankstain development outfits like EA.. But didn't expect such a blatant cash grab from within our own community. The playerbase isn't happy with this update from what I am seeing, and ultimately if you piss off those who have supported your project by purchasing decks and gaming on the platform. You've betrayed your early low / medium tier players and blocked them out of functionality you sold them in the name of profit from where I'm sitting.
The Begginning of the End?
By setting up needless pay walls and cash grabs in order to advance in the game I'd bet having to cook and eat my own dick (McAfee Style) that within a short period of time you see that the playerbase moves onto something else and the revenue generated by Splinterlands falls off abruptly.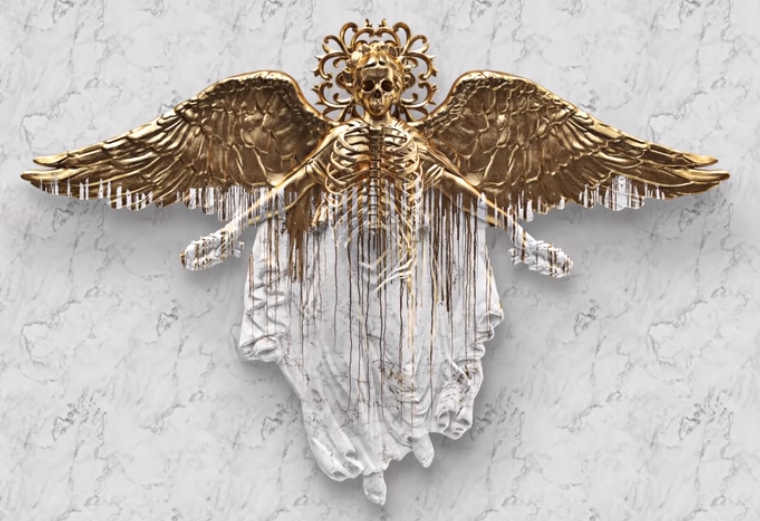 ( angel of death picture stolen off of google )
Unless you as developers have the intention of trying to squeeze the last little bit of cash you can out of your die hard players before they get fed up with having to dish out ridiculous amounts of cash simply to access functionality that was initially included in their purchase, then you are doing it wrong. These type of needless and greedy business decisions are the type of shit that ultimately leads to the death userbases and businesses. There has to be better ways to increase your revenue instead of this short sighted bullshit going on currently. Given the availability of MTG type games source code on the net which would provide a quick bootstrap to have a competitor come in and mop up your disenfranchised playerbase you all should probably seriously reconsider your latest update.
You're hurting your players, you're hurting your image and worst of all you're hurting the game you've spent this long building into something that was one of the worth while things to do within this blockchain ecosystem. If you're willing to, for lack of a better term, grenade your own creation in hopes of scraping out a bit more profit you need to take a step back and give your head a shake.
On the current course Splinterlands is on you're setting yourself up for a serious exodus of your playerbase and with them will go your revenue. If your plan is to run this bitch into the ground while trying to suck the last crumbs of cash out of your players on the way down, you're doing a great job. If your plan is to actually maintain a long term successful business and continue to make profit on existing and new users then you are fucking up royally.
Trying to Understand the Reasoning for All This
(...Besides a Fucking Lame Money Grab...)
It literally costs the developers next to nothing to give out end of league prizes be it DEC, potions or promo cards. Why in the fuck would they lock leagues and the rewards which essentially cost them nothing to make? The only explanation I can come up with is blatant profiteering at the expense of the userbase that has supported splinterlands financially to get it to where it is today. Sure a small percentage of players wealthy enough to have godly stacks of cards already may not even notice this update..
But for those of us who've not spent thousands of dollars on god tier decks the splinterlands game is effectively crippled as far as low to mid tier players are concerned. What the fuck is the point of playing a game that doesn't let you progress after a certain point unless you tithe more money to it? This deck power system would be cool for tournaments or something, I see some utility in that regards.. But slapping it over the entire ranked match system is probably the dumbest shit they could have done. If the splinterlands team has any intention of retaining their non-whale players and keeping their financial barrier to entry to a somewhat affordable level ya'll need to revert this shit.
Some play for the DEC and rewards, some play for the thrill of finally beating a certain level in a season and progressing to the next league. What it boils down to is the splinterlands development team choosing to pad their own pockets over providing the user experience we were sold initially.
I'm sad and tired.. Sad because splinterlands is limping around like a dog that needs to be put down after this latest update and tired of people fucking up good things in the name of trying to maximize profits. Going to sleep on this tonight and see if I still have the urge to firesale off my cards and say fuck this game when I wake up tomorrow. I don't like the direction it's been pointed and I sure as fuck am not the only one judging by the feedback I'm seeing elsewhere.
Doubt anyone will read this.. But if you agree or disagree leave a comment below. I'll try to reply to everyone as I can. What are your thoughts on this new update on splinterlands?
---



Looking for an Affordable, Secure & Reliable Server Host for Your Witness Server or Other Web Related Projects? Check out Privex.io!