Brawl Report #28 Closer to the action with some fun Pizza!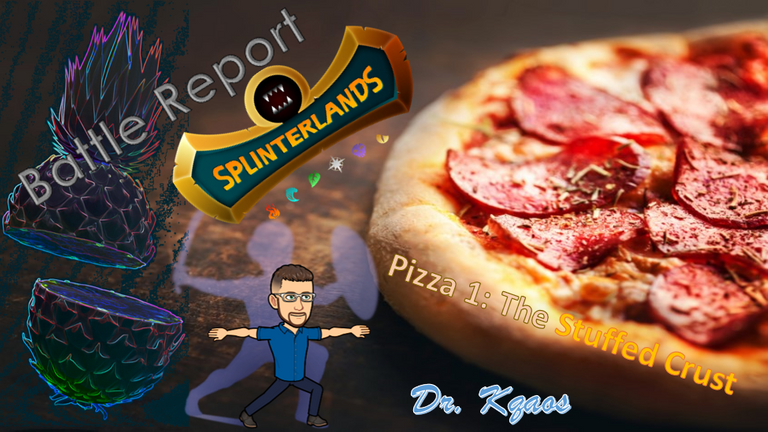 Following up the last brawl report with the dragons coming around, we are coming back to the Stuffed Crust for some entertainment!
I am still with the Pizza family in the Stuffed Crust guild!
As I post this SPS is currently trending at $0.057, it has been keeping it's low value. I still think it is a good time to buy, especially getting into some more tourneys to earn more SPS. Speaking of that, there are 282,117 packs to go until the next airdrop, a legendary life summoner.
The guild filled 12 out of 13 spots, we are working on that last spot as well, gold foil bronze! Right now, I am still in the Novice Chaos Legion branch, which is a good spot for me, however, the fights are light this time, I only have 5, the max is 52 fights, our guild is in 51 of those fights.
---
Battle #1 (Link)
Starting away with this brawl, I hear they have something called pizza rolls, I did get to try them, a little different, everything wrapped in one package, the ones that were smoked over oak were rather interesting. We start the fight with 36 mana and Target practice, giving all ranged attacks the snipe ability. Probably not a great setup on this one, but I decided to go water, with double opportunity attacks, hoping that Nerissa can hold off most of the snipe attacks. They went dragon on this one, which is not going to go well for me, I am way out classed! The misses killed me on this one!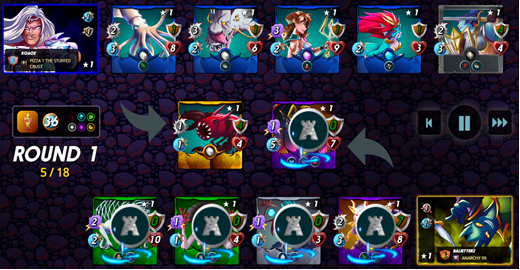 ---
Battle #2 (Link)
This time still away, but I talked the chef into a new style of pizza, it uses a mayo sauce along with bacon, lettuce, and tomatoes on it. I invited @cryptoniusrex to try it with me, I wonder what the dino thought? 29 mana, no healing, and melee only, I went fire with this one, the Antoids up front with Chimney following them, along with the disintegrator to knock down their attack a little bit. They went fire as well, only with Grum leading the way, so I might be in trouble. Chimney took this one for me, everything hit just right so that bloodlust worked for me and not them!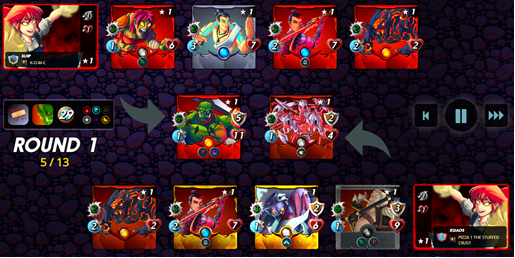 ---
Battle #3(Link)
This one is at home with @blitzzzz offering me to come over for some pizza before the fight, it was tasty, I have never had smoked salmon on a pizza, but I will allow it. 14 mana, divine shield, and melee can attack from anywhere. I decided to go death to knock down the health a little bit, along with the witch to hopefully grow with the magic attack. The went water on this one, so I don't know how well this will work for me. However, my choice for the magic attack got through the defenses, so a good win here!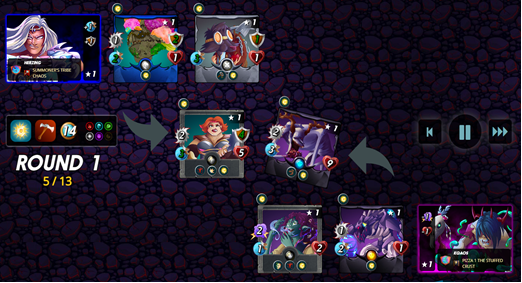 ---
Battle #4 (Link)
This is another fight at home, @cogie decided to keep me company at the pizza bar, also brought some honey from his bees, great on the sweet crust pizza we decided to eat! However, @bacon-dub came over and grabbed some, can't be too upset though, he did buy a nice blueberry pizza for dessert! The fight was with 48 mana, enrage. I decided to go fire on this one, Chimney is there, but along with the forgotten one, hoping to concentrate the damage to the front row so that enrage doesn't kill me. Apparently, the enemy fled this one, maybe not selecting a team or something, there is still time left in the brawl but it already stated that they fled, an easy win!
---
Battle #5 (Link)
This one is at the enemy arena, looking for some good times with the different pizza's, but this arena didn't know what pizza was! So I directed them to the discord channel so that they can learn (link below). 30 mana, earthquake and close range. I decided to go water instead of fire on this one, hoping that the extra shield will keep me alive longer since I do not have any fliers in fire and water. They went water on this one as well, only with more magic damage. However, my gladiator helped me out for another good win!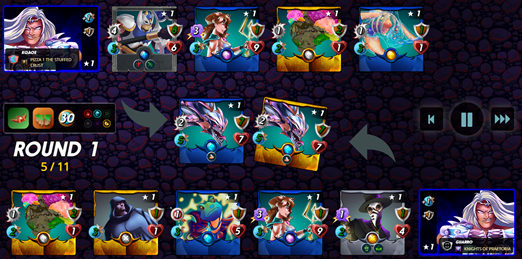 ---
I got an early jump on this one with 33 hours left to go, I am currently sitting and 2 and 0, it is great to have the perfect score, but at least I am close to getting the fifty percent at this time, hopefully more! T he guild right now we are sitting in 3rd place with 5wins and 4 losses, a ton of battles to go!
I ended up 4, and 1, I will take that any day! The guild as a whole ended in 1st place, 31 wins, 19 losses, and a draw, 2nd place had 31 wins, 20 loses, and a draw, that was close! A Shout out to @miguelsky2, @funnel, and @cryptoniusrex for the sweeps! Also a shoutout to all 4 of the pizza guilds, 3 1st place and 1 3rd, awesome group to join!
---
Due to the merits I also got to open a gladius pack, which is always a good time! However, my luck still holds, 1 rare, 4 common: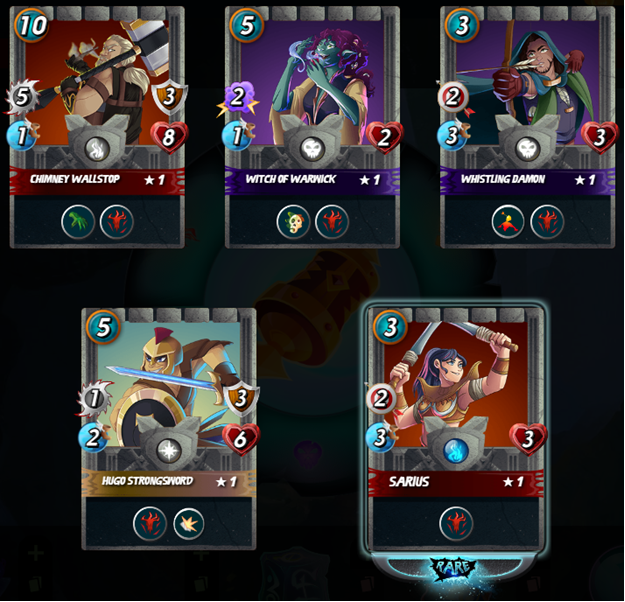 ---
Check out other Pizza Guild Brawls:
@relf87 (Guild Brawls With Pizza 2 – WE GOT FIRST!!! WOOHOO!!!)
@Koodies (Guild Brawl - My 6th Brawl Report with 🍕PIZZA 2 The Deep Dish Guild🍕)
@h3m4n7 (Splinterlands Game Progress, investment tracking and Giveaway #34)
---
Thank you for reading this far, additionally, I do want to thank the people in Pizza, a great place to hang out! I have learned a lot from it and there are great people and a very positive community.
You can find them here: Awesome Pizza Discord
I'm starting to track the Pizza token a little bit more as well, it is currently sitting at $0.01956 a great time to stake that 20 Pizza to get that badge! Not to mention, the power up day just passed, but a place to hang out!
At some point I will be doing some other posts about my experiences in Crypto, but here are some links if you are interested in some other NFT Games or other games as well!
---
Splinterlands
If you use my referral link I will send you 100 DEC to get started!
Layer 2 Labs
A Great community for Splinterlands, with games and a faucet to help players as well, new name, was Splinterlabs.
Rising Star
Great music NFT and a way to support up and coming musicians!
Sorare
Still learning this one, but it is a football (American Soccer), easy to set up and go!
Star Citizen Referral code: STAR-LRKQ-D6NK
Space game, still in alpha development, playable, very immersive, sign up with the referral code it will give you money in the game along with both of us receiving a free ship!
Unmineable
A great way to get into Crypto mining, easy to set up, code gets you a 0.25% fee discount, uses the graphics card while you are not using your computer, or you can mine with just your CPU.
---
Let me know if there are any questions, you can find me in the messages here or in the Pizza Discord.
Lastly, thank you again, remember you are awesome and have a wonderful weekend!
Dr. Kqaos
---
Photos come from PowerPoints stock image, Bitmoji with Splinterlands logo on top of it, or my own screen shots of Splinterlands
Disclaimer: This is my opinion, not financial advice.
---
---