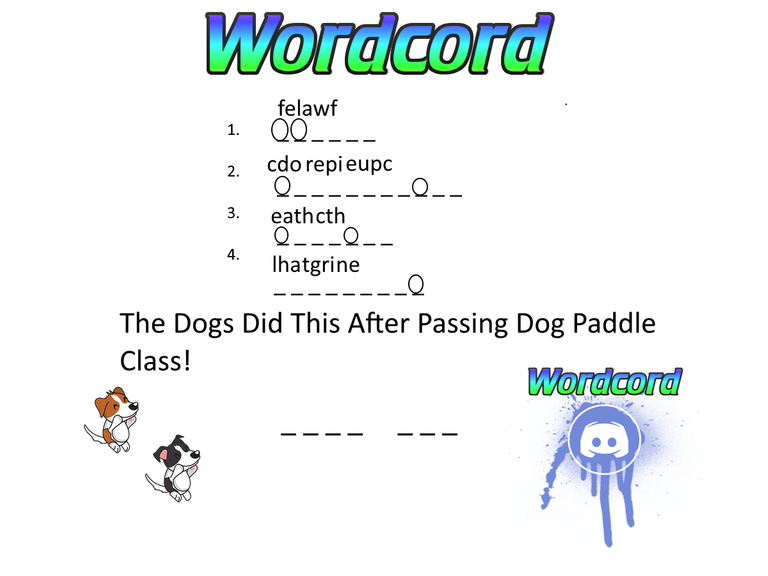 Just unscramble the four words, then with the circled letters of the correct words unscramble those
letters to answer the funny question
Each correct word for 1,2,3,4 is worth 500 dec at Splinterlands
Solve the question for 1000 DEC
Having trouble? Invite your friends to help because nobody gets their prize until all words are
unscrambled :)
Not a member of splinterlands yet? Why not it's the greatest blockchain game ever!
https://splinterlands.com?ref=marcuswahl
The first one to put the correct word in channel #wordcord wins!
You just need to have the correct word for 1,2,3,4 or final answer
To encourage group participation you can only win one word, but if you know the others you can help friends!
Join discord https://discord.gg/5V5UGgraYS to participate
This new game is part of a drive to increase members to 3 discords
https://discord.gg/5V5UGgraYS Blockchain Gaming
https://discord.gg/TuzU9fM2Mx Cardauctionz
https://discord.gg/nnJBTBNaXh Astral Entities
The three above have a dec bonus just for joining
https://peakd.com/splinterlands/@marcuswahl/join-discords-and-win-automatically-and-more-splinterlands-blockchain-game-lovers
Astral Entities even has a contest right now to drive discord membership! Join their discord to find out more.