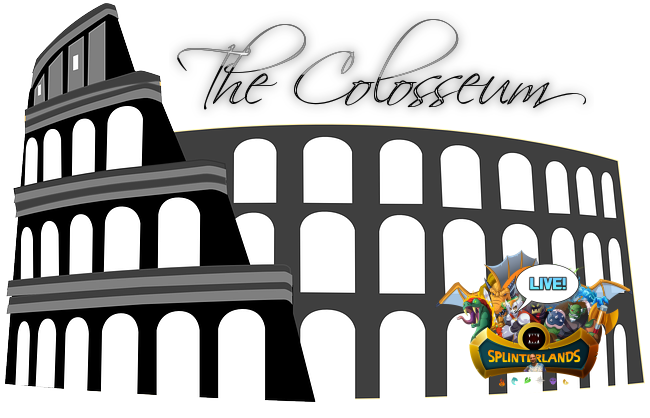 The Colosseum has filled with spectators and Free Prizes have been set!
Giveaway Challenge Fest SPLINTERLANDS 4pm central United States Monday-Sunday
Just visit splinterlands discord to make sure it's a go, I might miss a day or two :)
Never heard of splinterlands before? Join free: https://splinterlands.com?ref=marcuswahl
EARLY BIRDS
JUST FOR SHOWING UP, FIRST FIVE PEOPLE IN GET 400 DEC FREE :) (Say something in chat)

Passive Viewers
As a passive viewer actively watching you are eligible for random wins
Just be able to answer me in chat with your splinterlands username upon winning, if not then you lose your prize

Prizes and Prize Boosts
1 pack always awarded randomly free for doing nothing
Increase followers by 6 Goal met during show 1 random pack given away randomly
If we reach 30 viewers actively watching then a free pack is randomly awarded
If we hit 40 viewers actively watching the gold card value doubles to $18 USD value! See Below
Bring a new friend to the twitch and instantly be awarded 100 dec
How Do I Win my DEC Free? If YOU LOSE YOU ARE AUTOMAICALLY AWARDED 100 FREE DEC
Offer a challenge to me bronze or novice no risk to you
Win that challenge and get guaranteed 500 DEC, or potential gold card alpha clay golem!, or potential pack!!
How to Challenge: In splinterlands click the right arrow next to ranked, it will change to challenge, click invite,
send to @cardauctionz.com , choose bronze league level and hit send
***** What I do for my subscribed members, called Alphas
Alpha members don't have to answer in chat for their prize
Alpha members get to double their prize wheel spins if they win challenges!
Does not apply to 500 dec or CAC wins on prize wheel, only gold card and packs. (Thank you Gift)
Use my potions to open your packs won on the stream
I reserve the right to change these terms without notification
Obviously, a prize as listed will always be awarded
Target Value of Twitch: Help build beginning players and middle players collections, talk bronze strategy and below,
and to have fun.
SPONSORED BY: https://Cardauctionz.com The Biggest Discount on Splinterlands Cards!
Chromatic Dragon sold for .02, lightning dragon .04, lama sold for .04, mimosa .04, crypt mancer .15



Cardauctionz Discord: https://discord.gg/Sc54HPZ Need Help with anything?
How does Cardauctionz work?
https://peakd.com/splinterlands/@marcuswahl/the-cardauctionz-com-project-explanation-and-future-in-the-hive-community
Live on Facebook and Youtube, show always tweeted
http://youtube.com/mcwahl1
https://www.facebook.com/splinterlandsdotcom
Twitter: http://twitter.com/marcuswahl1
P.S. Now you can explain the rules to anyone in chat by typing !prizes
P.S.S. Not sure how to turn DEC into USD? The process for me is DEC into hive, use https://hive-engine.com/?p=market&t=DEC
then turn your hive into swap.ltc(lite coin), then send lite coin to your personal favorite
source to turn into USD, I use U.S. regulated Gemini exchange: https://gemini.com/share/j6xw76ce
DISCLAIMER: NOT A FINANCIAL ADVISOR
music by bensound.com