Splinterlands suggestion, changing up gameplay, hampering bots.

I've been pondering the issue of bots and semi-automated play.
A lot of our top players keep some pretty impeccable records of results and use those to reflexively select what they know to be an effective lineup for the ruleset and mana cap.
Anyone with those records and the requisite cards then has a huge advantage, potentially with only minimal experience, or despite not even being human.
The recent addition of a potential second ruleset is a huge step in the right direction; and I'd like to suggest we build on that momentum with even more proof of brain.
I'd like to see Neutral cards sometimes pop up as mercenaries.
The card would cost zero mana to play, be for that match only, and present the same offer to both players.
The card, level, playing position and DEC cost would all be randomised, within certain ranges per card and per league, eg; Goblin Mechs demand 75-95% of DEC and are levels 6-10 in Diamond League.
If hired, the mercenary would then be locked into their assigned position with only the owned cards attracting a mana cost.
Any match could go in four directions.
Both players accept the offer.
Neither player accepts the offer.
A accepts; B declines.
A declines: B accepts.
Both players know the deal on offer, and will then need to formulate a team based on whether or not they've accepted the offer and whether or not they believe their opponent has accepted.
While the card itself is free in mana terms, it's something your opponent can be fairly confident they'll be facing, so you're paying with information.
In this example, Thorns and magic would be their likely response.
If so, you could decline the offer and play Lord Arianthus instead, or accept the offer and play Arianthus in second position; of course that only leaves you with four more slots.
In a high mana match, that 5 mana saving might not be worthwhile.
All of this deliberation needs to go on inside a human head.
It has to be incredibly hard to code a bot to take all of the different possibilities into account and decide whether/not to accept the offer, then pick a viable team.
Either the bot will turn down good opportunities, or accept bad ones.
Let's look at another example.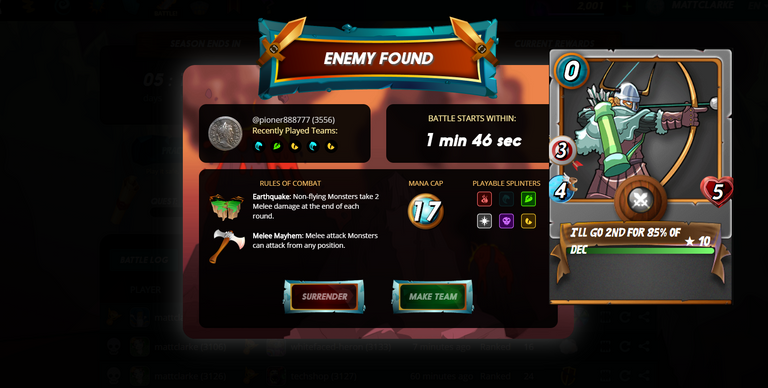 The mana cap is low, so there's no competition for slots; but the rulesets mean that a single blast from an Exploding Dwarf or Elemental Phoenix, followed by earthquake damage; are going to kill him off fairly quickly. He's also vulnerable to sniper fire.
His speed is decent, but he's unlikely to have too big an impact on the outcome of the match, unless perhaps summoned with + to life, armour, speed or ranged.
@pioneer888777 isn't sticking to one splinter, so its unlikely he's pushing hard to do his quest; if he's farming for DEC he probably won't want to burn almost all of it securing the services of that Highland Archer.
Will he accept that offer? Should I?
---
Even an AI bot which looks at my past matches doesn't have enough information to know how I'll react to a specific set of circumstances. Maybe in Earthquake I usually play Earth.
An Elven Cutthroat mercenary pops up; I don't own one and I've always wanted to try double melee sneak, the bot can't know this and goes into the match assuming I'll play Earth again.
I choose Fire and hit hard and fast with the Cutthroat and my Kobold miner; while the bot assumes I'll be playing a long game with double heal and some armour from Spirit of the Forest.
The mercenary card has broken my mental pattern and made my past irrelevant, but there's no way for the bot to know if this is the case; the match has also reduced the value of universal data regarding past matches with those rulesets in that league with that mana cap.
---
Potential misgivings.
This will hurt my earnings. If I have to choose between losing most of my DEC and losing the match, I may as well flee.
Your opponent will share your hesitation. If you use the card and your opponent doesn't, you have an advantage; as much as you will earn substantially fewer crystals; a win will drive you up the leaderboard, helping with daily quests and season rewards.
---
Its already too confusing to play; this just makes it harder for humans.
Try to see this as two separate processes. The first decision is important, and complex, but it's only one decision. Yes or No.
Once that decision is made, then you're just choosing a team, keeping in mind the possibility that you might already know one of your opponent's cards.
---
Why should people who didn't buy the cards get to play with them?
Buying a card gives you exclusive rights to use it in any match with a suitable ruleset, any time.
Having them occasionally pop up as options will give those who don't have that particular card a chance to use it, and may inspire them to buy it; driving up the value of the ones you hold.
---
Is there a chance the track could bend?
Not on your life, my Hindu friend.
---
Why only neutrals?
Many players are only building up one or two strong splinters.
An offer from a mercenary from a splinter in which they're weak would give too great an advantage to their opponent.
---
Why lock them in position?
Because it's much easier for a human to adapt to an obstacle/opportunity like that, than a bot.
---
Surely people will just make arrangements; agreeing to never accept the offers when matched with each other?
Certainly; but if bot squads are already collaborating internally; I see no problem with people doing the same.
I imagine some guilds would adopt it as policy, for example.
People will be keen to get an agreement from those below them in the rankings; while reluctant to give up the chance to gain an advantage over those above them.
---

We're in an arms race, so I want the devs to have as many levers to pull and twist as possible, and this could be a big one.
It might be every second match, or one in a hundred.
The offers might offer huge advantage for only a small expense; or they might offer the tiniest head-start at tremendous cost.
The important point is that the concept presents a lot of opportunities for the development team to react to bot activity.
That is only going to become more crucial as card and DEC values increase.
---
Let me know what you think in the comments.
---
---