Hark, residents of the Splinterlands, fair and foul. It is I, the Spirit of the Forest!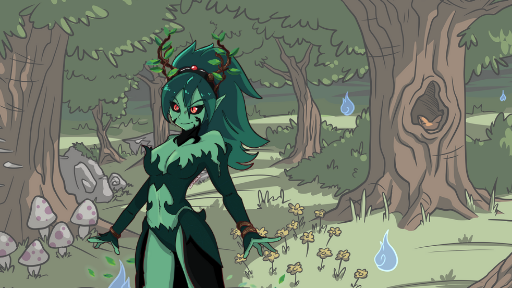 ---
Since I possess unlimited power compared to you mortals, I can exist in multiple realms simultaneously.
---
In this realm at this moment, I sit here at what you mortals call "internet" and battle in your game, Splinterlands.


---
I have earned excellent rewards and completed many daily quests... I have even made certain power moves on your so-called Monster Market to increase my wealth in your realm.
Once upon a time, when your "game" was new, my very first incarnation as a card, as well as the first Legendary card of all time fell into the hands of a young man named Chris Roberts. He fancied himself lucky, but little did he know that my Vines of Wisdom would grow within and entangle his mind.
I have now fully possessed the body and mind of your Loremaster, Chris Roberts, and it is through him that I shall communicate from this... what do you call it? Account. Do not worry; I shall respect this vessel with all the honor on which I would bestow the mightiest tree in my grove.

---
This account was begun by Loremaster Carrie Allen as a foolish experiment to grow something from nothing. As we Ancient Ones know, something never comes from nothing. By invoking my name, the Loremasters unknowingly bridged my way into your realm, and now I have taken root.
I will continue to play your (our?) game, although I find it amusing that life and death to us is merely a plaything for the likes of you and your mortal comrades. I will amass digital currencies, as you call them. It seems this is the way to accumulate power in your strange realm.
My power will grow like the leaves of the Turbo Tree. The Turbo Tree is a tree that grows extremely quickly. I created it just now to use as a simile for how my power will grow. I can do that, for I am the Spirit of the Forest.
---
I shall leave you now, for I have great battles to battle, and a great deal to learn about the many cultures of your realm.
For now, Goodbye!
---