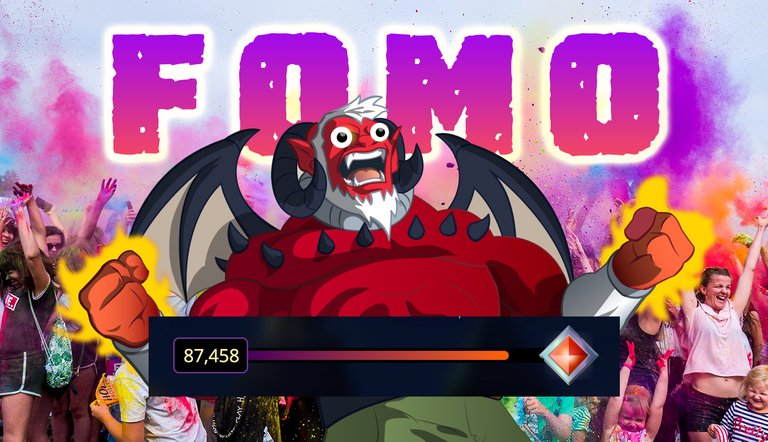 AHHHHHHHHHHHHHHHHHHH!!!!
FOMO FOMO FOMO FOMO!!!
IT'S HAPPENING AGAIN! There's only 8 hours left until the Splinterlands POWER UP promotion ends!!!
POWER UP! NO WAIT! TRON BOUGHT EVERYTHING! THE SKY IS FALLING! POWER DOWN! POWER DOWN!
NO WAIT! MISCOMMUNICATION! EVERYTHING IS FINE! TRON IS GOOD!
NO WAIT! TRON IS BAD AGAIN! NO WAIT, IT'S ALL GOOD! I SAY AGAIN: IT'S ALL GOOD! WE'RE ALL GONNA MOON DAMMIT! YAAAAAAAY!
WEEEEEEEEEEEEEEEEEEEEEEEE!!!!!
AAAAAAHHHHHHHHHHHHHHHHHHHHHHHHHH!!!!!!!!
POWER UP! EVERYBODY POWER UP! THE STEEM ROCKET IS BEING FUELED FOR LAUNCH!
OOOOOHHHHH NOOOOOOOOOOOO! THE NEXT SPLINTERLANDS AIRDROP IS ABOUT TO HAPPEN! A NEW COOL, AWESOME CARD IS BEING RELEASED!!!! BUY PACKS! POWER UP! BUY PACKS! POWER UP!
Ladies and Gentlemen, you only have a few hours to have your cake and eat it too. Get more cards AND qualify for the pending airdrop AND power up...ALL AT THE SAME TIME!
It will not surprise me in the least if we hit the next Airdrop milestone at or before the end of the Power Up promo. For those of you who missed the last Splinterlands post re: the promotion, here it is:
https://steempeak.com/splinterlands/@splinterlands/splinterlands-power-up-promotion-end-date
Based on a previous post, there is a subtle implication that the next Airdrop will be the first Untamed Legendary summoner from the Death splinter. No guarantee though. The only person who knows for sure is probably Yaba.

BUT...if it IS a legendary Death summoner...ooooooooh yeah, baby.
Death splinter is my jam.
I will definitely have to get that card maxed!
So what are you waiting for? Go burn some gold foils. Sell your car. Donate some blood. Do whatever you gotta do to buy some Untamed packs before it's too late!
What do you hope the next Airdrop card is? Let me know in the comments.