If you have DEC in your Ethereum Wallet and want to trade them against ETH (or other ERC20 tokens) you can easily do this using the decentralized Uniswap Exchange. Uniswap operates directly on chain, this means you don't have to deposit your tokens anywhere and you don't even need to create an account.
---
The exchange can be found on https://uniswap.exchange/swap. The DEC trading pair cannot be accessed by searching for "DEC" (at the time of writing), instead you have to search for the DEC token address which is the following:
0x9393fdc77090f31c7db989390d43f454b1a6e7f3
Alternatively you can directly access it by following this link:
https://uniswap.exchange/swap?outputCurrency=0x9393fdc77090f31c7db989390d43f454b1a6e7f3
---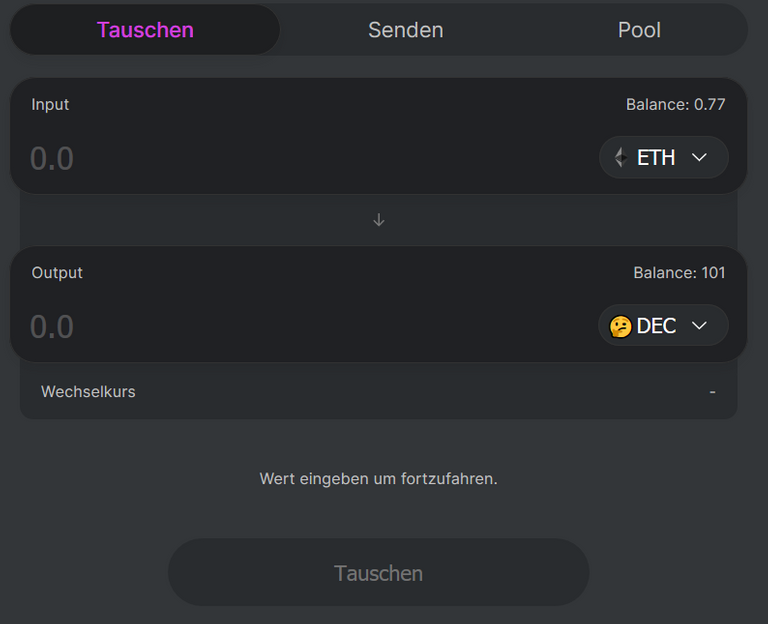 ---
Currently the liquidity for this pair is very low (0.0252 ETH + 4992.763 DEC), so converting big amounts might not work very well. You can help to raise the liquidity by depositing DEC and ETH into the smart contract, as an exchange for that you will receive a portion of the exchange fees for that trading pair (0.3%).
More information on that can be found here: https://docs.uniswap.io/frontend-integration/pool
---
If you have any questions regarding this exchange, leave a comment I'll answer as soon as possbible.