BEING A CHAMPION AT ARCHIPELAGO MODERN BRONZE TOURNAMENT | Giveaway #27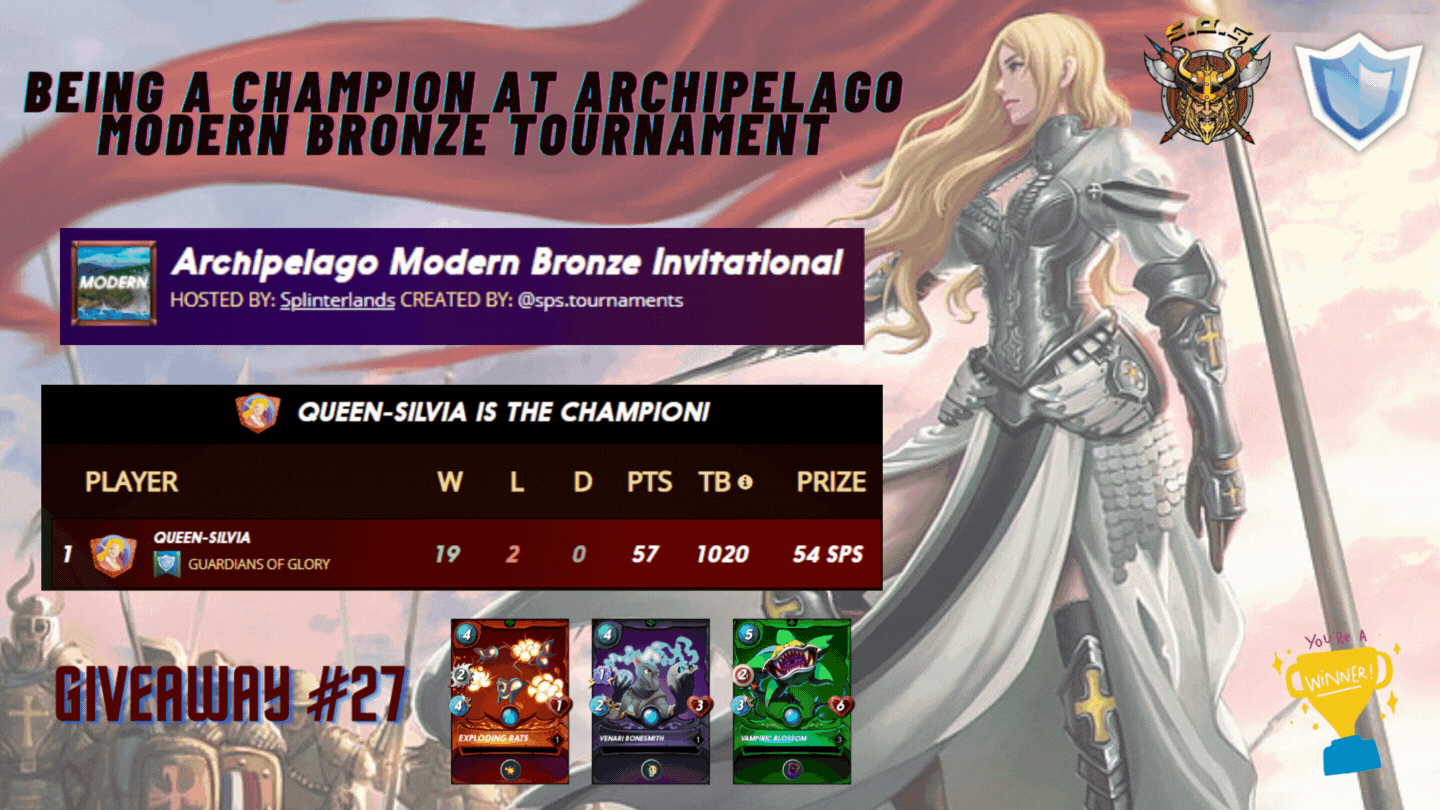 ~ 😘 Hello Splinterlands Lovers 😘 ~

If you are feeling good with Bronze and gain many rewards already, you might need to join Silver tournament as well to increase your battle ability since the higher the league, the more reward we can grab. However, this article will only discuss about bronze league, I am planning to join some Silver Tournaments next week and if the result is good, there will be some tips and tricks also for the Splinterlands Community.

Well, this article will explain about some of the following topics :
Tourney Overview 🗡
Road to Champion 🥇
Final Result ⚔️
Announcement of the Giveaway #25 winner 😍
Giveaway #27 🤑

- TOURNEY OVERVIEW -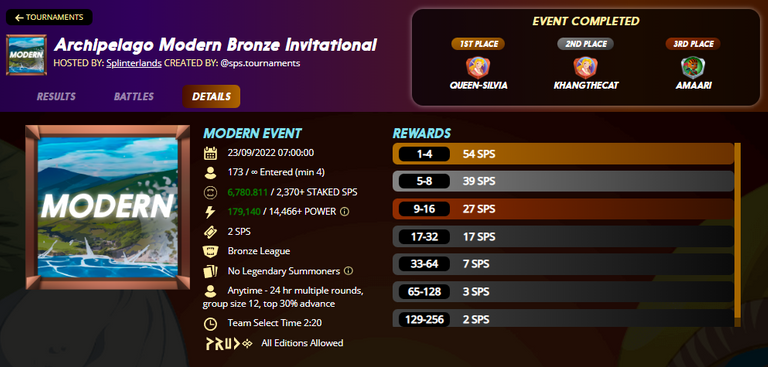 Alright, this tournament is being conducted by Splinterlands team. There are tourney in each league, Bronze, Silver, Gold and Diamond. So if you are new into the game or an old player with the limited CP, This tourney is best for you. Everyone, no matter if you are whale or small fish, you can win this tourney with a proper strategy. In order to be able to join tourney, players need to stake 2370+ SPS minimum and own 14466 power of modern card. It's an anytime tourney so every player around the world can fill the match whenever they want.

The prize for the top 4 finalist is 54 SPS which is worth $3.78. Such a nice reward as we can participate is many tourneys every week. For Bronze league only, there are 8 tournaments, if we took $4 reward as a reward to be a top 3 in each tournament, the total reward will be $32 per week. A Bronze league only. There are higher reward in Silver and Gold, So it's very important to join tournaments. The cards available to be used is modern only, No alpha or beta edition allowed so it gives equal chance for everyone both old and new players.

- ROAD TO CHAMPION -
1st Round
The tourney is divided into 2 rounds, Here is the result of my battle in the first round :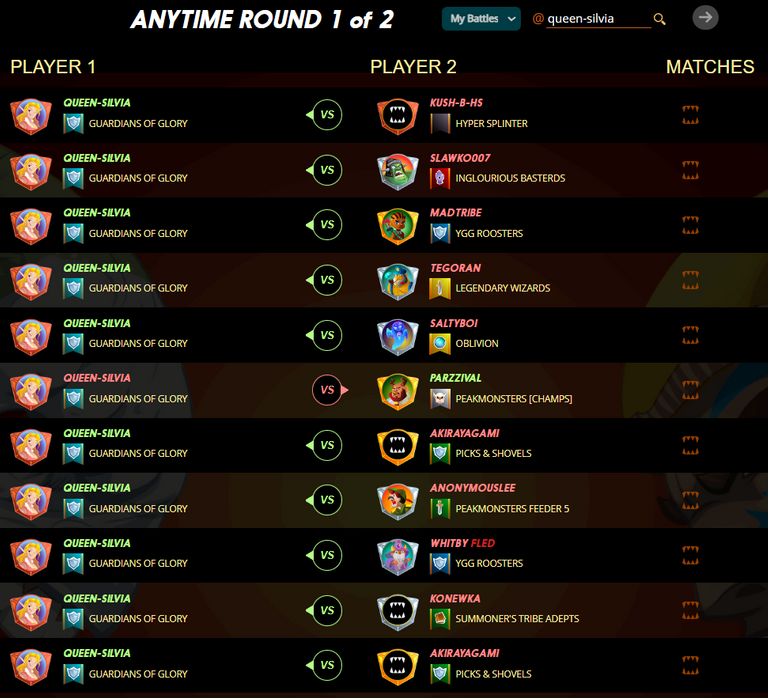 The first round consists of 11 matches and unfortunately I could not do clean sweep. I lost to @parzzival, As a lesson learned, Let's discuss the battle between parzzival and I in below GIF :
1st lose: Queen Silvia vs Parzzival
My biggest mistake here is using Mylor while the opponent was using Obsidian. Mylor is only fit to be used against the opponent who used many melee monsters since whenever they are attacking, the Thorn ability will inflict 2 damage for them, but in this case, parzzival used 5 magic monsters so The Thorn ability only works against parzzival's Unicorn Mustang.

The solution to counter this Obsidian team is using Thaddius Brood who can reduce magic attack and put Void Monster as the tank like Bone Golem. This way magic monsters who have 1 magic attack will have no damage to the opponent since death splinter is reducing 2 magic attack while Obsidian is just increasing 1 magic attack only. Another way is to use Dr. Blight to inflict affliction to the Unicorn Mustang, this way, the Tank heal would not be able to be activated and the tank could die faster. This match will remind me to always use magic counter whenever there is probability that the opponent will use Obsidian.

2nd Round
The second round brings together the best 30% players among all participants. So all of the opponents in this round is tougher. Unlike the first round, the second round is just consists of 10 matches only. Here is the result of my battle in round 2 :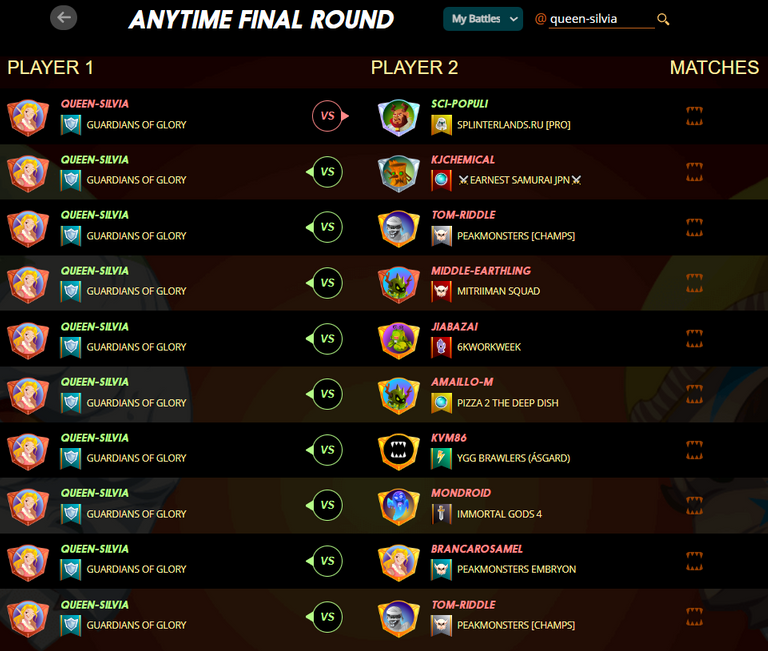 2nd lose: Queen Silvia vs sci-populi
So basically I was repeating the same mistake I did in the first round. As the earth and death splinter is available I should have to use Thaddius Brood instead of Mylor to reduce all of the opponent's magic attack. There are 5 magic monsters and Mylor has nothing to do with all of them. If we look carefully, the way sci-populi put Kron The Undying next to Mycelic Slipspawn is very good idea since all of the blast damage will hit Kron and the damage can be ignored as Kron have the heal ability.

My second mistake in this match is not using monster with heal ability in the second position. All of the blast damage really hurts Oaken Behemoth and it's killing the monster slowly. Oaken Behemoth need to be replaced with Kron the Undying and we need to change Mitica Headhunter as well to fit the mana cost.

- FINAL RESULT -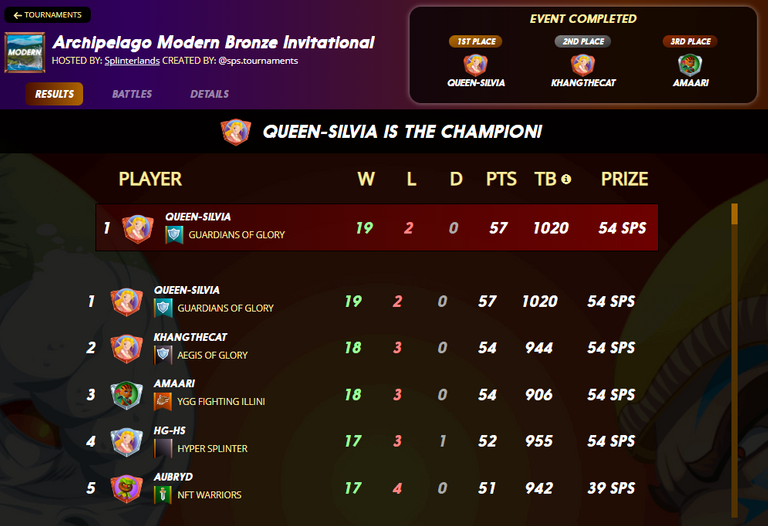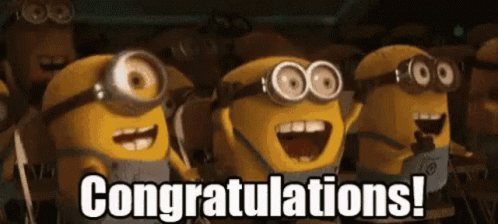 - ANNOUNCEMENT OF GIVEAWAY #25 WINNER -
Alright guys, now it's time for giveaway. We have 11 participants for the Giveaway #25. I'd like to say Thank you very much for visiting my blog and joined the giveaway. Here are the list of participants :
@davethegreat, @cryptoph0823, @pero82, @henruc, @engilhramn, @gregory-f, @noctury, @relf87, @qoogohome, @eijibr, @flummi97
I hope I don't miss out any names there. Regardless you win or not, I hope you guys keep supporting me by participating in my upcoming giveaways because sharing to the community is fun.
Here is the snapshot of the winner :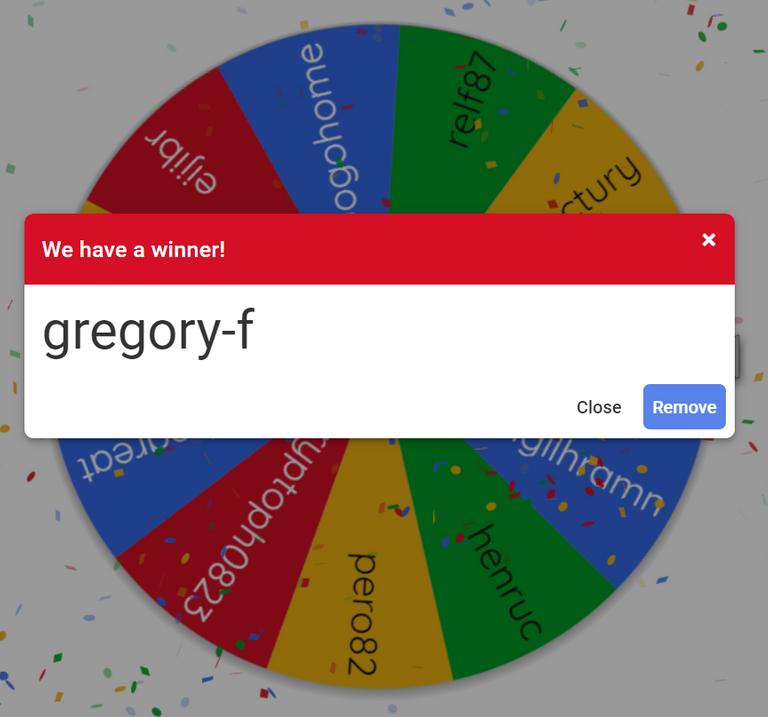 ---
---